There are some games you're going to win no matter what, it just seems like there aren't many for this team. Edmonton's theme for the evening was "Loose Change" at both ends, cash and carry. I had a blast, not going to lie.
THE ATHLETIC
The Athletic Edmonton features a fabulous cluster of stories (some linked below, some on the site). Great perspective from a ridiculous group of writers and analysts. Proud to be part of the group. INSANE NEW OFFER IS HERE!
OILERS AFTER 76
Oilers in 2015: 29-40-7, 65 points; goal differential -37
Oilers in 2016: 42-25-9, 93 points; goal differential +29
Oilers in 2017: 34-36-6, 73 points; goal differential -30
Oilers in 2018: 34-34-8, 76 points; goal differential -23
OILERS IN MARCH
Oilers in March 2016: 6-6-0, 12 points; goal differential -3
Oilers in March 2017: 8-3-1, 17 points; goal differential +16
Oilers in March 2018: 7-4-1, 15 points; goal differential +9
Oilers in March 2019: 7-4-1, 15 points; goal differential +2
WHAT TO EXPECT IN MARCH
On the road to: Columbus, Buffalo (Expected 0-1-1) (Actual 2-0-0)
At home to: Vancouver, Toronto, NY Rangers, NJD (Expected 2-1-1) (Actual 2-2-0)
On the road to: Arizona, Vegas, St. Louis (Expected: 0-2-1) (Actual 1-2-0)
At home to: Columbus,Ottawa, Los Angeles, Dallas, Anaheim (Expected: 3-1-1) (Actual 2-0-1)
Overall expected result: 5-5-4, 14 points in 14 games
Current results: 7-4-1, 15 points in 12 games
DEFENSE, LAST NIGHT
Sekera-Benning were 12-10 in 11:16, 8-4 shots, 1-0 goals and 2-1 HDSC. Solid night for the pair, Benning lost some teeth, took some hits too.
Klefbom-Larsson went 15-17 in 13:04, 5-8 shots, 2-1 goals and 4-2 HDSC. The pairing totaled five assists on the night, has to be a record.
Nurse-Russell were 10-20 in 14:28, 8-8 shots, 3-0 goals and 5-6 HDSC. That's an incredible line, but you have to factor in the six blocked shots by the pairing.
Mikko Koskinen stopped 34 of 38, .895. He is also credited by NST for stopping all 11 HDSC's.
NaturalStatTrick and NHL.com.
FORWARDS, LAST NIGHT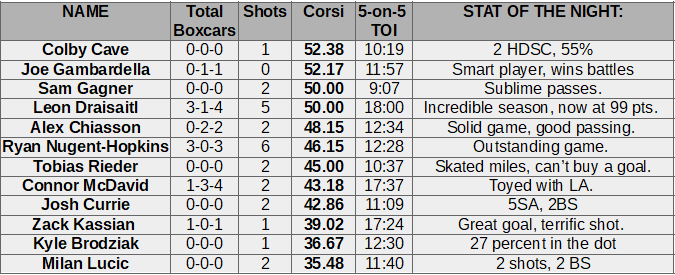 Draisaitl-McDavid-Kassian were 15-16 in 13:25, 7-8 shots, 3-1 goals and 4-6 HDSC.
Lucic-Brodziak-Currie went 9-16 in 9:43, 5-7 shots, no goals and 2-2 HDSC. Line needs a dangerous offensive weapon.
Gambardella-Nuge-Chiasson were 10-7 in 8:26, 6-2 shots, 2-0 goals and 3-0 HDSC. That's among the best stat lines for a No. 2 trio all season long. Gambardella was effective.
Rieder-Cave-Gagner went 8-8 in 7:01, 6-3 shots, no goals and 3-4 HDSC. High event evening for what was the No. 4 line on the night.
Bakersfield has nine games left (including tonight) and own a six-point lead in the Pacific Division. The team goal differential (+58) leads the entire AHL, while young Benson is thriving with the Condors. I don't think he's going to be in California next season. Just a hunch.
GIVE ME A SIGN, LORD!
I have a rule about not using direct quotes from published media for 24 hours, it'll be 21 hours when you're reading this. So, I'm breaking my own rule. Please click this link (Mr. Friedman's 31 Thoughts). Here's part of the money passage, the rest you'll see when you get there:
But there's something odd going on in Edmonton. I've heard that Gillis's name has been brought up for an interview.

Elliotte Friedman's 31 Thoughts
This is potentially massive. Gillis is a nuclear option for an organization that needs a change in direction. My own opinion is that the drafting and development is no online, and since it's never been a strength of Gillis' work should be left alone.
The cap, roster construction, analytics and sleeping/nutrition/sports science? I think Gillis would be an excellent fit.
Negatives? Well, Gillis has an awful reputation with media and that would need to improve. Edmonton needs a GM who lives here, speaks to the local media frequently and is comfortable attending the Christmas Bureau Breakfast in the morning and (I'm embellishing of course) a silent auction in a barn that same night. Kevin Lowe was the best I've seen at that part of the job.
LOWDOWN WITH LOWETIDE
At 10 this morning, we hit the ground running with a fun, upbeat, happy show! Scheduled to appear:
Bruce McCurdy, Cult of Hockey at the Edmonton Journal. Last night's game, Oilers' culture and this Benson fellow.
Jon Campbell, OddsShark. Sweet 16 and mlb season.
10-1260 text, @Lowetide on twitter. Talk soon!