I had this jean jacket, maybe 1981, that was absolutely perfect. Faded from wear, fit like a glove and (most importantly) it had a pocket perfect for my smokes. I don't remember a weekend night as a young man without that jean jacket. It just felt right.
Sometimes you walk in a room for the first time and feel like you've been there before. You're at home despite the new surroundings. On that note, the Edmonton Oilers are attending a lottery today. Chances? 6.5 percent. Might as well be 96.5 percent. This is the organizational wheelhouse. They sell the whole seat, but the Oilers only need the edge. Next stop, Jack Hughes!
THE ATHLETIC!
The Athletic Edmonton features a fabulous cluster of stories (some linked below, some on the site). Great perspective from a ridiculous group of writers and analysts. Proud to be part of the group. INSANE NEW OFFER IS HERE!
100 BEST IN 2019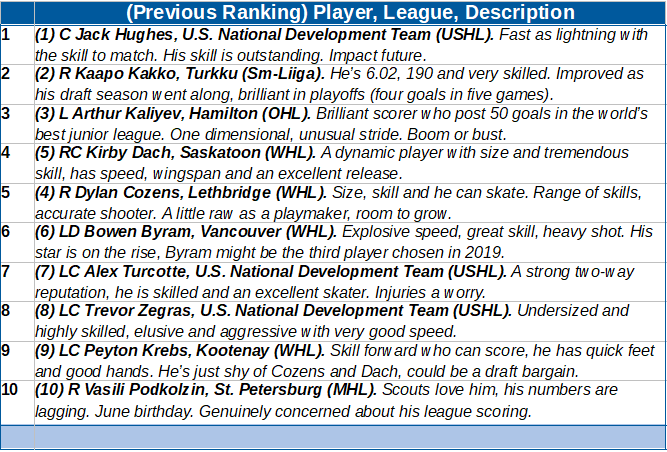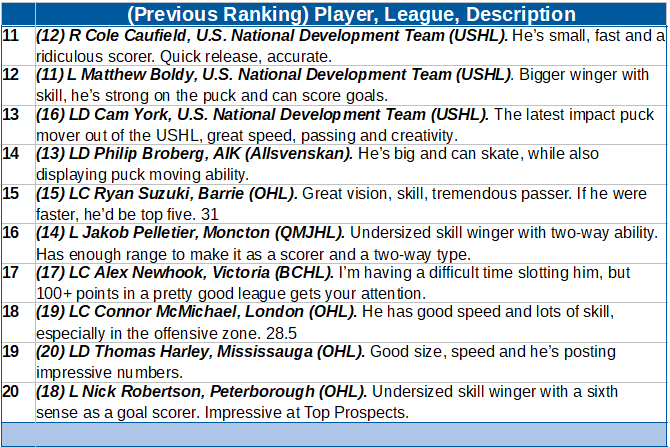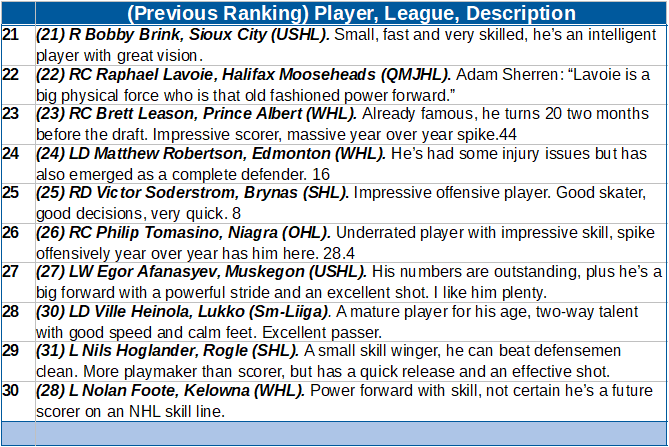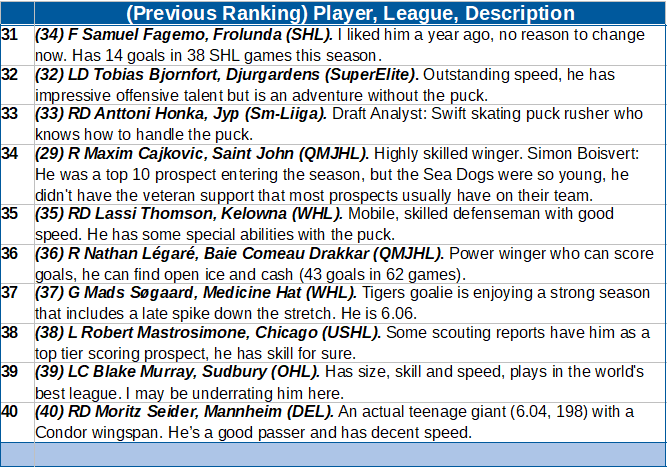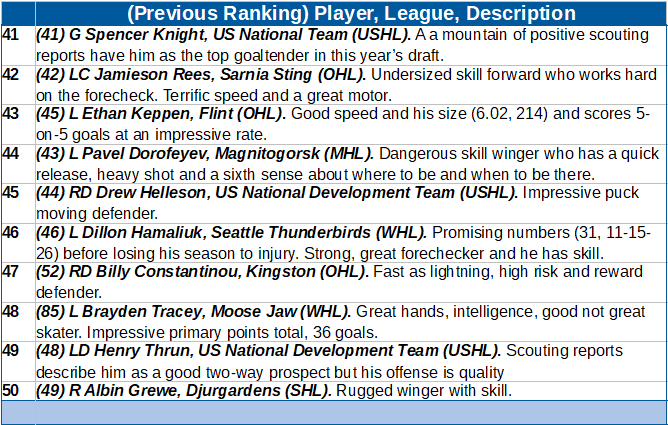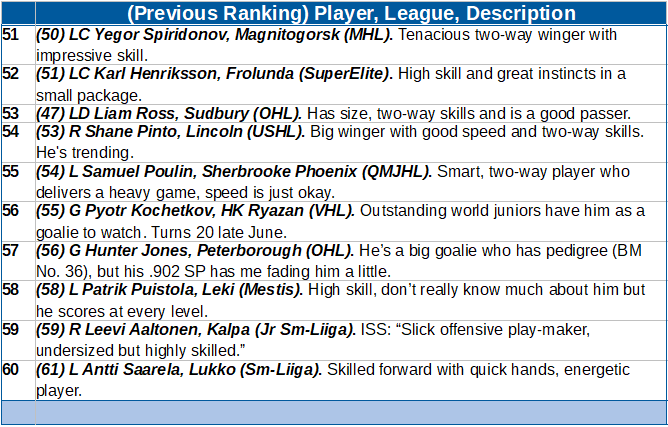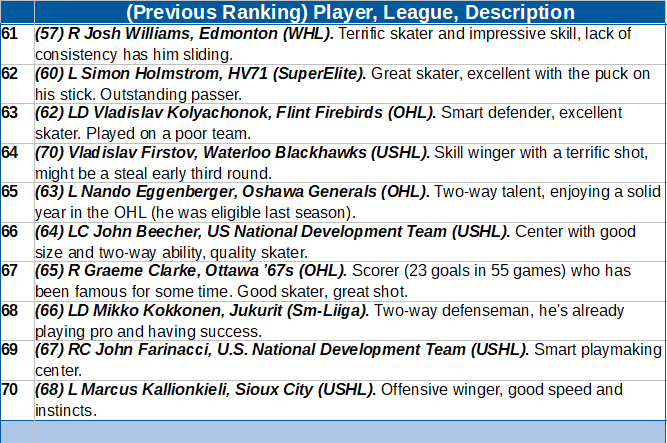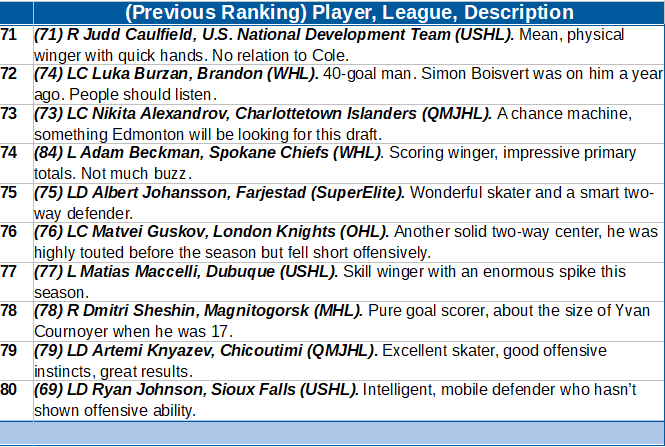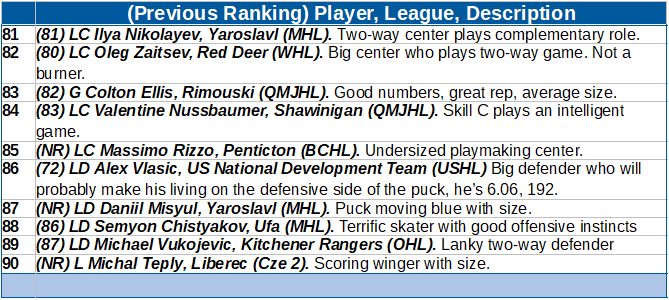 I'm thinking the Oilers should be fine if they remain inside the top 10, and they're going to draft inside the top 10 again this season. I'll do a mock draft tomorrow (no reason to do it today, we'll know the draft positio tonight). I'll do a top-10 tomorrow plus an Oilers mock.
Evan Bouchard is having a playoffs for the ages this spring. The Londonn Knights rearguard has 18 points (4-14-18) in seven games and leads the league. Many Oilers fans view Bouchard as a limited player but for me his skills (brilliant passing, calm feet with the puck) are a perfect fit for need on this team. I'd love to see him spend time with Andrej Sekera next season.
Dmitri Samorukov is also having a strong playoff, posting 3-5-8 in seven games for London's opponent (Guelph Storm). Both men are likely to start next season in Bakersfield.
This is a key signing for the Oilers. Hawkey is a solid pro prospect and Edmonton is going to need a value goalie in the coming seasons. Vincent Desharnais is also in the tournament.
YESTERDAY'S PRESS CONFERENCE
Bob Nicholson and Keith Gretzky talked to the media yesterday, about 30 minutes of Q and A. We all parse these events differently, here are my takeaways:
Keith Gretzky has used his time as interim GM wisely, building rapport with Nicholson. If you review the words of the avail after Chiarelli's firing, and then fast forward to KG being on the stage yesterday, there's been progress. May not mean he gets the job, but there's a window and KG has made the most of it.
Sounded like Nicholson had already reached out (Gillis?) to see if there was common ground between the team and some candidates. My guess is the conversation with Gillis was short and involved how sweeping front office changes could be under the new admin. That fact (nothing's going to change) will make the pool of candidates smaller in a quick hurry.
He also mentioned that "some" candidates might not fit the team's time line. That's news, suggesting this process could get wrapped up before May long. It also may mean they have McCrimmon's answer in the negative.
My guess? Unless Ken Holland shakes loose, the decision will come down to a Ron Hextall or Pat Verbeek. I do believe the Oilers will look at Keith Gretzky, it would not surprise me to see him get the job.
DRAFT TALK
I had a conversation with a friend on the weekend about Dmitri Samorukov. He could be the best Oilers pick outside the first round in exactly one forever, but we have miles to go.
When do you consider a draft pick successful? The numbers in draft +1 and draft +2 are important, but that first year pro is a monster, too. Can you consider Samorukov a draft 'win' already, or do you need to see him in pro before making the call?
The other question I've been mulling lately is how many draft misses should a scouting staff be allowed before being released? Since Keith Gretzky arrived, I would place his selections in the following piles:
Trending up: Dmitri Samorukov, Kirill Maksimov, Phil Kemp, Evan Bouchard, Michael Kesselring.
Status Quo: Stuart Skinner, Skyler Brind'Amour, Ryan McLeod, Olivier Rodrigue, Patrik Siikanen.
Trending down: Kailer Yamamoto, Ostap Safin.
That's a good board, although the Yamamoto downbeat is a bummer. These young players are still in their early stages, as only Skinner and Yamamoto played the full season in pro hockey this year.
Is there an "allowable sins" number we can hang on a draft year? Or, put another way, does a strong draft season that features three NHL successes overcome all of the picks that never arrived? Let's look at Stu MacGregor's 2011 draft.
Hits: Ryan Nugent-Hopkins, Oscar Klefbom, Tobias Rieder
Fringe: David Musil, Dillon Simpson
Clear Misses: Samu Perhonen, Travis Ewanyk, Martin Gernat, Frans Tuohimaa.
Nuge was first overall and Oscar was also a first rounder. Is that a successful draft? I think it is. What about 2012?
Hits: Jujhar Khaira, Erik Gustafsson
Fringe:
Misses: Nail Yakupov, Mitch Moroz, Daniil Zharkov, Joey Laleggia, John McCarron.
I think this is an example of a draft that inspires changes, although the back story involves the owner, soon to be GM and a split (three ways!) in terms of No. 1. That's a lottery win that hurt the Oilers.
NEXT HEAD COACH
I expect it'll be Glen Gulutzan or Kris Knoblauch, so the current panic over Q and TMac is wasted energy imo. If the new GM has a brain in his head, he'll know following up an old guy who brings the red ass every night with another old guy who does the same is suicide.
LOWDOWN WITH LOWETIDE
A fun show on the way this morning, we kickstart things at 10, TSN1260. Scheduled to appear:
Jonathan Willis, The Athletic. What does Jon think of yesterday's media avail? Who gets bought out?
Murat Ates, The Athletic Winnipeg. The Jets arrive at the playoffs looking a little shaky on liftoff.
Mike Snee, Executive Director of College Hockey Inc. We'll chat Frozen Four and Hayden Hawkey.
10-1260 text, @Lowetide on twitter. Talk soon!