The Bakersfield Condors won a close game (3-2), kept shots against under 25 and rode quality goaltending and William Lagesson's offense (1-1-2) to a victory over the Colorado Eagles. Game 2 goes tonight.
THE ATHLETIC!
The Athletic Edmonton features a fabulous cluster of stories (some linked below, some on the site). Great perspective from a ridiculous group of writers and analysts. Proud to be part of the group.INSANE NEW OFFER IS HERE!
CONDORS WIN
We talked about the importance of the No. 2 line yesterday, last night Malone and company went out and showed exactly what they can deliver at this level.
William Lagesson was the star of the show, but Caleb Jones sweet pass to No. 37 for his goal was gorgeous. Both men are going to be heard from in Edmonton soon. Ethan Bear played a ton and was effective, Logan Day scored a giant goal. Bakersfield's defense is a key to team success. Shane Starrett played well again.
NHL POSSIBILITIES
This is some great work by Evolving Wild and gives us a chance to build a team with independently built (by math!) free agent numbers. I made some trades (boy did I make some trades), and here's the roster.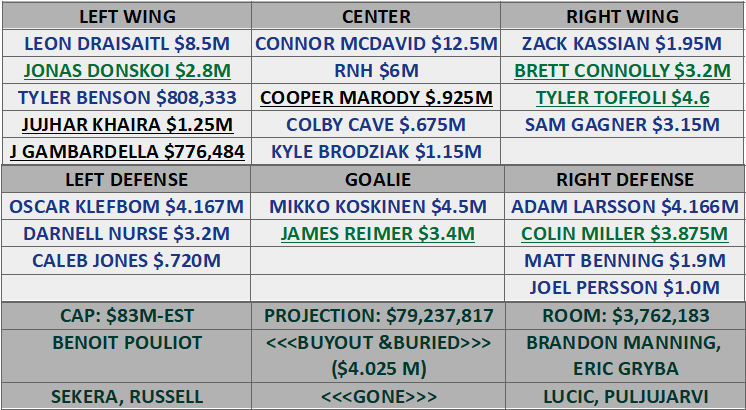 I traded Sekera for Toffoli; Russell, Lucic and Puljujarvi to Florida (with some money retained) for James Reimer, Mark Pysyk and a pick. Then traded Pysyk and the pick for Colin Miller. I'm not so much worried about the 'fairness' of these trades as the idea that a general manager could move in three forwards, a defenseman and goalie in one summer. A key to that success would be getting Connolly at $3.2 million. I expect it'll take more money and that this roster is not possible in one summer.
To complete the transactions: Signed Brett Connolly and Jonas Donskoi in free agency, drafted Peyton Krebs and hired Brent Gretzky as general manager (he's a cop with the OPP but I promised him he could park anywhere). You're welcome.
The idea isn't to make fair trades (boring!) but to see what the team might be able to do if Connolly doesn't cost $5 million in free agency. I think it's just a dream, but love the work done by Evolving Wild.
Mitch Brown did great work in breaking down Evan Bouchard's strengths and weaknessses, and he is back at it with another round of blue. Fantastic.
THE JOURNEY
Last night the Calgary Flames lost to the Colorado Avalanche, a devastating result for a team that has been doing a lot of things right over the last five seasons.
I think it started for them at the 2011 draft. While Edmonton was drafting Nuge, Klefbom and an unsigned Tobias Rieder, the Flames drafted Sven Baertschi, Markus Granlund, Tyler Wotherspoon, Johnny Gaudreau and Laurent Brossoit. They grabbed quality, after about 15 years of wandering in the draft wilderness. Calgary is now an astute judge of draft talent. It takes awhile for that to push up to the top but the Flames are now there.
Edmonton can learn from the Flames, and there are quality prospects pushing up for the northern town. In 2015, Calgary drafted Rasmus Andersson, Oliver Kylington and Andrew Mangiapane. Edmonton chose Connor McDavid, Caleb Jones and Ethan Bear. Those defensemen are close now, William Lagesson too. The new general manager must make room for Jones, then Bear and Lagesson, and find out what they're about before trading them in my opinion. It's a dangerous time for the Oilers prospect group. A new GM won't know about them and didn't get to see that cherry pass by Jones to Lagesson last night while being general manager of the Edmonton Oilers.
May you live in interesting times has more than one meaning.