Sam Gagner is one of six Oilers forwards to have scored 18 or more goals in an NHL season. Gagner turns 30 this summer and is the only one of the older members of the 18-goal crew (Lucic, Brodziak) with a puncher's chance of joining McDavid, Draisaitl and Nuge in 2019-20 (based on established performances).
Edmonton needs some new blood on the skill lines and ideally it will come from value contracts currently on the roster. Who are you?
THE ATHLETIC!
The Athletic Edmonton features a fabulous cluster of stories (some linked below, some on the site). Great perspective from a ridiculous group of writers and analysts. Proud to be part of the group.INSANE NEW OFFER IS HERE!
CURRENT 50-MAN LIST
Edmonton has 43 names on its current 50-man list, including nine restricted free agents. Names like Ryan McLeod and Hayden Hawkey may be added from the prospect tree, but it's easy to envision the new general manager culling the herd heavily.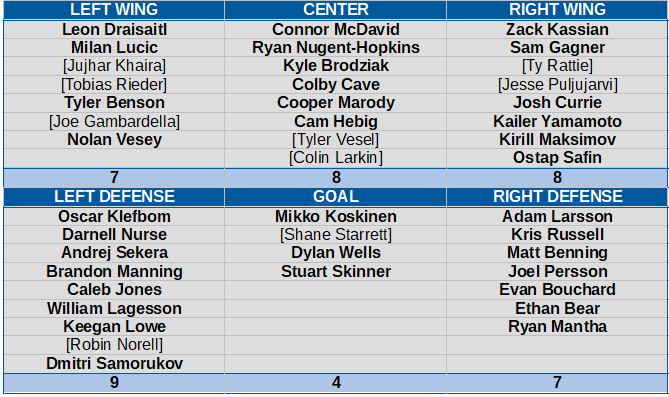 My guess is that Khaira, Gambardella, Puljujarvi and Starrett get deals, leaving Rieder, Vesel, Larkin, Rattie and Norell on the outside. If this is correct, Edmonton would have 38 names on the 50-man. It would give the new man lots of room to wheel.
Now, let's flush the names we (I) don't think will return, and then put the roster in the order we (I) think they could most likely succeed. By that I mean, the best players for 2019-20 in the most prominent positions.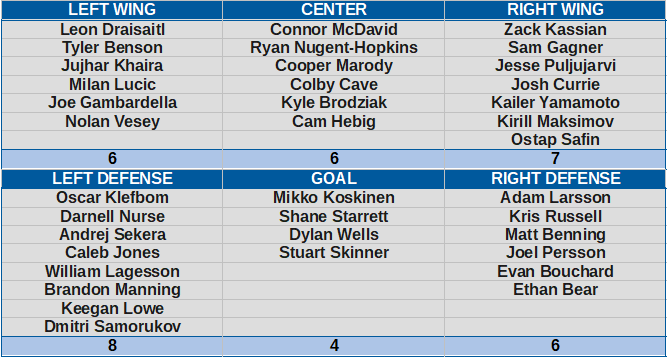 Can we estimate the goals for this group next season? The top trio scored 106 but we probably can't project the same. Let's say 90? The second line has a rookie and two veterans, let's give them 45. Third line? 25. Fourth line, recalls and extras? 15. I'm giving the 14 forwards 175 goals. Remember, the team's forwards scored 198 goals last season. This is less.
Defense? Well they scored 30 a year ago, so let's give them 35 since Bouchard and Persson should play quite a bit. Assuming my estimating is in the ballpark, we're at 205 goals. That would rank No. 30 in last year's NHL. Nope. Going to need to make some changes.
FIRST ATTEMPT AT UFA LIST
I have listed candidates by this year's cap number. My order of preference begins with Brett Connolly and Robin Lehner, but realistically Edmonton's shopping probably begins at Oscar Lindberg and Brian Elliott.
1 F Gustav Nyquist. He posted 2.10 points per 60 at 5-on-5 this season and is a wizard with the puck. He'll turn 30 in September and his cap hit on his last contract was $5.5 million. He'll be too expensive but would be a terrific addition.
2 F Mats Zuccarello. He's 32 in September and posted 2.01 points per 60 at 5-on-5 this year. Injuries have had an impact and he's an older player. I like him as a complementary winger with any of the big three centers.
3 W Richard Panik. He's 28 and posted 1.73 points per 60 at 5-on-5. Can play either wing and PK. I think he's the first player on my list the Oilers might have a chance to sign. He made $2.8 million last year.
4 G Brian Elliott. He's 34, posted a .907 save percentage and is among the best goalie option (imo) on the free agent market this summer. Made $2.6 million last season. He made $3 million in 2018-19.
5 R Joonas Donskoi. He's 27, posted 1.90 points per 60 at 5-on-5 and has been a fairly consistent contributor. He's a good skater and can play up and down the lineup. He made $1.9 million this season and should be affordable if he makes it to July 1.
6 L Ryan Dzingel. He's 27 and has good speed and terrific skill. He's an American free agent, they don't flock to Edmonton. He would be a perfect fit for the Oilers, don't think it will happen.
7 L Michael Ferland. He's 27 and enjoyed a solid year with the Hurricanes (1.80 5-on-5 points per 60). He would bring an edge to the team ala Kassian. I don't think the Oilers get him but expect they'll push.
8 L Oscar Lindberg. He's 27 and posted 1.69 in Vegas and 1.89 per 60 5-on-5 in Ottawa this season. He's 6.01, 202 and has skill. Contract paid $1.8 million last year. Oilers can afford him.
9 R Brett Connolly. Former No. 6 overall selection has delivered consistent offense in the last three seasons (5-on-5 per 60 by year: 1.98, 1.74, 2.66). He wins battles, is more aggressive than he was early in his career, and is my choice as UFA target this summer. He made $1.5 million this year.
10 G Robin Lehner. He made $1.5 million this season, posting .928 save percentage and winning 24 games. I don't think the Oilers will pursue, but they should.
11 L Brandon Tanev. He is 27 and made $1.15 million in 2018-19. Wonderful forechecker, solid complementary scorer and PK winger. He's maybe the best fit on the list for Edmonton.
12 L Magnus Paajarvi. He is 28 (!!!) and earned $900,000 this past season. His speed remains, and MP's scoring touch returned a little this year (11 goals). Speed, PK and complementary scoring all help.
13 L Daniel Carr. He's 27 and spent just six games in the NHL this year, but Carr has legit skill and would be a value addition. He went 52, 30-41-71 in the AHL and will be looking for a one-way deal.
14 R Alex Chiasson. He is 28 and coming off a 22-goal season. Chiasson's price point will be the issue, Edmonton will value him. I don't think he's a good bet to repeat in terms of goals, this could be a dangerous contract for the Oilers.
15 L Brandon Pirri. He is 28, one dimensional and Edmonton should be all over him. His cap number ($650,000) is a minor leaguer's total, and he spends time there. However, he scored 12 goals in 31 games. A 12-goal winger on the Oilers last season would rank No. 6. He shots the puck every 12 seconds. Make the call.
16 L Tyler Ennis. He turns 30 in October, but remains a good skater. Undersized, but a game rooster. He scored 12 goals in 51 games, but played less than 10 minutes a night. Made $650,000 this season.

You'd still want Cooper Marody to push a veteran and Jesse Puljujarvi to find his way past Gagner. However, the new coach would have more veteran presence, some added speed and penalty killing, and Pirri can shoot the puck. The option to move Leon up remains, you'd need Marody to win the No. 3 center job to make that happen. Thoughts?
Toronto signing another skill winger would likely free up one of their current wingers for trade. Nylander? Kapanen? Johnsson? I wrote about why trading Adam Larsson is a bad idea this morning for The Athletic, but with Mark Hunter possibly the leader in the Oilers GM race, and Toronto adding scoring wingers, we have some tea leaves to read.
LOWDOWN WITH LOWETIDE
A busy morning beginning at 10, TSN1260. Jonathan Willis of The Athletic will talk Oilers and the new general manager, as well as coaches who might be out there for Edmonton. Laura Armstrong drops in from Toronto Star to talk Vladdy Jr. and a parade of injured Blue Jays arms. We'll follow that up with Kirt Hill, President of Hockey Operations and General Manager at Edmonton Oil Kings. A mammoth series against Prince Albert continues tonight in Edmonton, we'll check out the situation on a young team that has surprised almost everyone. 10-1260 text, @Lowetide on twitter. Talk soon!