Do you remember when the Oilers sent down Jesse Puljujarvi and then recalled him just a few days later? New coach (Ken Hitchcock) and his center (Ryan Strome) down the line, the brass was strong on the idea but the young Finn continued to wander a crooked road in the NHL. If they'd kept him in the AHL, young JP might have done something in 2018-19 that he could build on this season. Such a shame.
THE ATHLETIC!
The Athletic Edmonton features a fabulous cluster of stories (some linked below, some on the site). Great perspective from a ridiculous group of writers and analysts. Proud to be part of the group.INSANE NEW OFFER IS HERE!
CONDORS NUMBERS 2018-19
Our friend Eric Rodgers dropped his final numbers for the 2018-19 Bakersfield Condors season. His kindness to our community began in Oklahoma City and continues in California. This year, Eric estimated special teams minutes, which allows us to drill down on each discipline. Today, I'm going to list the prospects and talk even-strength numbers. Here are the prospect forwards.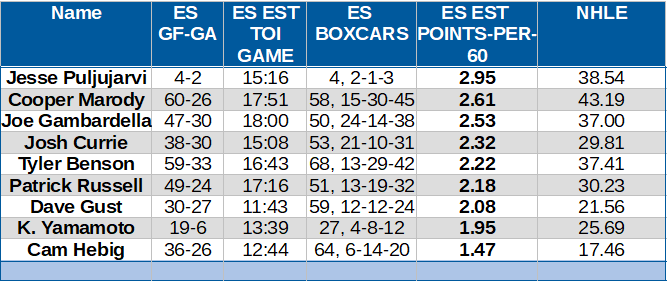 We can't claim any sort of trend for JP's numbers here, I included them to show the same of recall by PC/Hitch. What the hell? He played on a line with Benson and Currie, and got some power-play time (we'll address that in the coming days).
Cooper Marody's numbers are strong across the board, he's the forward from this roster who should get the push this fall. Tyler Benson has good numbers, but Gambardella was a more productive left winger.
Kailer Yamamoto tied for the team lead in power-play goals (6) despite playing less than half a season (27 games). Still, his even strength production lagged and he's likely to return in the fall. I'm not as down on him as many, but KY's year two of entry deal will need to see a major spike.
CONDORS DEFENSE 2018-19

Caleb Jones is ready for the NHL, he just needs a training camp (and possibly a summer trade of a veteran). The time on ice estimates show him leading in even strength, power play and in the rotation on the penalty kill.
Ethan Bear also played in all three game states, over a minute in each of the PK and PP. He has been passed by Jones (who was terrific in the NHL) but that doesn't mean he can't help the Oilers. Solid numbers.
William Lagesson leads the group in two categories, even strength goal differential and PK estimated time. I don't know where he fits, but if he continues to play this well, Edmonton will need to find a spot in the order.
NHL-READY (IN ORDER)
Caleb Jones is ready. Full stop. Cooper Marody has a great chance. After that, I'm not sure we can say anyone is that kind of lock. Ethan Bear is a good young player, but Matt Benning has his job. Joel Persson and Evan Bouchard are in the mix with Bear. No way we can say Bear has an inside track on any job heading to camp.
Caleb Jones
Cooper Marody
Ethan Bear
William Lagesson
Joe Gambardella
Josh Currie
Tyler Benson
Keegan Lowe
Shane Starrett
Patrick Russell
Benson's ranking is the most difficult, because I do believe there's a chance he wins a job on a skill line (meaning he should be above Gambardella and Currie). In ranking him No. 7, I'm going to take Bob Nicholson's word about slow playing prospects, even if it means the LW depth chart goes Leon Draisaitl, Milan Lucic, Jujhar Khaira, Joe Gambardella.
Daniel Nugent-Bowman has been hitting it out of the park since he got here, but the recent GM pieces are my favorites from him all year. I linked to his Sean Burke article above, excellent insight on a man the Oilers are considering for the big job.
I'm going to guess Mark Hunter wins the day but it sounds like the process is nearing a close and a hiring is in the immediate future.
WILDE ON BAKERSFIELD

Our friend Wilde passed along the possession stats (Corsi 5-on-5) for the 5-2 win over Colorado on Tuesday. Wilde says "On Ice – Forwards (players are grouped by 'lines', which of course functioned differently for 11/7, there were reoccurring lines as well as one-off mish-mashes, but the most common complete lines were the starters)" and " Defense (same thing; starting 'pairs', like forwards, they functioned differently and you saw a lot of Lowe-Day and Stanton-Bear)."
I'll have the series totals for the GDT tonight.