We're close now, the rumors are getting stronger and many of those rumors are bringing the crazy. I expect we'll know well before May long and might know by this weekend.
THE ATHLETIC!
The Athletic Edmonton features a fabulous cluster of stories (some linked below, some on the site). Great perspective from a ridiculous group of writers and analysts. Proud to be part of the group.INSANE NEW OFFER IS HERE!
LOWETIDE GM RANKER
This isn't order of preference, it's most likely to least likely. If I had a vote it would be dead Sam Pollock. He'd still be formidable.
1 Ken Holland. Nicholson hires Holland, who can mentor Keith Gretzky. You might think this is crazy, but I can see it happening just this way. If Nicholson is interested in getting a big name, Holland is the guy. Suspect he would want POHO and GM.
2 Kelly McCrimmon. He would have knowledge of the Golden Knights plans and draft list, might end up being a situation similar to Chiarelli when he left the Senators (except Edmonton won't sign Zdeno Chara). Will Nicholson give McCrimmon everything he wants? I doubt Holland has the same ask, simply because he'd have the authority automatically.
3 Mark Hunter. If Holland doesn't want the job and McCrimmon's get out of jail free card doesn't work, it'll be Hunter. If Nicholson has grown accustomed to the idea of being head man in hockey ops (de facto POHO), Hunter gets the job.
Holland would be interesting as Oilers general manager. He spends more on goaltending than recent Oilers general managers ($8.2 million last season) and his teams have made the playoffs 10 times (one Stanley, another final) since losing to Edmonton spring 2006. He might buy out Koskinen and bring in a $7 million goalie. I think he would add older players and the department of youth would be stacked and racked for the immediate future.
RYAN MCLEOD SIGNS
Edmonton signed Ryan McLeod yesterday, the first significant addition in some time. I haven't run the NHLE's in a few weeks, here they are with newcomers in black and bold.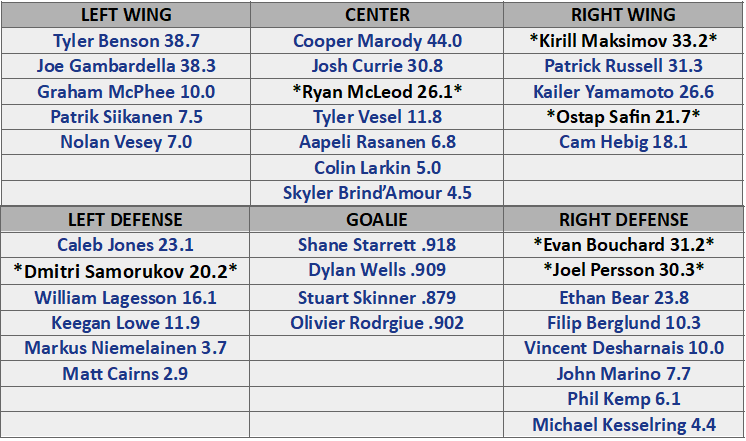 Offensively there are three newcomers with higher NHLE's, including two defencemen. Mr. McLeod is unlikely to make loud noises in the opposition end, but his speed will sustain him as a prospect through the entry deal and beyond. If he can learn how to score some goals, and that's possible (Jason Chimera did it), McLeod can be a useful player. He has an idea about how to play the game without the puck, we saw it last fall. He has the leather, needs more wood.
I imagine people will be calling him a disappointment around Christmas, hell people said that about Evan Bouchard so it's inevitable. I think it's fine to acknowledge his shortcomings, but it would also be a fine idea to let him find his own way. Draft +5, ladies and men. Many miles to go.
50-MAN ROSTER

The new man is going to be well pleased with the defensive group, both NHL current (Klefbom, Larsson, Nurse) and the group bubbling up represented by Bouchard, Samorukov and others.
Holland may view McLeod as a future Darren Helm, and that has value. We shouldn't expect the young center to play a full NHL season before 2021-22. That's my opinion.
LOWDOWN WITH LOWETIDE
At 10 this morning, TSN1260. We'll have Ryan Holt from Bakersfield as the Condors get ready for their next challange, plus Greyson Knutson from FC Edmonton to talk about the new league and the big game! Frank Seravalli from TSN will chat playoffs and Oilers GM. 10-1260 text, @Lowetide on twitter. See you on the radio!