My favourite Oilers draft this decade is 2011. People forget things about drafts, each season offers a fresh pile of foolscap to put on top of the pile and the stuff that has been there eight years is worn and yellow. Why do I like Edmonton's 2011 draft? It's every mistake in one draft, and they still came out with three gems.
THE ATHLETIC!
The Athletic Edmonton features a fabulous cluster of stories (some linked below, some on the site). Great perspective from a ridiculous group of writers and analysts. Proud to be part of the group.INSANE NEW OFFER IS HERE!
I do these posts called "Harvest Moon" on the Saturday of draft weekend. Have done them for many years. Sometimes I go back and look at them, mostly to see how they shine and to identify players who made the grade.
The 2011 draft had terrific positives and enormous negatives. Edmonton continued on the "Alex Plante is slow but that's okay" train by taking David Musil, and plucked two goalies who wouldn't make it just to prove they could do it. They would repeat it in 2014. It also featured a top 100 pick (forward) who was never going to score enough to make it in the NHL. Edmonton repeated that many times during the decade. Here are my original comments from 2011:
HARVEST MOON 2011
#1 overall- C Ryan Nugent-Hopkins: Immediately the best prospect in the system, RNH is a vital pick in the development of this cluster. If he is in fact an elite level playmaker, the Oilers have at least four outstanding candidates for chemistry on the top line and powerplay.
#19 overall- D Oscar Klefbom: I talk about a complete defender a lot because they're really important to a team's overall success. Klefbom's numbers in the SEL don't tell the whole offensive story, but when facing kids his own age the young man posted impressive crooked numbers. I'll have a ranking of the top 20 prospects (summer edition) tomorrow morning; Klfebom is going to be an interesting player to slot.
#31 overall- D David Musil: He was safely in my top 30. I'm all for players with a nice range of skills, but defensemen who can make the safe play have value. Red Line ranked him as the 5th best defenseman in the entire draft, one behind Klefbom.
#62 overall- G Samu Perhonen: Matt Bugg dropped by Nation Radio today and riffed on the depth selections in this draft. In regard to Perhonen, he gave me the impression that this is the ultimate risk/reward pick. We could be looking at a quality starter or a dud, with dud rising.
#74 overall- C Travis Ewanyk: Future role player has a nice range of skills and therefore a few slots he could fill. PF size and style, he can win faceoffs and projects as a future checking center. I don't know that he's going to bring enough offense to make the NHL.
#92 overall- D Dillon Simpson: Bugg described a player who has a nice range of skills but some chaos too. I have no idea if he or a Brandon Davidson type will end up winning the day, but I think that's the race he's going to be involved in.
#114 overall- C Tobias Rieder: Redline Report loves him, describing Rieder as an "undersized, but exceptionally smart playmaking winger with excellent offensive instincts and creativity." Rieder impressed as a rookie in a very good league and according to Bugg is a guy who will work hard in tough areas to win battles. He was taken at the point in the draft where you shouldn't expect anything, but it's also true that Rieder is probably a better NHL prospect than a couple of the kids Edmonton picked before him.
#122 overall- D Martin Gernat: Huge kid (6.05, 187) and considered somewhat similar to Marincin (lower ceiling) in style. Raw prospect, will take time but he's certainly a player of interest.
#182 overall- G Frans Tuohimaa: Oilers saw him good and Bugg suggested he's a guy they might like to come over in fall 2012. Has a nice SP in junior.
That was an incredible draft. Edmonton drafted a slow defenseman, two goalies who wouldn't see the light of day, two more defensemen who would fall shy of NHL employment and a checking forward with no bat. And yet, three NHL players climbed to safety. Two in the first round, and one No. 1 overall, but in a decade where the Oilers will have drafted inside the top 10 a total of nine times, it's my pick for top drawer. You?
I would suggest to you that this summer will be the opposite. Peter Chiarelli put himself in cap hell and with rumors this year's cap may not reach $83 million things might be sticky again. Here's a quick look at the numbers.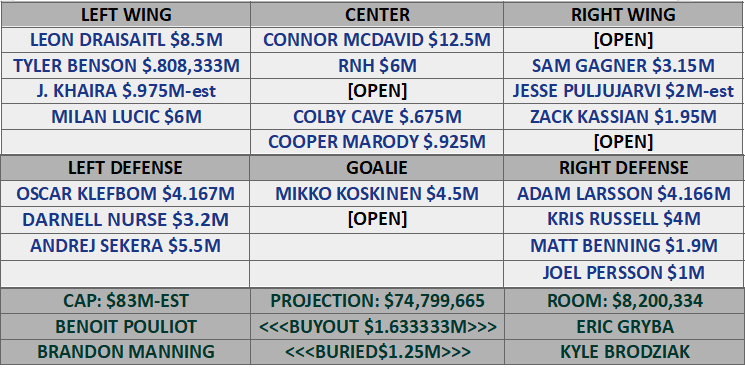 Once we get confirmation on Holland, we can drill down on possible decisions. I do believe (and have mentioned) the second goalie is more likely to be a veteran (Brian Elliott is my choice, your mileage may vary). I also think it's possible we see a buyout. Gagner? Sekera? Don't know.
If I were king, shopping a veteran defenseman (Russell or Sekera) would be the first order of the day, replaced by Caleb Jones. I know everyone wants a righty puck mover and there's talk of dealing Adam Larsson, I'm staying the hell away from that noise. I also think Holland will value Larsson highly, that's a positive.
CONDORS
Got screwed. Awful call. The Hockey Gods owe the Condors, they can pay it back tonight. I'll have a GDT up later, and we'll talk draft tomorrow.