We talked yesterday about things Edmonton did at the 2011 draft. While selecting slow defensemen, overdrafting goalies and plucking checkers with little offense, overlooking the skill left on the board, the Oilers committed multiple sins while also walking away with Ryan Nugent-Hopkins, Oscar Klefbom and Tobias Rieder. One of the chief issues with the Oilers drafting in the early part of the decade surrounded grabbing shy offensive forwards (some with speed issues) in the first three rounds. As the decade rolls along, did they get any better?
THE ATHLETIC!
The Athletic Edmonton features a fabulous cluster of stories (some linked below, some on the site). Great perspective from a ridiculous group of writers and analysts. Proud to be part of the group.INSANE NEW OFFER IS HERE!
CAREER GOAL: GOALS
Craig MacTavish said "in today's NHL, even marginally, you have to be a threat to score" and in many ways that has been the story of Edmonton's drafting this decade. In the 00's, Kevin Prendergast grabbed Jarret Stoll, Kyle Brodziak, Matt Lombardi and others outside the first round. Edmonton needs some success in the 31-100 corridor. With forwards. Who have speed.
I'm going to list all of Edmonton's draft picks 2010-18 who were: Forwards chosen outside the first round but inside the top 100 overall. Using NHLE, let's see if Edmonton improved over the decade in identifying more capable scorers, and in finding more speed.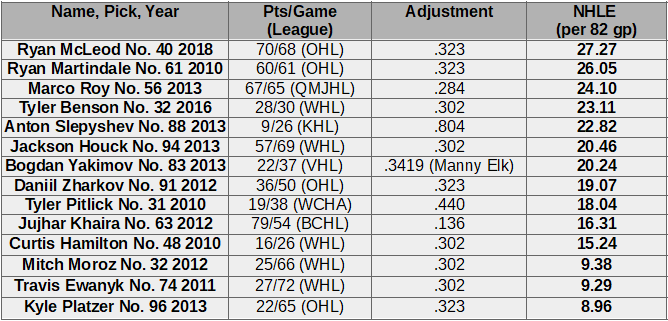 One thing not yet mentioned in our recent look at these players is the Sept-December birthdays in the group. McLeod (September), Martindale and Yakimov (October), Pitlick and Roy (November), Hamilton (December) all born on the older side of the calendar.
McLeod represents progress, I think that's fair. Was the selection a fluke? He projects as a two-way center likely to find the No. 3 line but among the Oilers forwards chosen in the decade 31-100, McLeod has the best draft resume. The best NHL player in the group (Tyler Pitlick) was drafted miles too early based on NHLE, while Mitch Moroz remains the ultimate example of a player chosen without accurate estimation of his offensive potential.
What is the dividing line for drafting a skill forward 31-100 in terms of NHLE? Is it 20 points? 25? Of course it depends on the season, but allow me to run the 218 draft 31-99 for forwards with their NHLE's.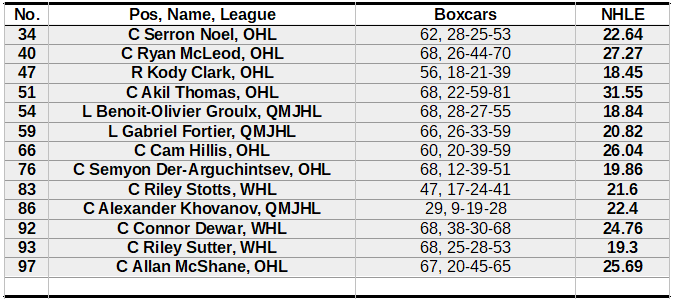 Oilers made an astute choice based on the NHLE of the players available. In this draft, Kody Clark (an October 1999) to the Washington Capitals is the largest outlier, while the best selection goes to Akil Thomas (Los Angeles Kings).
What's the point of all this? Well, two things. Edmonton drafted an offensively capable player (compared to the names available) at No. 40, and he's a forward with speed. Doesn't mean McLeod will make it, but he was an appropriate selection based on the talent available.
One more note: I use NHLE only to put these players on a level playing field. I'm sure there are more sophisticated models available. I don't know if the Oilers have a model, but they should for the draft (and other areas). It's a useful aid.
Tippet would run heavy with veterans and play a button-down style with discipline and structure. He is a player's coach, or at least Patrick Johnston described him as such in 2013 for Canuck's Army. Pierre Lebrun did an interview with him several months ago for The Athletic, it is here. If you're going to read one thing about Tippett today, make it this piece. The part about "we had another guy, who supposedly couldn't defend a lick. Well, he was defending only 20 percent of the time because he's making good plays out of our end" is absolute music.
NHLE 2019 DRAFT
I decided to do the same thing for this year's draft as above. Using my latest list, here are the NHLE's, forwards 31-51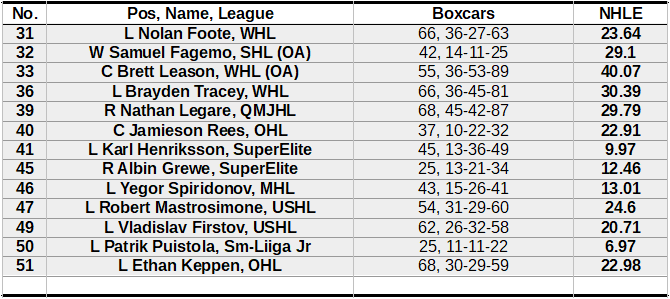 The Euro leagues get bitten here, some of the lower leagues have very little connection to NHLE (I used Manny's list for several leagues) so it's a stretch. The best forward in this group (who isn't an overager) is probably Brayden Tracey, although he got zoomed by linemates. Legare might be the better player.
If the Oilers grab Tracey at No. 38, fans should consider that a strong selection based on the young man's scoring abilities. I wonder if the Oilers do a ranking based purely on math and then apply it to their own list. It shouldn't be regarded by scouts as a threat, but rather as a confirmation. They already know how good Tracey is, but do they know in relationship to the players around him? Don't know.