I married a politics junkie, specifically a woman who has spent a lot of time observing and reading about American politics. One of the things we enjoyed over the years was a show called The McLaughlin Report. She watched for the content, I watched for the warmth and humor. (Here is the SNL skit).
The host, John McLaughlin, would spit out (literally) an issue and ask the panel questions. They would get four words out before getting interrupted, by McLaughlin or one of the other guests. It was damned funny in its time, and that's a fact. So, in honor of a long lost show, ISSUE ONE: Jesse.
THE ATHLETIC!
The Athletic Edmonton features a fabulous cluster of stories (some linked below, some on the site). Great perspective from a ridiculous group of writers and analysts. Proud to be part of the group.INSANE NEW OFFER IS HERE!
JESSE'S CURRENT COMPARABLES
Each season, I head to hockey-reference and find comparables for youngsters who are still emerging as NHL players. Ideally, you find very few comparables (McDavid's are Crosby, Ovie and Malkin four years in), but in the case of JP it's a long list.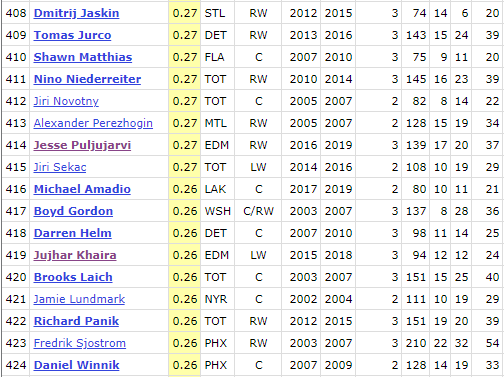 There are some good players in this group, in fact a few who had long and productive careers. There are 8 direct hits, and those eight men performed in year four (on average): 46, 7-6-13. We can hope that Puljujarvi romps past that number by Halloween, but it isn't a fabulous bet. Meaning Puljujarvi's trade value won't be high. He was in a better neighborhood a year ago, one hopes he can get back there and beyond.
What should that mean for Holland? A year in Europe or a year spent finding a role on the NHL team are possible options. He's big and strong, so could be effective on an aggressive No. 4 line, but Holland told Mark Spector he's in "make the playoffs now" mode and Jesse might not fit the puzzle for Edmonton.
KAILER YAMAMOTO
The Oilers announced yesterday that Yamamoto had wrist surgery, should be fine for training camp. Anything to do with the hands/wrist can be devastating for skill players and KY struggled when in the lineup after his injury. He wasn't right at any point in Bakersfield, that is reflected in his 5-on-5 scoring numbers. Here are Edmonton's AHL forwards (age 20 or less) since 2005 ranked by points-per-game:
Tyler Benson 2018-19: 68, 13-27-40 (.588)
Magnus Paajarvi 2011-12: 34, 7-12-19 (.559)
Jesse Puljujarvi 2016-17: 39, 7-11-18 (.462)
Marco Roy 2015-16: 42, 8-10-18 (.429)
Teemu Hartikainen 2010-11: 66, 8-20-28 (.424)
Bogdan Yakimov 2014-15: 57, 9-14-23 (.404)
Kailer Yamamoto 2018-19: 27, 4-7-10 (.370)
Rob Schremp 2006-07: 69, 8-16-24 (.348)
J-F Jacqies 2005-06: 65, 11-10-21 (.323)
Marc Pouliot 2005-06: 65, 8-12-20 (.308)
Ryan Martindale 2012-13: 41, 4-8-12 (.293)
Tyler Pitlick 2011-12: 62, 4-13-17 (.274)
Slava Trukhno 2007-08: 64, 7-11-18 (.266)
Phil Cornet 2010-11: 60, 5-10-15 (.250)
Kyle Platzer 2015-16: 48, 3-8-11 (.229)
Jujhar Khaira 2014-15: 51, 4-6-10 (.196)
Curtis Hamilton 2011-12: 41, 4-3-7 (.171)
Travis Ewanyk 2013-14: 68, 6-5-11 (.162)
Mitch Moroz 2014-15: 66, 5-4-9 (.136)
Kale Kessy 2013-14: 54, 2-2-4 (.074)
Remember, offensive players like Yamamoto don't spend long in the AHL. He should have dominated this year, but the injury made that impossible. New management means no connection to the current stable, although Ken Holland is going to value every skill winger available. Interesting that the young man still beat Rob Schremp at the 5-on-5, despite the injury.
CONDORS V. GULLS (WILDE ON POSSESSION)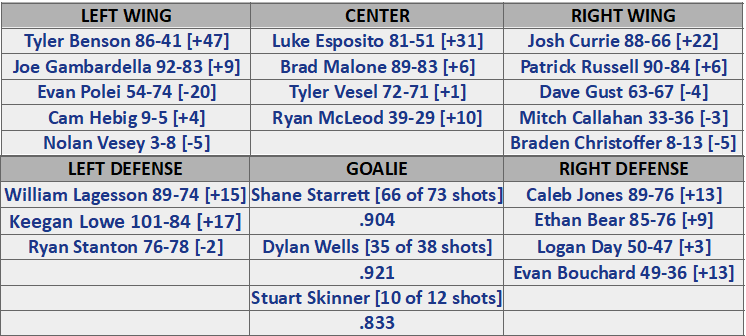 Our friend Wilde has once again gifted us with the possession numbers, you can follow him here on twitter and here at his website. This team misses Cooper Marody, and the San Diego Gulls are a fine team. These are 5-on-5 numbers.
Still, Benson and Currie are dominant in possession and for Benson the offense is coming in this series. I hope Bakersfield can stretch this series out or even win it, this is a very good test for the kids. Reports on Jones, Lagesson and Bear are positive, that might impact Holland's summer moves. Ryan McLeod's possession numbers are fab, is he helping or getting zoomed?
We'll be live all day, the Lowdown will feature guests Steve Lansky, Greyson Knutson from FC Edmonton (HUGE weekend) and various former NHLers who can pop in between games. It was a blast this year, looking forward to it this morning!