I'm not sure if Stuart Skinner enjoys drama, but he is providing plenty of it during the Bakersfield Condors series against the San Diego Gulls. He came in as a reliever in Game 3, stopping 10 of 12 in a 7-6 overtime win. Last night, again in overtime, Skinner stopped 45 of 46 in 93:02 of playing time, and picked up his second win. After a first pro season that was pedestrian statistically, this late run is easily the highlight for Skinner. Is this the beginning of a Cinderella story?
THE ATHLETIC!
The Athletic Edmonton features a fabulous cluster of stories (some linked below, some on the site). Great perspective from a ridiculous group of writers and analysts. Proud to be part of the group. INSANE OFFER IS HERE!
New Lowetide: How the U18's increased the draft pool and gifted the Edmonton Oilers with multiple options at the 2019 draft
Lowetide: An offseason plan for Ken Holland to remodel the Oilers roster.
Jonathan Willis: Which Condors made a good first impression on Oilers GM Ken Holland?
Daniel Nugent-Bowman: Ken Holland steadfast that buck stops with him as new Oilers GM.
Eric Duhatschek: Why any talk of Ken Holland being yesterday's man should be put to rest.
Lowetide: How will Ken Holland proceed in Year 1 as Oilers general manager?
Jonathan Willis: What does the arrival of Ken Holland mean for the Oilers coaching search?
Daniel Nugent-Bowman: Prioritizing the roster issues that await Ken Holland in Edmonton.
Lowetide: Ken Holland's Bakersfield production line: Elevating Jones and how long will success take?
Lowetide: Ken Holland's procurement list for his rumored move to Edmonton will include front-office personnel
Jonathan Willis: A Milan Lucic trade is at the top of the to-do list for the Oilers' next GM.
Lowetide: Should Oilers practice more patience in adding Evan Bouchard to the roster?
Jonathan Willis: Is Ken Holland yesterday's man or the ideal GM candidate for the Oilers?
Lowetide: Jesse Puljujarvi and his uncertain future with the Oilers
Lowetide: 'I see something special': Are Oilers prepared to make Caleb Jones a fixture on the roster next season?
Jonathan Willis: Gritty comeback performance sends Edmonton's farm team to the second round of the AHL playoffs.
Lowetide: Dylan Cozens might be ideal fit for Oilers at No. 8 overall in the 2019 draft
New Lowetide: Is this the season the Oilers take the plunge and draft a USHL player in the first round?
Lowetide: Red Wings front office shuffle could impact Oilers' future.
Daniel Nugent-Bowman: Ten prospects likely to be available when the Oilers make their first-round pick
HAPPY MOTHER'S DAY
Lois Mary Mitchell was born in Freemont, SK on May 31, 1939 and grew up in nearby Neilburg. When she was 12, Lois saved two children by pulling them from a house fire, the Neilburg fire department gave her a homemade plaque and she got her name in the paper. Her Dad owned a dairy farm and Lois had most of her schooling in Saskatchewan before the family moved to the lower mainland (Maple Ridge) in the early 1950's. She and sister Laura spent time on CKNW radio talent shows singing harmonies ala the Clooney Sisters.
Her Dad built a sawmill in Whonnock and made his money by supplying lumber to local builders and various retail companies. When Lois got out of school, she quickly pursued work in Vancouver, first working in a shoe store and then for B.C. Tel. Her first big job was as overseas operator, a job she remembered fondly for her entire life.
Jim Mitchell (her Dad) was doing pretty well by the late 1950's and began hiring workers who could take care of the mill as he began to pursue new opportunities (he would land a substantial contract providing boxes for chicks at the hatchery in Abbotsford).
Lois met Ira Babcook one day at lunch in the Mitchell house, she off from working at BC Tel and  Ira working in the mill that day. I can't tell you what their first meeting was like, but can tell you they loved each other every day I knew them.
I could tell you hundreds of great stories about my Mom, she was just so damned funny. For years she would look at the 'TV Times' and say to me "OH BOY, it's TBA next, they usually have good shows!" and it was years before I found out TBA is 'to be announced' and told her. A television commercial for a piano artist named Richard Clayderman somehow convinced her he was a former member of the Beatles! I could never convince her otherwise. Moms.
She died on a beautiful Thursday, she would have been in the garden in Maidstone given the choice. She fought so hard to stay with us but couldn't do it, lasting only long enough to meet her second granddaughter. It was her third cancer, she said "I beat the other two, but this one is different" and she was right.
I don't talk about my Mom here, she passed in 2009 and it is still a difficult subject. I loved her so much and miss her every day. Connect with your Mom today. You only get one.
NHLE'S OVER THE YEARS
Do NHLE's work? Do they place all prospects on a level playing field, thus allowing us to project an entire farm system into the future? My theory on NHLE has always been that an actual NHL prospect needs to have a number of 30 or better to stay on track for a big league future. Let's look at 2016-17, focusing on 30+ points as a line in the sand.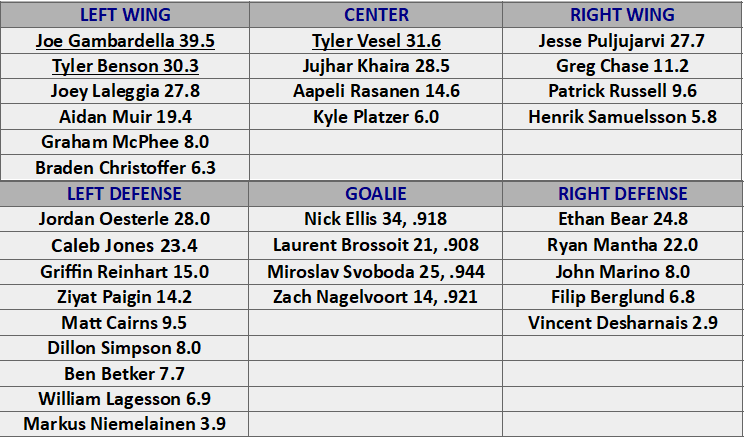 Only three names hit 30 or more points from the 2016-17 season, none of whom have yet established themselves as NHL players. Jujhar Khaira and Jordan Oesterle were close, and have in fact made the grade.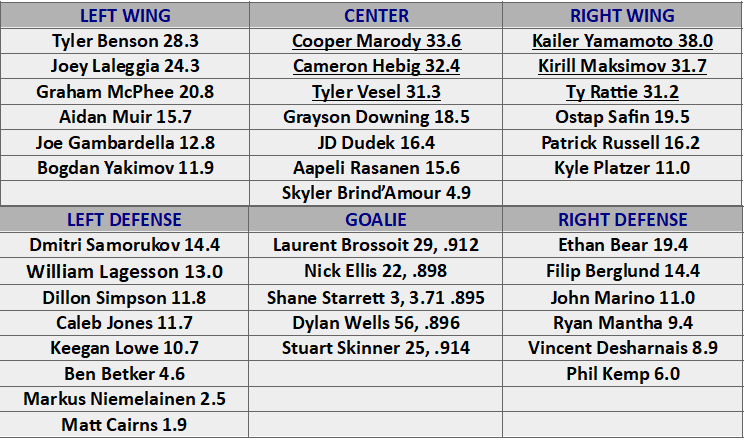 This is 2017-18, and six forwards hit the mark or better. Yamamoto's number is really strong, I hope he has a healthy season in 2019-20. Vesel hits 30+ for the second season in a row, Benson just shy.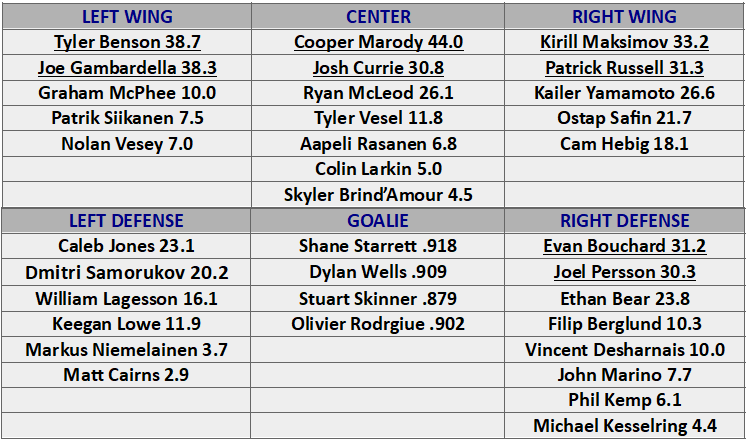 This is Woodcroft's wizardry combined with an uptick in roster quality for Bakersfield. Six forwards and two defensemen qualify, plus you have the three blue (Jones, Bear, Lagesson) pushing for two-way roles. Most of the names at or near 30 NHLE are will be driving for an NHL job (Maksimov the exception).
Do NHLE's work? I think they do, but would say that (as is the case in the Farm Workers post) the leading offensive players are not necessarily the players who arrive from the AHL. It's the Jujhar Khaira player types, whose NHLE progression (7.5 to 21.1 to 28.5) after turning pro showed progress in all areas (including playing time).
Who are the players from the 2018-19 Condors who most closely resemble Khaira? It's Joe Gambardella, whose progression in pro hockey (12.8 to 38.7) is genuinely impressive. He might be the forward to emerge this fall as an Oiler.