Fans who follow the draft pay attention to boxcars, the latest updates on prospects, scouting reports and organizational verbal in the hours after the draft. You read some promising words and suddenly there's hope. Alas, each season the player puts up similar numbers in the same league and after a time, a new bunch comes along. Then one day you find out your NHL team didn't sign your hope before the deadline. And for a few days you might think "dammit, now anyone can get him" which is kind of funny and sad at the same time.
What do great prospects do? They progress quickly. I know it's obvious but sometimes we (I) overlook that simple fact on the way to fooling ourselves into thinking Anton Lander will play 10 years in the NHL as No. 3 center.
The Athletic!
The Athletic Edmonton features a fabulous cluster of stories (some linked below, some on the site). Great perspective from a ridiculous group of writers and analysts. Proud to be part of the group. INSANE OFFER IS HERE!
New Lowetide: How much can Connor Brown help the Oilers?
New Lowetide: Dmitri Samorukov is off to the Memorial Cup and is the Oilers' fastest rising prospect
New Jonathan Willis: Craig MacTavish leaves the Oilers, signalling the first major front office change under Ken Holland
Lowetide: What kind of coach should Ken Holland hire for the Oilers?
Jonathan Willis: Every Oilers AHL prospect, rated by how close they are to the NHL
Jonathan Willis: A resurgent Andrej Sekera gives the Oilers much-needed defensive options
Lowetide: Is Joe Gambardella destined to become the Oilers' next Fernando Pisani?
Daniel Nugent-Bowman: Protector, supporter, confidant: Connor McDavid's mom, Kelly, is his off-ice rock through good times and bad
Lowetide: An offseason plan for Ken Holland to remodel the Oilers roster.
Daniel Nugent-Bowman: Ken Holland steadfast that buck stops with him as new Oilers GM.
Lowetide: How will Ken Holland proceed in Year 1 as Oilers general manager?
Jonathan Willis: What does the arrival of Ken Holland mean for the Oilers coaching search?
Daniel Nugent-Bowman: Prioritizing the roster issues that await Ken Holland in Edmonton.
Lowetide: Ken Holland's procurement list for his rumored move to Edmonton will include front-office personnel
Jonathan Willis: A Milan Lucic trade is at the top of the to-do list for the Oilers' next GM.
AHL PROGRESS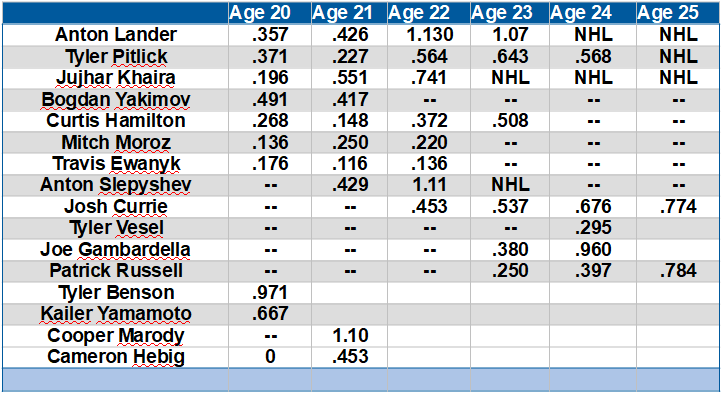 I wanted to talk about Anton Lander and why AHL players are a different breed. Do you remember the "Farm Workers" post I do every year? Among the endless comments I make is one that says "if you haven't established yourself as a prospect by age 22 you're in trouble" and that applies to many players on this list— but not to Lander. He was bona fide at 22 and still missed the cut.
Lander was brought along strangely, kept in the NHL as a penalty killer at 20, and effectively derailed as a prospect. By 22, he was posting strong AHL numbers but couldn't get back to the NHL. Now, the Oilers handled him badly, but he also had legit issues as a player (speed). When you see his points-per-game at 22 in the AHL, the assumption should be NHL ready, but he played for an addled team and his speed was an issue.
Could he have played in the NHL for a more organized team? I think so, but his skills and production weren't overwhelming. So, the Oilers went with other options (Eric Belanger, Will Acton, Boyd Gordon) and Lander hammered AHL pitching.
The same kind of fate befell Anton Slepyshev, who earned a recall in his second AHL season but couldn't establish himself as an NHL winger (it would have a major impact on the organization combined with Jesse Puljujarvi's struggles).
So, you may ask, if Lander and Slepyshev were over 1.00 points-per-game in the AHL at 22, how on earth did Jujhar Khaira and Tyler Pitlick emerge from the minors as NHL players? Well, I will tell you that neither man is "established" and that's an important point. Lander played 215 NHL games, Pitlick has played in 185 and Khaira 154. If "established" is three or more full seasons, that's about 250 NHL games. In real terms, Pitlick and Khaira haven't yet passed Lander. We'll see.
MIKE WALTON
In the old timey Farm Workers, I wrote "For Rob Schremp fans, there is exactly one pure offensive player who made it: Mike Walton." The longer a skill player (Rob Schremp) spends in the AHL, the less likely he's going to be an NHL top 6F of note. The first-round picks go up in mere seconds, meaning they get earlier and more chances than lower picks. It's always been this way. Mike Walton was disliked by his coach, Punch Imlach, for reasons. He won a Stanley with my Bruins, so he's alright for me. Imlach kept Walton in the minors for 2.5 seasons, where he flattened all comers.
BEWARE THE JOB DESCRIPTION
There's an ongoing conversation in the comments section about players like Kailer Yamamoto, Tyler Benson and Cooper Marody. The idea goes "these players need to stay in the minors for another year, gain strength, dominate, then come to the NHL." There's a lot of good thinking there, but allow me to add some nuance.
First, let's be clear about specific players and the jobs they are applying for at this time. Kailer Yamamoto is either a skill RW in the NHL or he's going to play his career in the AHL or Europe. He's not going to apply for a checking job. He isn't in the AHL to learn how to lean on people and wear them down. He's there to dominate offensively. He didn't get it done in year one, and part of that is a wrist injury. He needs a big season.
Tyler Benson and Cooper Marody delivered strong offensive seasons, and are now "in the window" for NHL jobs. Benson (imo) could apply for a checking job if he washes out as an offensive option, not certain about Marody (his pucks skills are fabulous). Both men will go as far as their foot speed allows.