Ken Holland is going to make some tough decisions in the coming weeks and it will impact several current Edmonton Oilers. The media avail this week focused on an 'aggressive, fast team' beginning this fall. Which means an upgrade in footspeed, and the slow feet from a year ago are in danger. You can run slower players, but Chiarelli's Oilers got so bogged down it became a major issue. Adding a burner on the No. 3 line, plus another on the fourth line, will go a long way to changing the equation.
In order for the current depth forwards (bottom six) to survive, each player needs to bring something the coach can use. PK work, playing center or wing, offering a physical style that results in battles won and successful puck retrieval, good speed, scoring points at 5-on-5. How many of those things do the current bottom six bring?
THE ATHLETIC!
The Athletic Edmonton features a fabulous cluster of stories (some linked below, some on the site). Great perspective from a ridiculous group of writers and analysts. Proud to be part of the group. INSANE OFFER IS HERE!
JUJHAR KHAIRA
Over the next week or so, I'm going to have a quick look at each of the bottom-six forwards. We're in search of players who can deliver more than one of the following: PK, score at 5-on-5, play more than one position, forecheck, win battles and play with an edge. I'm starting with the most promising name in the group, Jujhar Khaira.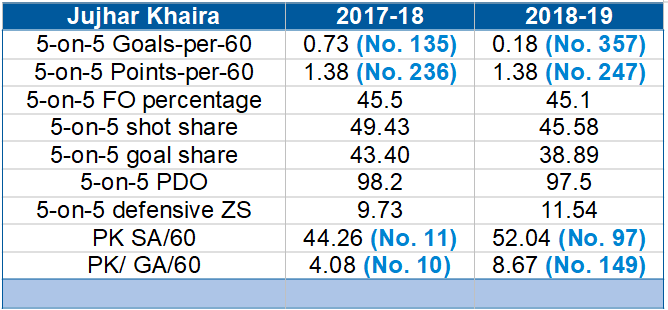 Khaira's 2017-18 season was impressive. His 5-on-5 scoring and points placed him as a second-line scorer and a third-line point producer. What's more, his shots and goals against per 60 on the PK were among the best in the NHL. That's a helluva player making $675,000.
Khaira's 2018-19 season saw him fall back and that happens with role players. He was suspended, hurt his foot and his goal-scoring went away. His points-per-60 remained at third-line level, that's a positive, and I still like him as a PK option.
Khaira covers several elements we're looking for: He scores well enough at 5-on-5 to hold down a job, he can play center, he is physical and can forecheck very well (that's going to be a big damned deal come fall). He wins battles for pucks and he has a mean streak. Among the group I consider 'bottom six forwards' from one year ago, I think Khaira is the obvious choice to return. Where does that leave Milan Lucic, Sam Gagner, Colby Cave, Kyle Brodziak, Tobias Rieder, Jesse Puljujarvi, Ty Rattie, Joe Gambardella, Josh Currie, Patrick Russell and the new guy (Nygard)? And what of Zack Kassian?
Khaira has always been a favourite of mine, wrote about him first on this blog June 23, 2012. Draft day quote from him: "I want to show than mentally I'm strong enough to play the game at the next level. My foot speed really needs to increase and I do need to get stronger because there are some guys at the next level who have matured. I do really need to work on that."
Red Line Report: At Red Line, we believe this kid could be the biggest/best sleeper of the entire draft. Prince George is so far off the beaten path teams don't even travel there for WHL games, much less BCHL contests, so he gets zero exposure. But this kid is big, mean, aggressive, nasty, and guess what… he can score too. Does the dirty work in the corners, bangs bodies and wins battles, and loves to initiate heavy contact. Powerful stride with great balance and gets leverage on his hits. Has surprisingly soft hands and puck skills with playmaking ability. Creates lots of space for smaller teammates and makes everyone braver. Very raw defensively.
TRADE RUMOURS
It occurs to me that we should keep track of the rumours that are out there (or have been) just in case Holland circles back to discussions that happened before his arrival. Here are two:
1 Matt Benning to Toronto for Connor Brown
2 Milan Lucic to Vancouver for Loui Eriksson
LOWETIDE TOP 100
I have the final rankings complete, there are several late arrivals at the bottom of the list and a little movement here and there throughout the piece. I'll have it up early Saturday morning along with a mock draft and an explanation of how I reach my conclusions.
LOWDOWN WITH LOWETIDE
A very busy morning, TSN1260 beginning at 10. We'll chat about a classic SCF game last night, plus Julian Edlow from Draft Kings joins us to talk NBA finals at 10:20. Jonathan Davis from SiriusXM will talk SCF, and Derek Taylor will drop by to chat CFL as we prepare for a couple of weekend games. 10-1260 text, @Lowetide on twitter. See you on the radio!