There are only 50 spots available and most NHL teams leave room for a waiver claim or a mid-season trade. Since Ken Holland was named general manager, the Edmonton Oilers have signed one free agent (Joakim Nygard) and several players under organizational control but in need of a contract (Logan Day, Joe Gambardella, plus the Monday signings). Goalie Olivier Rodrigue, who will play in the QMJHL in 2019-20, also signed his entry deal.
Yesterday, Ken Holland signed goaltender Shane Starrett and center Brad Malone — and the Malone signing is the point at which we can begin to discuss the group of players who may not be coming back. Malone's presence on the 50-man means there will be blood on the tracks.
THE ATHLETIC!
The Athletic Edmonton features a fabulous cluster of stories (some linked below, some on the site). Great perspective from a ridiculous group of writers and analysts. Proud to be part of the group. INSANE OFFER IS HERE!
CURRENT 50-MAN (41)

Malone's addition means we're probably going to be saying goodbye to a significant piece of last year's roster. The remaining NHL RFA's (Tobias Rieder, Jesse Puljujarvi, Jujhar Khaira, Ty Rattie) all have a chance to return, although one can't imagine what the organization might have to do in order to retain Rieder. The minor league rfa's (Tyler Vesel, Colin Larkin, Robin Norell) offer less of a challenge.
Ryan Mantha's situation may also be resolved and we'll get some indication about Hayden Hawkey, Vincent Desharnais and we've already heard about Joey Dudek (he's gone). Let's proceed as if the Oilers sign JP, Khaira and Rattie, with Rieder, Vesel, Larkin and Norell all falling off the roster. Meaning the 50-man would be sitting at 44 (depending on Mantha).
Malone's signing means there is room for two more centers. McDavid and Nuge represent two NHL spots and I think Marody, Brodziak and Cave will be in the mix for the No. 4 NHL job. Third-line center? Suspect that will be a trade or free-agent acquisition over the summer, meaning we're up to 45. I've chosen Luke Glendening because he can skate and PK.
Center: McDavid-Nuge-Luke Glendening-Marody-Cave. AHL Center: Brodziak-Malone-McLeod and the group of AHL signees who can play the position.
Nygard's signing gives more speed to the left side, but doesn't solve the No. 2 LW issue. I expect we'll see an NHL player added over the summer, for our purposes today we'll use Tyler Ennis, which brings us to 46.
Left Wing: Draisaitl-Ennis-Khaira-Lucic-Nygard. AHL LW: Benson, Gambardella, Vesey, Safin plus the AHL contracts.
It would have been so good if one of the kids could have emerged last season but it didn't happen. I have the Oilers spending bigger dollars here than anywhere else on the roster. In adding Brett Connolly, RW will become a mostly veteran group. Puljujarvi or Yamamoto would hopefully push for Kassian's role.
Right Wing: Kassian-Connolly-Puljujarvi-Gagner. AHL RW: Yamamoto, Rattie, Currie, Hebig, Maksimov.
One of the most interesting pieces of the puzzle will involve defense this summer. Holland has a play he can make any time (Caleb Jones) but what will he use it on? My trade in today's roster fun is Kris Russell to Detroit in the Glendening deal. I remain onside with a second pairing of Nurse-Benning: In 485 minutes together over the last three seasons, the duo has posted a 51.48 percent Corsi 5-on-5, a 5-on-5 shot differential of 50.37, and a goal share 5-on-5 of 62.26 percent.
Left Defense: Klefbom-Nurse-Sekera. AHL: Lagesson-Lowe-Manning-Samorukov and AHL contracts.
Russell gone, it's a wide open fall and winter at the RHD position. I'd suggest we might see five or six RH blue in Edmonton this winter. You hope things settle down by the trade deadline.
Right Defense: Larsson-Benning-Jones-Persson. AHL: Bouchard, Bear, Day.
Starrett's signing Monday, and the inevitable addition of a veteran free agent, have the way clear for this year's team.
Goal: Mikko Koskinen, Brian Elliott. AHL: Starrett, Wells and Skinner, with the kids once again flying back and forth from the ECHL.
PROJECTED NHL ROSTER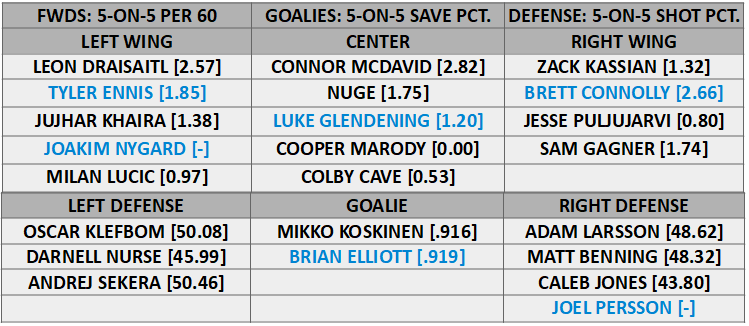 PROJECTED AHL ROSTER

I wrote about Taylor Hall and the idea of Taylor Hall in a recent piece for The Athletic, saying "Oilers fans dream of high octane offence that features two impact lines. Those dreams could be awakened with one additional piece." In the words of the great NHL general manager Steve Winwood, when you see a chance, take it.
I have Kirby Dach at No. 6 and believe he'll go anywhere 5-10 in this year's draft. I'm fairly certain he won't be around when Edmonton picks, if I'm honest Cozens is the WHL forward who might fall into the Oilers' laps.
My list is math, the Puck77 (brilliant site) crew give you the positives and the negatives and then it's up to you. I think that's the best way for a fan to evaluate prospects they haven't seen. Get an idea from math about what they are and how that projects them, then find out about the negative (and how bad is it?) before deciding.
I think Dach and Cozens are gone by No. 8. If one of them is available, suspect Edmonton takes him. Now to the reason for this segment: If a guy in the media flies to Buffalo, and tells you his takeaway on the ground, from the industry, is that Dach goes top 5, and you tweet back to the guy that he's merely greasing the skids for the local team to take him at No. 8? Well, I think you are overthinking it. Dach at No. 8 is music, Cozens too.
LOWDOWN WITH LOWETIDE
After a weekend in Medicine Hat (hot, it's already August there) we're back at 10 this morning, TSN1260. Jonathan Willis from The Athletic will talk buyout options and Ken Holland's early days. Steve Kournianos The Draft Analyst and The Sporting News joins me at 11 to talk 2019 NHL draft and we are in search of a guest to update Bruins-Blues final (Darren Pang has been mentioned but we haven't yet secured him). 10-1260 text @Lowetide on twitter. See you on the radio!