Watching the Stanley Cup finals, it's easy to imagine the Oilers (or any team) turning things around immediately by acquiring a quality starting goalie. A brilliant goaler married to luck can go a long way. The trick of course is identifying the goalie. Over 100 years into the sport, that remains a moving target.
THE ATHLETIC!
The Athletic Edmonton features a fabulous cluster of stories (some linked below, some on the site). Great perspective from a ridiculous group of writers and analysts. Proud to be part of the group. INSANE OFFER IS HERE!
GOALIES
My ranking of goalies each season bares little resemblance to the NHL's ranking (as shown in the draft each season. Before I give you this year's ranking, here's last year and where each player was chosen.
1 Jakub Skarek, Jihlava (Czech). No. 72 to NY Islanders
2 Oliver Rodrigue, Drummondville (QMJHL). No. 62 to Edmonton.
3 Lukas Dostal, Brno (Czech). No. 85 to Anaheim
4 Olof Lindbom, Djurgardens (SuperElite). No. 39 to NY Rangers.
5 Amir Miftakhov, Irbis Kazan (MHL). Undrafted.
6 Ivan Prosvetov, Youngstown Phantoms (USHL). No. 114 to Arizona.
7 Joel Hofer, Swift Current Broncos (WHL). No. 107 to St. Louis
8 Justus Annunen, Karpat (Jr. Sm-Liiga). No. 64 to Colorado.
9 Vincent Purpura, Omaha Lancers (USHL). Undrafted.
10 Alexis Gravel, Halifax Mooseheads (QMJHL). No. 162 to Chicago.
2019 GOALIES
1 G Spencer Knight, US National Team (USHL). A .929 save percentage in the USHL and a mountain of positive scouting reports have him as the top goaltender in this year's draft.
2 G Mads Søgaard, Medicine Hat (WHL). Posted a strong season (.921). He is 6.06. Danish goalie had a solid year in the NAHL a year ago.
3 G Pyotr Kochetkov, HK Ryazan (VHL). Huge goalie performed well in two Russian junior leagues and posted a .953 SP at the World Juniors. He might be the second goalie taken (behind Knight).
4 G Hunter Jones, Peterborough (OHL). He's a big goalie who has a solid reputation, but .902SP saw me fading him.
5 G Colten Ellis, Rimouski (QMJHL). Has posted two quality seasons in a row, with SP's of .913 and .910 in two consecutive seasons. It's more rare than you'd think.
6 G Jonathan Lemieux, Val d'Or (QMJHL). A nice step forward year over year (.902, from .867) and he was buried by an awful team in year one.
7 G Trent Miner, Vancouver (WHL). Posted a .924 save percentage, outplayed the Giants starter during the regular season and saw playoff action.
8 Carter Gylander, Sherwood Park (AJHL). A giant (6.05) teenager posted a .915 SP this season. Heading to Colgate in 2020
9. Amir Miftakhov, Irbis Kazan (MHL). I liked him last year, he had a good season.
10 Lukas Parik, Liberic (Czech Jr). Another big goalie (6.04) with a solid resume.
BUTTON'S LIST
Is out. Wow. Lots of surprises (it is here) but I like scouts having the courage of his convictions. Here's Button's top 20 and where I ranked them: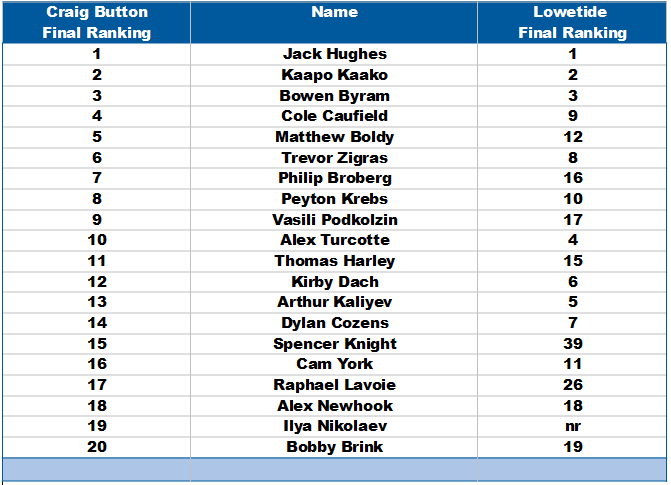 Button's final list set the Al Gore on its ear but for me it offered real insight into his thinking. Why? As you may know, my list is math based, and my rankings this year faded the USHL kids by some measure.
For instance, several USHL forwards have a superior NHLE to Kirby Dach based on Christian Roatis' numbers. I faded the USHL forwards at the top (Roatis suggests 27 percent of offense will survive from USHL) because we're dealing with a very small amount of evidence.
If this USHL crop, as a group, is correctly marked at 27 percent of offense, we're talking something beyond a watershed moment. Clayton Keller's NHLE was 35.6 in 2016, his draft year. In his first two NHL seasons, he is averaging 56 points. That's a little over 40 percent (with a one year stop in the NCAA).
This year, Turcotte is 47.0, Hughes is 44.2, Brink is 35, Boldy is 34, Zegras 32.8, Caufield 32.4. Is 27 percent the correct number for these kids? I faded them.
Button came to a different conclusion. I may not agree but do respect his thinking and betting on those impressive kids in the USHL isn't the worst option. We'll see. We could be looking at a stunning group of players from a single league, something we'll talk about forever. Even fading them, I have four inside the top 10 and six of the first 12. It's a monster.
OILERS MOCK! (USING BUTTON'S LIST)
First round, No. 8 overall — LC Alex Turcotte, U.S. National Development Team (USHL). I have him No. 4 on my list, Button has him No. 10. A big deal was made about it, but Button had him No. 8 on his March list. Turcotte is a strong two-way player, skilled and absolutely will be gone before No. 8 overall.
Second round, No. 38 overall — R Nathan Légaré, Baie Comeau Drakkar (QMJHL). I have him at No. 27, Button has him No. 42. Power winger who can score goals, he can find open ice and cash (45 goals in 68 games) and drives to the net with abandon. I am loving my draft so far.
Third round, No. 85 overall — LC Blake Murray, Sudbury (OHL). I had him No. 32, Button didn't rank him. I do not understand, but I didn't rank his Russian so there you go. Murray is a big center with plus speed and a scoring touch. A July 2001.
Fourth round, No. 100 overall — RD Anttoni Honka, Jyp (Sm-Liiga). I had him No. 37, Button didn't rank him. Draft Analyst: Swift skating puck rusher who knows how to handle the puck and has the kind of mobility that keeps forecheckers honest.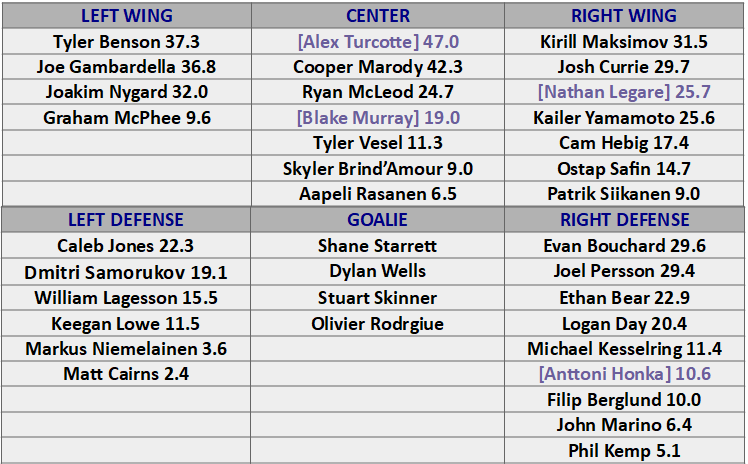 In January, I ran the Oilers Top 20 at The Athletic (here) and we do a 'group' ranking after the draft. If the Oilers grabbed Turcotte, to go along with Bouchard, Jones, Benson, Marody, Yamamoto and others, we'd be looking at the most substantial list since McDavid played his 51st game. The 2015 list contained McDavid, Draisaitl, Nurse, Brossoit, Jones, Bear, Lagesson and others. Gretzky is building, if Edmonton grabbed Turcotte that would be a helluva get.
Neal is an interesting option, owns a great shot and shoots a lot. I would think Holland would be looking for more speed on the wing but maybe the price is right. Curiouser and curiouser.
LOWDOWN WITH LOWETIDE
A busy Friday morning, TSN1260, we're drunk with guests! Steve Lansky from BigMouthSports will join us at 10:20 to talk about blown calls by refs through the years, and we'll chat about the long road back for Boston. Daniel Nugent-Bowman from The Athletic will join me, we'll talk about several things, including the gigantic goal by Kevin McClelland that I consider the most important goal in Oilers history. Matt Iwanyk talks Raptors at 11, and Jeff Krushell chats about Canadians chosen in the mlb draft at 11:25. 10-1260 text, @Lowetide on twitter. Talk soon!