Every morning sunrise to reach your eyes is another gamble won. If you feel like lost, you'll end up found, so amigo, lay them raises down. Matt Cane's free-agent AAV model has Brett Connolly signing a $3.5 million dollar deal and that's my starting point for summer. Maybe Joakim Nygard is the answer, but I'm thinking it might be a fine idea to grab some bona fide just to make sure.
THE ATHLETIC!
The Athletic Edmonton features a fabulous cluster of stories (some linked below, some on the site). Great perspective from a ridiculous group of writers and analysts. Proud to be part of the group. INSANE OFFER IS HERE!
THE MONEY
I'd like to get an idea about the money, how much room to wheel Ken Holland has this summer. It looks like, he has a little. Below I've offloaded Kris Russell and Milan Lucic, plus added Brett Connolly, Loui Eriksson, Riley Sheahan and Brian Elliott while also hiding zero dollars in the minors. Let's see what we can see.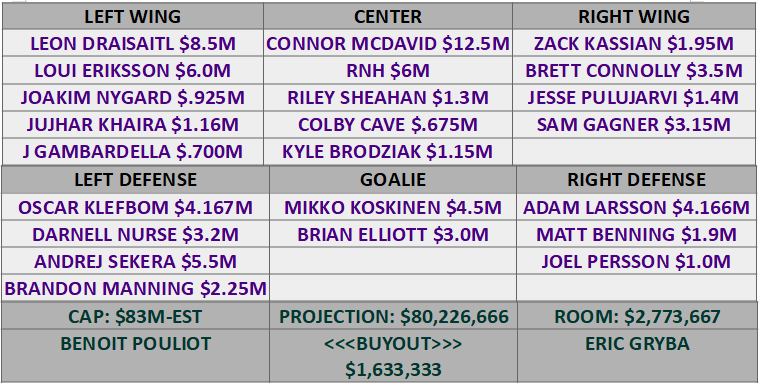 There are holes on the roster. I'd prefer J-G Pageau in the Sheahan spot but this roster can't afford it. Tyler Benson starts in the minors but if someone falters he can be recalled. I didn't bury money, meaning Caleb Jones also begins in the minors. There is some room if the cap is $83 million.
DNB WITH KEN HOLLAND
I am going to borrow a quote from Daniel Nugent-Bowman's Ken Holland Q. and A., but in doing it we're all on the honor system that you must go and read it. If you've been contemplating getting a subscription, now would be the time. The draft coverage coming this month is incredible, you'll get the DNB interview as a bonus.
When discussing the future, Holland told DNB "The core up front is McDavid and Draisaitl. They're 22 and 23. Nurse is 24. Ryan Nugent-Hopkins is 26 and has a couple years to go on his contract. We've gotta build it. There are some younger players. I don't think Bouchard's that far away. I don't think Samorukov's that far away. I don't think Benson's that far away. Hopefully the player we pick at pick 8 isn't that far away. Maybe he's a couple years away."
Music! Holland doesn't know the entire system, so names like Kailer Yamamoto and Ryan McLeod aren't included in the quote. However, the reason I quoted this part of the interview is that it speaks to his mindset. Along with a quote about Jesse Puljujarvi, Holland is (as my wife says) following the 'start as you mean to go' method of team building. Brick by brick.
Broberg at No. 8
I wrote about the draft this morning at The Athletic, with one of Edmonton's options being Philip Broberg. A few people reached out and asked about the wisdom in drafting another (lefty) defenseman, thought I'd take a moment to offer my thoughts.
Taking the best player available is always wise, and a team should trust their board. I believe these things to be true. If Broberg is the top player on Edmonton's list, then they should take that player. It would give the team an embarrassment of riches at the position, and eventually give the team enough depth at LHD to trade a piece for a need elsewhere.
If the Oilers see Broberg as a probable top pairing defender, perhaps in partnership with Evan Bouchard (whose skills are not similar, and would need a Broberg type to play with him), then selecting him has value.
My one worry: If you're drafting a player No. 8 overall, he needs to be a substantial offensive force. I don't see that in Broberg's game, which is the main reason I have him No. 16 on my list. (Here).
LOWDOWN WITH LOWETIDE
At 10 this morning, we take our places with bright shiny faces. TSN1260, we begin with Jonathan Willis from The Athletic, where we'll talk about Zack Kassian, Sam Gagner and Jujhar Khaira. Can they play top-9 minutes next season for the Oilers? We'll also chat with James Herbert from CBS Sports about the classic NBA Finals game last night, and discuss Women's World Cup Soccer and Canada's performance yesterday. 10-1260 text, @Lowetide on twitter. Talk soon!