As we approach free agency, and begin to hear names connect to the Oilers, we can make assumptions about the roster. For instance, Edmonton is going to acquire a veteran goaltender, meaning Shane Starrett will be in Bakersfield, the team isn't going to acquire Tristan Jarry and Anthony Stolarz is down the line.
There are a plethora of defensemen available, meaning a Kris Russell trade is a distant bell, at least for now. Wingers? Brett Connolly is available but might take up most of the cap room available. What does that mean to the rest of procurement?
THE ATHLETIC
The Athletic Edmonton features a fabulous cluster of stories (some linked below, some on the site). Great perspective from a ridiculous group of writers and analysts. Proud to be part of the group, here's an incredible Offer!
RIGHT (NY) GARD?
Joakim Nygard is a fascinating cat. His NHLE is 19-13-32 and that would represent No. 2 line LW on this club. Can he handle that? I mean, he's a speed demon and the SHL is a good league, but could he score 19 goals in the NHL with Nuge and maybe some power-play time?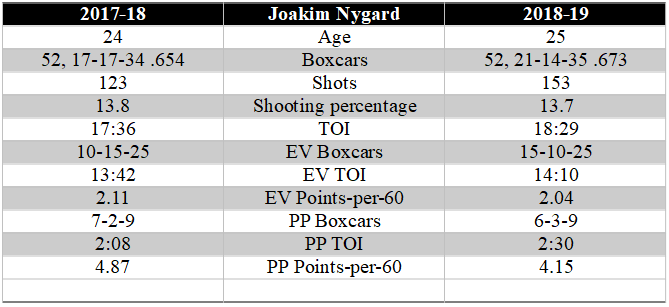 Year over year Nygard looks consistent, he increased his shot and goal totals this past season, both campaigns look good (this is SHL).
50-MAN ROSTER (42)

Edmonton has to qualify several rfa's today, that gets them back on the roster. Jesse Puljujarvi will be qualified, I assume Jujhar Khaira will be as well. After that, we may see all of Tyler Vesel, Colin Larkin and Robin Norell walked. Edmonton has already indicated Tobias Rieder and Ty Rattie will not return.
CURRENT PROJECTED LINEUP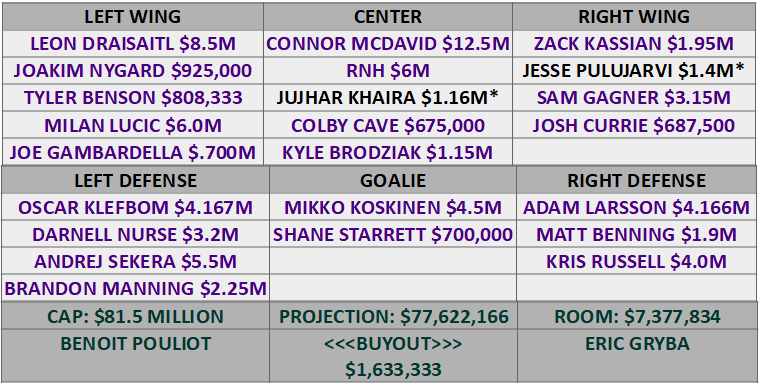 This is obviously not the final roster but does serve to show how much work Ken Holland has left to do this summer. Ideally, Starrett, Manning, Benson, Currie, Brodziak and possibly others are upgraded but there's going to be too much month at the end of the money.
Edmonton has the cap room to get a goalie and one, two wingers. I think a buyout is possible.
GAETAN HAAS
Rumors online that the Oilers will sigh RH center Gaetan Haas in free agency after July 1. Here is the story. EP says he plays a reliable game, Haas scored 50, 15-23-38 for Bern last season (Mark Arcobello led the team in points with 53). Here's how he would lineup NHLE compared to Edmonton's prospects/minor leaguers.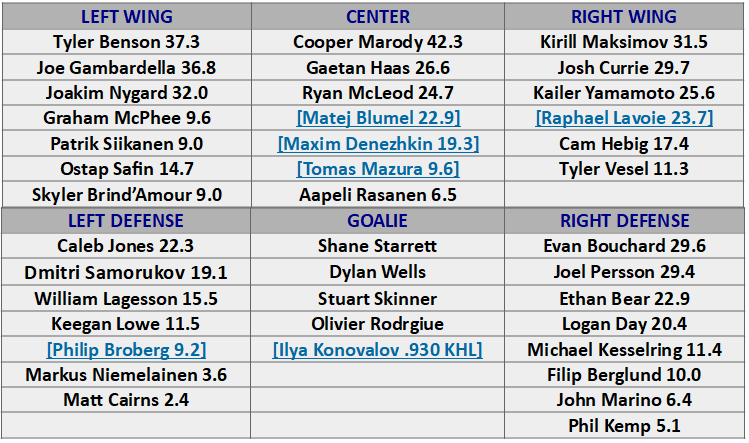 I expect he'll be fighting it out for a roster spot with a bunch of names on this list, as well as Colby Cave and Kyle Brodziak. His range of skills bodes well for him, and his skating (described as excellent) might be the key element for him in making the team.
We've had him on the radar for some time, looks like the Capitals winger is a real possibility. Here's what I wrote back in March (here):
He'll turn 27 in the spring, and has just posted his first 20-plus goal season in the NHL. Once viewed as a failed draft pick (he was No. 6 overall to Tampa Bay in 2010) Connolly has emerged as a reliable scoring winger who is just now reaching his peak value.
LOWDOWN WITH LOWETIDE
A fun morning with great guests and some meaty, beaty, big and bouncy things to discuss. It all starts at 10, TSN1260. Jonathan Willis from The Athletic will join us, we'll talk the weekend draft and free agency to come. Sean Woodley will be by from Locked on Raptors and TSN1150 to talk awards, offseason and being cool around Kawhi. Finally, Scott Wheeler from The Athletic will discuss Edmonton's draft and some of the big winners from last weekend. Talk soon! 10-1260 text, @Lowetide on twitter.