This should be a boat load of fun for Edmonton Oilers fans. A goalie, several wingers, maybe a trade, possibly a buyout and by this time next month a much better idea about the 2019-20 roster.
Peter Chiarelli traded a mountain of draft picks 75 days after he was named Edmonton's general manager; Ken Holland is 50 days into his time in the position and it's Joakim Nygard with six draft picks.
We know Ken Holland is working, the information drops are in the dozens. When will the levee break? Soon. Soon.
THE ATHLETIC
The Athletic Edmonton features a fabulous cluster of stories (some linked below, some on the site). Great perspective from a ridiculous group of writers and analysts. Proud to be part of the group, here's an incredible Offer!
CURRENT OILERS DEPTH CHART (ESTIMATE)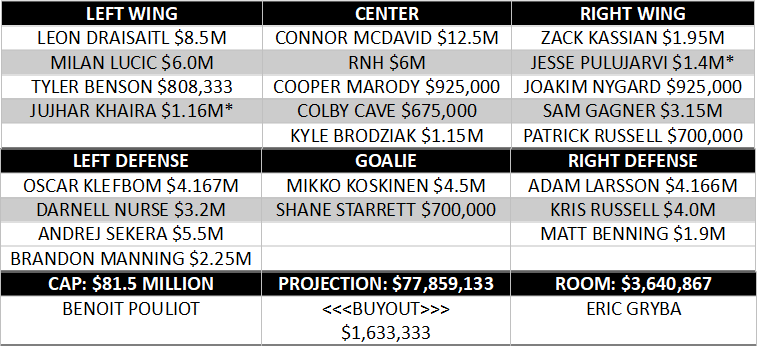 I've included the two RFA's (Khaira and Puljujarvi) and given them the Matt Cane estimate. If the team signs Brett Connolly, Mike Smith and Brian Boyle for a total of $6 million, that would use up the cap room above ($3.4 million) and the money devoted to Puljujarvi ($1.4 million), Cooper Marody ($925,000) and Shane Starrett ($700,000). Edmonton would have $400,000 or so in cap room with those three transactions. I think a trade that eases cap worries, or a buyout, is likely.
CURRENT CONDORS DEPTH CHART (ESTIMATE)

The defense has several (many!) possible recalls, but the forward group boasts only Yamamoto among the young set. Matriculating older college men (Gambardella, Russell) have a clear view, and veterans like Malone and Currie are available. Work to do here, too. Marody probably starts in Bakersfield, but the Oilers need more AHL entry contracts (forwards) with a high enough ceiling to project into the NHL mid-season. Maybe Holland will do enough to force Benson to start the season with the Condors. One thing to keep in mind? Jones, Bear and Lagesson are about to enter their final entry-level seasons, meaning they'll be eligible for waivers this time next season. Cashing one for a forward may make sense. Soon.
A LITTLE MORE ON RAPHAEL LAVOIE
HockeyProspect.com: Lavoie's toolbox is very impressive; he's a big kid who has made some nice progress with his skating ability over the past 3 seasons. He has a big time shot and can score from almost anywhere in the offensive zone. It's an NHL caliber shot which is accurate, has great velocity and he's quick to get it off. He's got above average vision, can make plays for his teammate with some high caliber passes.
Red Line Report: Tremendous natural sniper who buries his chances – deadly from the circles in. Gets great wrist snap on a lightning fast release around the slot – needs almost no time or space to get dangerous shots away. Tremendously accurate too, picking corners at will. Combined with his great size and knack for sliding into open ice at the right moment, he'll be a scorer at every level.
The Draft Analyst: A puck-possessing machine with speed, size, and great awareness in the offensive zone. He owns an excellent shot, both for its quick release and also for its velocity, and Lavoie's penchant for creating his own chances expands the ice for his linemates. He is a controlled and patient stick-handler who looks to incorporate the rest of his teammates into every cycle, and his keen vision and pass accuracy in tight spaces or off the rush allows him to play the role of playmaker. Lavoie is an excellent skater with above-average straight line speed and enough agility to weave around or fake opponents out of position.
WHAT MIGHT WE SEE THIS WEEKEND
I'm planning a relaxed weekend, but will be close to the rotary phone. Based on all the rumors we've heard, I would say a buyout today is possible (Sekera the most likely) and that Brian Boyle is the most likely free agent added. Goaltending will be addressed, uncertain about how it will get done.
People are already counting Brett Connolly, suspect that is unwise. Another team could wheel back and grab him, and perhaps the Capitals have asked him to play it cool early days. That said, it sounds like the Oilers are deep in the game on Connolly.
Jesse Puljujarvi traded to Carolina, Boston, Lightning or Pittsburgh. Tanev is a fascinating name, goalies include Mike Smith, Petr Mrazek, Curtis McElhinney.
Lower case forwards are Daniel Carr, Brett Ritchie, Brandon Pirri, Curtis Lazar.
Benning for Brown deal may still be out there, Donskoi and Chiasson whispers have been heard. One (apparently) sure thing? Gaetan Haas will be announced as a signed Edmonton Oilers player, giving more competition at center. A piece of trivia you may not know? Only one Haas has ever played in the NHL, David Haas, who was drafted by Edmonton in 1986. He played a little on the 1990-91 Oilers and then later for Calgary.