Yesterday we were talking Brett Connolly, Petr Mrazek and Brian Boyle. Today? Mike Smith, Gustav Nyqvist and Valtteri Filppula. Such is life in the fast line.
Yesterday fans were grumbling about how slow the pace, the Andrej Sekera buyout served as a sudden slap upside the head, and now we're in business.
Some fans are shocked Mike Smith could make $4 million, but the final $2 million is tied to performance thresholds. If Smith makes $4 million in 2019-20, you're going to love him.
I would not have signed Mike Smith. I wrote about him at The Athletic and that story will be up this morning (and we'll have the entire day covered). That said, I'm thrilled it appears to be a one-year deal. Let's chat.
THE ATHLETIC!
The Athletic Edmonton features a fabulous cluster of stories (some linked below, some on the site). Great perspective from a ridiculous group of writers and analysts. Proud to be part of the group, here's an incredible Offer!
CURRENT PROJECTED ROSTER, CAP
This is going to change a lot today, we could see any number of players traded (Edmonton still hasn't signed the two rfa's) over the next 24 hours. I've added Mike Smith in, keeping the bonus out of the conversation for now.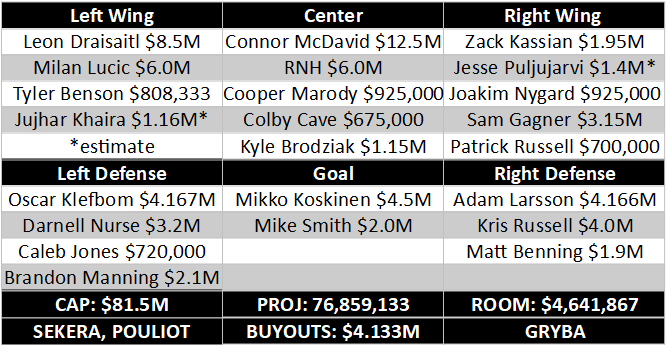 The money can be tweaked (Manning sent down, saving $1M or so) but I do believe we'll see a trade at some point (and some free agent signings). I wonder about some of those secondary names we discussed earlier in the week (Brandon Pirri, etc). Bottom line? This team needs a scoring winger. RFN.
FREE AGENTS
Frank Seravalli's list is here, names in play for Edmonton are Gustav Nyqvist (No. 12), Mike Smith (No. 15), Brandon Tanev (No. 21), Alex Chiasson (No. 29), Brian Boyle (No. 31), Valtteri Filppula (No. 34), Noel Acciari (No. 38).
Frank's final trade list is here. Jason Zucker (No. 2), Chris Kreider (No. 7) and Nikolaj Ehlers (No. 11) all fit the Oilers needs, all unlikely to be dealt to the Alberta capital today.
He posted a 1.09 points per 60 at 5-on-5, played most often with Jake Virtanen and Tyler Motte. He posted a 48.70 Corsi for 5-on-5. Puck IQ has him playing 26.6 percent of his overall 5-on-5 time against elites, 47 percent DFF and +5 DFF RelCorsi%. He's just 42.8 percent in the dot on around 350 faceoffs, and lefthanded. I think he's competition for Khaira, Nygard and Benson, not the No. 3 center. Reports have the deal at $1.3 million times one year. More on him as the day goes on. The Athletic has you covered all day with articles on the roster moves, stay tuned!
RADIO
TSN1260 will hit the airwaves at 10 this morning, Dave Jamieson hosting a cast of many over the hours of free agency. I'll be chiming in, as will Ryan Rishaug, Jason Gregor, Jason Strudwick and others. Stay tuned!