Dave Tippett has talked about bringing this team's road game home, and last night it looked just that way. The Edmonton Oilers played a strong game against the Nashville Predators and won two big points last night at Rogers. Connor McDavid and Leon Draisaitl led the way, but there were impressive contributions across the roster on the evening.
THE ATHLETIC!
The Athletic Edmonton features a fabulous cluster of stories (some linked below, some on the site). Great perspective from a ridiculous group of writers and analysts. Proud to be part of The Athletic, less than two coffees a month offer here.
OILERS AFTER 48 GAMES
Oilers in 2015-16: 19-24-5, 43 points; goal differential -23
Oilers in 2016-17: 25-15-8, 58 points; goal differential +7
Oilers in 2017-18: 21-24-3, 45 points; goal differential -29
Oilers in 2018-19: 23-22-3, 49 points; goal differential -10
Oilers in 2019-20: 25-18-5, 55 points; goal differential -2
The team reaches 25 wins at Game 48, another little plateau that only one other team in the McDavid era has managed. Edmonton is on pace to finish with 94 points on the season. That's playoff territory.
ON THE TENS
First 10 games: 7-2-1
Second 10 games: 5-4-1
Third 10 games: 5-4-1
Fourth 10 games: 3-6-1
Current 10 games: 5-2-1
OILERS IN JANUARY
Oilers in January 2016: 2-2-2, six points; goal differential -2
Oilers in January 2017: 3-3-0, six points; goal differential -2
Oilers in January 2018: 2-4-0, four points; goal differential -11
Oilers in January 2019: 3-3-0, six points; goal differential -5
Oilers in January 2020: 4-1-1, nine points; goal differential +4
A frustrating December is followed by a quality January. Rest, practice, recall of Yamamoto, Nuge scoring, and Mike Smith recovering. Just as we all predicted.
WHAT TO EXPECT IN JANUARY
On the road to: BUF, BOS, TOR, MTL, CAL (Expected 2-2-1) (Actual 3-1-1)
At home to: NAS, ARI, CAL, STL (Expected 1-2-1) (1-0-0)
Overall expected result: 3-4-2, eight points in nine games
Current results: 4-1-1, nine points in six games
This is so impressive, considering the things this team doesn't have yet. The Arizona game on Saturday looms large, which is incredible. I'm not even sure I like this team! There's a lot of flaws.
OILERS 2019-20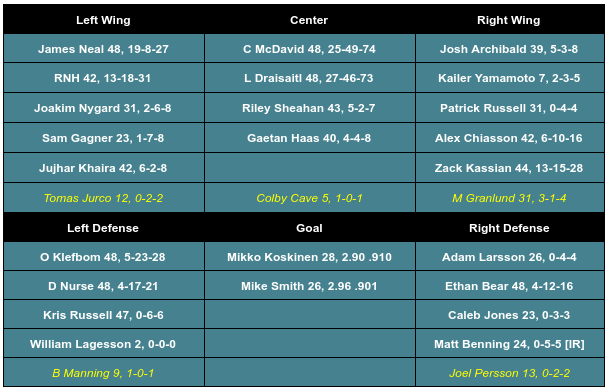 The Oilers have two impact players, some genuine NHL players and a bunch of guys who are pushing to make it in the NHL, stay in the NHL, or make it to the end of the season in the NHL. How many guys who played last night will be in the NHL after the Seattle expansion? All numbers NST and five on five unless noted.
LINE 1 RNH-Leon Draisaitl-Kailer Yamamoto played 10:51, going 11-13 Corsi, 7-6 shots, 1-0 goals and 1-2 HDSC.
Nuge continued a recent scoring streak with a fabulous goal off the faceoff. It came during a game where it was clear the two teams were relatively close. A big goal. Leon Draisaitl had an assist five on five (plus two goals in other game states) and was a lion for the Oilers. He almost scored on an early third-period breakaway as well. Any time you're the best player in a game that includes Connor McDavid you've delivered and then some. Kailer Yamamoto didn't get any points, but was constantly in game moments, moving pucks along, had four takeaways. He's such a useful player.
LINE 2 James Neal-Connor McDavid-Josh Archibald played 9:22, going 9-9 Corsi, 3-7 shots, 1-1 goals and 3-3 HDSC.
James Neal had a takeaway, took a penalty (on a power play) and didn't have much of an impact. Connor McDavid had an assist, two HDSC and three points overall. His pass to Sam Gagner in the third should have put it all to rest. Josh Archibald scored the winning goal and had a couple of HDSC. He isn't a match for McDavid but he played well enough to get another game. He got caught on the Forsberg goal going the wrong way, but it looked like a set play (McDavid was trying to push the puck up the wall) gone bad.
LINE 3 Joakim Nygard-Riley Sheahan-Patrick Russell played 7:55, going 6-7 Corsi, 3-5 shots, 0-0 goals and 3-1 HDSC.
Joakim Nygard had a HDSC, drew a penalty and had a takeaway. His speed is very effective in all areas. Riley Sheahan was part of the miscommunication on the second goal against, but he did try to cover during a disaster of a line change. Patrick Russell missed a month of Sundays and then played exactly the same game as when he left. I love this guy's work.
LINE 4 Sam Gagner-Gaetan Haas-Alex Chiasson played 6:42, going 6-9 Corsi, 3-3 shots, no goals and no HDSC.
Sam Gagner had two HDSC's including a 10-bell chance in the third period. He points a lot in the defensive zone, that might be a newer wrinkle in his game. Gaetan Haas had one shot on goal, not a lot happening. Alex Chiasson was a major player in the Draisaitl PP goal, his net front presence and repeated attempts to score helped create the chaos for the goal.
PAIRING ONE Oscar Klefbom and Adam Larsson played 17:28, going 18-19 Corsi, 9-7 shots, 1-0 goals and 4-0 HDSC.
Oscar Klefbom's pass to start the Archibald goal was a thing of beauty. He played huge minutes on the evening, including over three on each special team. Larsson had a tough time with the Nashville speed but recovered well enough to keep the opposition at bay. This tandem, to my eye, is finding their way. If Klefbom's speed were at 100 percent, this pairing would be music.
PAIRING TWO Darnell Nurse and Ethan Bear played 17:13, going 17-17 Corsi, 7-10 shots, 0-1 goals and 3-3 HDSC.
Darnell Nurse had four shots, three blocked shots and transported the puck effectively. He had some issues in coverage but did not break, and took a strange penalty. His errant pass to nowhere after the PK led directly to the second goal, although he had left the ice when the puck went in. Ethan Bear had two shots and a takeaway, he's more physical at defending than earlier in the season. His passing remains a strong tool but he seems to be using it less. Need to get back to that passing.
PAIRING THREE Kris Russell and Caleb Jones played 9:40, going 8-10 Corsi, 5-6 shots, 1-0 goals and 3-3 HDSC. That's a good line for a third pair.
Kris Russell defended well, and had a sequence of legit offensive quality riffing with 97. Caleb Jones is starting to gain some confidence with the puck and is showing his ability.
GOALIE Mike Smith stopped 30 of 32, .938 save percentage. Hockey's Rasputin is back from death's door and playing some of his best hockey of the season. Catherine Silverman foretold this in July.
CONDORS 2019-20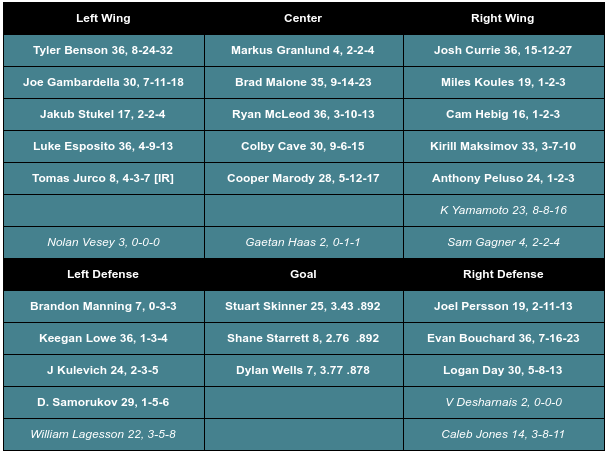 Oilers lost last night, Evan Bouchard scored a gorgeous goal and his boxcars are beginning to shine. Corey Pronman has him ranked in his latest article 2019-20 midseason NHL prospects ranking and two other Oilers prospects show well.
LOWDOWN WITH LOWETIDE
At 10 this morning, TSN1260, we'll drill down on a satisfying Oilers win last night with Bruce McCurdy from the Cult of Hockey at the Edmonton Journal. Joe Osborne from OddsShark will pop in to talk NFL weekend and Super Bowl odds, plus the strange bets people put down Super Bowl week. 10-1260 text, @Lowetide on twitter. Talk soon.