I started my first radio job (Wetaskiwin) at the same time as a bunch of talented young people, and found the same level of quality in my second job in Red Deer. Ron Clark is one of the most talented people I've ever worked with, I worked with Sheila Gardner for about one month because she was so talented K97 hired her purely on an aircheck that would blow your mind. Valerie Runyon was an outstanding writer, Colleen Buxton had a wicked sense of humor, Murray Fuhrer was a brilliant writer too. Ray Stout was a crusty and hilarious newsman, a mentor who taught me a lot in short space of time.
All of them had more natural talent than me, and I'm not being humble, it's a fact. I had to work very hard, going over airchecks and finding what worked for me. You find out a lot about yourself by overcoming challenges in your career. Mine included a high pitched voice, nasal voice (talking through my nose instead of diaphragm), talking too fast and not paying attention.
I had so many things to work on it never occurred to me that quitting was an option. Maybe that's the key. I was looking for a place to call home and found it in Edmonton. Maybe Andreas Athanasiou has the same experience.
THE ATHLETIC!
The Athletic Edmonton features a fabulous cluster of stories (some linked below, some on the site). Great perspective from a ridiculous group of writers and analysts. Proud to be part of The Athletic, check it out here.
AA
I wrote about Athanasiou earlier in May for The Athletic, one of the main discoveries in looking at his DRW career pertained to the quality of linemates. During the period 2017-20 (up to the trade) Athanasiou was not playing with top flight linemates.
In his 30-goal season (2018-19), AA scored 21 times five on five. His most common linemates in the discipline were Luke Glendening (eight Athanasiou goals in 324 minutes), Frans Nielsen (seven goals in 294 minutes), Darren Helm (four goals in 198 minutes), Thomas Vanek (three goals in 198 minutes) and Tyler Bertuzzi (three goals in 193 minutes). Detroit's best forwards, aside from AA, were Gustav Nyqvist (four goals in 160 minutes), Anthony Mantha (one goal in 137 minutes) and Dylan Larkin (one goal in 27 minutes).
I think it's reasonable to suggest Athanasiou could flourish with either McDavid or Draisaitl as his pivot. There are other reasons, covered in that article for The Athletic.
It's important for Athanasiou, and for Ken Holland, to see the fast train winger in more games than we've seen so far. A contract must be signed in the offseason, and the contract length is a big damned deal. Sometimes trades for second rounders result in a long and prosperous relationship, other times it's someone passing through. These games to come matter.
PACIFIC DIVISION ROOKIES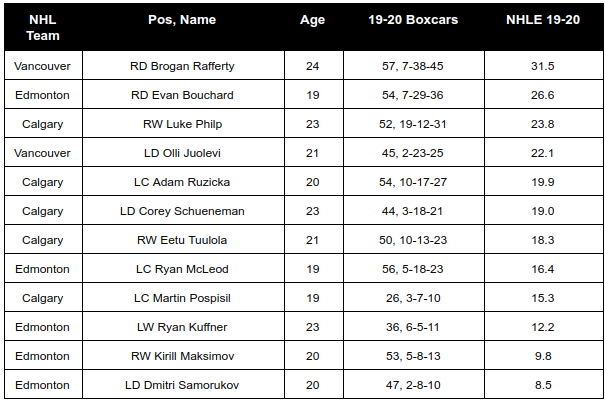 I was asked via email yesterday why I don't do the age adjustments for NHLE. As a for instance, Bouchard's age adjusted NHLE would be somewhere around 38 points if I can still figure it out correctly. I've never seen a reason to run the age adjustment, since it's already clear (age) that Bouchard has a more promising trajectory than blog hero Brogan (trumpet floursh) Rafferty.
Both men have great promise, neither man should be mocked or marginalized. Rafferty's time is now, he has to make the NHL and establish himself. Hell, he's two years older than Cooper Marody, it's go time. Bouchard's point totals could go 15 (age 20), 27 (age 21), 34 age (23) and then 38 (24) and he would be a more valuable asset than Rafferty every step of the way.
Would Bouchard be a better player than Rafferty in 2020-21? Ah, now that is a question worth discussing. Adjusting for age re: NHLE has no real use from my point of view.
I wrote about this group on May 16, for me the most interesting names are RD Connor Corcoran, Luke Henman, Milos Roman, Declan Chisholm. Some of these names will be signed this week, I'll pick Corcoran as the best available.
LOWDOWN WITH LOWETIDE
The NHL memo on moving to Phase 2 is out, we'll discuss it at length today on the Lowdown beginning at 10 this morning, TSN1260. Reid Fowler from Draft Kings will talk about the Woods-Mickelson-Brady-Manning charity gold event and golf's return in a couple of weeks. Jason Gregor from TSN1260 will chat NHL's return, expectations of the Oilers versus Blackhawks and will the CFL have a season. 10-1260 text, @Lowetide twitter. Talk soup at 10!