Jujhar Khaira has covered his draft bet. Chosen in the third round, No. 63 overall in the 2012 entry draft, he has played in 218 NHL games. Scott Cullen's numbers suggest a third-round selection has a 27.3% chance of playing 100 NHL games, so Khaira has passed the test.
Notable Oilers picks from the third round in the last 25 years include Tom Poti (824 NHL games), Mike Comrie (589 NHL games), Zack Stortini (297 NHL games), Theo Peckham (160 NHL games) and Anton Slepyshev (102 NHL games).
THE ATHLETIC!
I'm proud to be writing for The Athletic, and pleased to be part of a great team with Daniel Nugent-Bowman and Jonathan Willis. Here is our recent work.
KHAIRA LAST TWO SEASONS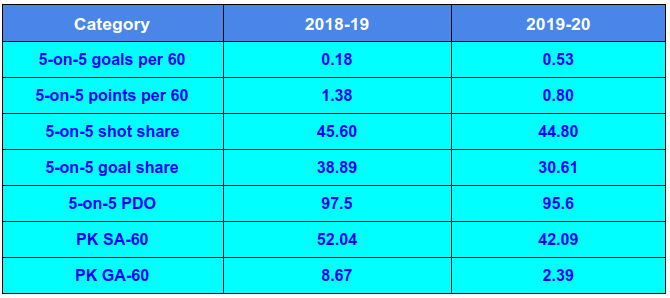 Khaira is 26, has been in the NHL for three full seasons and averages 19.5 points per 82 games. His five on five points per 60 total (0.80) ranked him No. 356 out of 372 forwards who played enough (just shy of 400 minutes) to qualify as an NHL regular.
The names from 350-372 in scoring are a good guess for "next NHL player who has spent his last season in the league" and Khaira is a candidate even at 26. In that area there are veterans with contracts that are not tradeable and would be difficult to buy out: Jay Beagle, Frans Nielsen, Justin Abdelkader. There are also fringe guys like Patrick Russell, Greg McKegg and Luke Glendening. Finally there are players who were supposed to be better and are getting a second opinion: Adam Erne, Christian Fischer.
Khaira's PK work is grand, but a 30 percent goal share at five on five is beyond replaceable. In 195 minutes (that's significant) against elite competition, Puck IQ tells us he was poor (DFF% 33.50, -14.40 DFF%RC, 3-9 goals and 2.77 GA-60) and this an area that could roster turnover as soon as training camp.
I believe he's famous enough to get a chance with another NHL team, but those 218 NHL games he's played up to now are likely well more than 50 percent of his final total. I've always cheered for him, his Dad is a truck driving man and those are my people (working folks). He can't have another season like last one and stay.
COMPETITION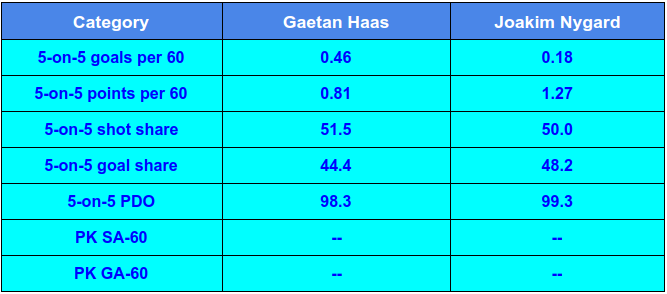 Both Euro signings had better possession numbers than Khaira, and goal shares that were closer to acceptable.
Nygard's numbers look good full stop, he should be a strong candidate for one of the left wing spots although it's getting mighty crowded. Entering training camp I would think he's behind Nuge, Kahun, Ennis and Neal, while being ahead of Benson, Gambardella and Safin. Bubble NHL, at this time, but someone will get hurt so we could safely estimate 40 games.
Haas is a fascinating player to me, I like him and he could emerge as No. 4 center in 2020-21. I love his forechecking and he did score five goals last season. I see center as being in almost constant motion during the season, with McDavid, Draisaitl and Turris occupying most of the playing time. No. 4 center will need to be a penalty killer and someone who can slide up and hold his own as required. Haas has a chance.
LOWDOWN WITH LOWETIDE
A busy Friday morning, we hit the air at 10, TSN1260, with Steve Lansky joining us to talk about a start date for the 2020-21 NHL season and his Grey Cup podcast for "Inside the Truck" recently. Tom Gazzola from TSN will pop in at 11 and give us an overview of both the World Juniors and Oilers practicing down at the rink. 10-1260 text, @Lowetide on twitter. Friday!