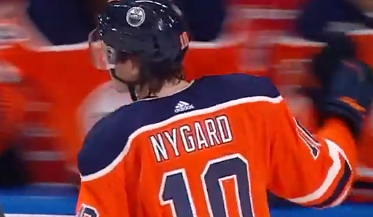 Joakim Nygard is settin' the Swedish woods on fire with his goal scoring and has a good chance to force himself into the conversation at Oilers training camp. Despite having no draft pedigree, Nygard is in a better spot than Steve Kelly found himself in during the 1997-98 season. Signed by Ken Holland, a speedster with skill, scoring touch and a reputation for being responsible, he has a chance.
THE ATHLETIC!
I'm proud to be writing for The Athletic, and pleased to be part of a great team with Daniel Nugent-Bowman and Jonathan Willis. Here is our recent work.
JOAKIM NYGARD
After a slow start (due to another injury to his hand and then surgery), Nygard has posted 4-2-6 in six games to push his yearly total to 4-3-7 in 13 games. The speedy Swede from Stockholm scored 21 goals in the SHL in 2018-19 before coming over. Looking closely at his injury-shortened NHL debut in 2019-20 there's a lot to like.
The problem is competition. A left winger by trade, Nygard has to deal with all manner of competition this year in training camp. Here are the 2019-20 even strenth points-per-60 totals for the left wingers headed to camp:
Dominik Kahun 2.55

Ryan Nugent-Hopkins 2.30

Tyler Ennis 1.86

Joakim Nygard 1.44

James Neal 1.16

Tyler Benson .87
The Oilers could run a top 4 LW without Nygard (and Benson) but the Swedish winger can solve a lot of problems. He doesn't score like Kahun, Nuge or Ennis, and Neal is likely to play a bottom six role when healthy, but for me Nygard has earned a long audition.
STEVE KELLY
Kelly was drafted in 1995, No. 6 overall. He pushed for NHL work in 1996-97 but posted disappointing numbers in both the AHL and NHL that season. He would reach a point per game in his second season in the minors, couldn't find the range in the NHL and was traded to Tampa Bay. This was his competition that season (even strength points per 60):
Ray Whitney 2.11

(in 9 games)

Dean McAmmond 2.01

Todd Marchant 1.57

Joe Hulbig 1.54

(in 17 games)

Valeri Zelepukin 1.47

(in 33 games)

Ryan Smyth 1.19

Steve Kelly 0.94

Mike Watt 0.42

Bill Huard 0.32

Doug Friedman 0.00

Dennis Bonvie 0.00
I count the centers as Doug Weight, Mats Lindgren, Rem Murray, Jason Arnott, Tony Hrkac, although Marchant took a lot of faceoffs. The right wingers were Bill Guerin (who came over with Zelepukin from NJD for Arnott), Scott Fraser, Andrei Kovalenko, Kelly Buchberger, Mike Grier, Dennis Bonvie.
Smyth would emerge from this pack of youngsters, Marchant would move to center, McAmmond was part of that massive trade with the Chicago Blackhawks that saw Ethan Moreau as part of the return. The rest would fade away.
Despite being a very high draft pick, Kelly was never a factor.
Joakim Nygard is more of a factor now than Kelly was at any time.
Nygard doesn't have a long relationship with the fan base but Ken Holland signed him and that gives the Swede an advantage over someone like Tyler Benson. Nygard's foot speed, two-way acumen, scoring prowess and good numbers with Connor McDavid are all good arrows.
When everyone gets to camp, don't sleep on Nygard as an option. He's in a group with Ennis and Kahun fighting for playing time (I think Nuge and Neal play as regulars on the No.1 and No. 4 lines, respectively) on the Draisaitl and Turris lines.
If Tippett starts using him on the penalty kill this could be all over by mid-January.
LOWDOWN WITH LOWETIDE
At 10 this morning, TSN1260, we hit the ground running for the weekend on TSN1260. Steve Lansky from Inside the Truck Podcast will talk about the Canadian Division of the NHL and about the CFL's return. At 11, Tom Gazzola tells us the latest from the rink, including new arrivals at Rogers getting ready for the 2020-21 NHL seasons. 10-1260 text @Lowetide on twitter.