Today the NHL owners and general managers will get an idea about how things will roll out should the 2020-21 season proceed according to the recent agreement. For fans, it's like staring at the walls in a hospital waiting room anticipating the results of surgery. Will the patient survive? What kind of limitations will there be? What will this new life look like?
THE ATHLETIC!
I'm proud to be writing for The Athletic, and pleased to be part of a great team with Daniel Nugent-Bowman and Jonathan Willis. Here is our recent work.
CRAZY TIMES
If the NHL and NHLPA agree to the terms presented, we're going to see breakneck speed on all kinds of things. Players have to return to their NHL cities, or opt out, and that could wreck a team depending on player and position.
Edmonton has some cover, but signing Ethan Bear pdq would be a good idea. The training camp roster will be interesting but there won't be much time to add players between the start of training camp and the start of the season.
I expect we might see a flurry of signings, and based on Edmonton's roster a budget, any additions would have to be in the $1 million range. Who could help? There are no goalies or centers I can see, but some defensemen.
Zdeno Chara could help in my opinion, but he's not going to play for $1 million and he's going to sign with the Bruins. Travis Hamonic is still out there, but Edmonton is four deep at the position and Adam Larsson plays the shutdown role. I don't see it. Slater Koekkoek would be a great fit, sounds like the Oilers want to have a long look at Lagesson and Lennstrom. Madison Bowey has been connected to the Oilers and would represent the No. 5 RH defenseman on the roster. On the off chance Bear doesn't sign, he would be No. 4.
CERTAIN OILERS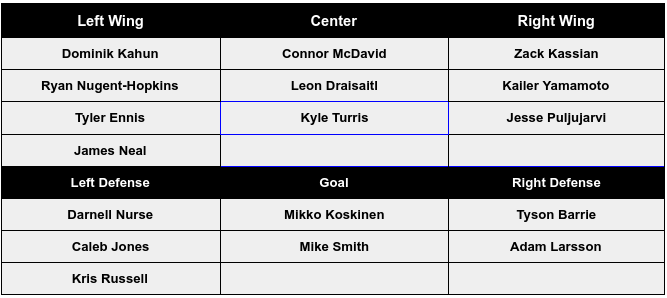 UNCERTAIN OILERS
DISTANT BELLS