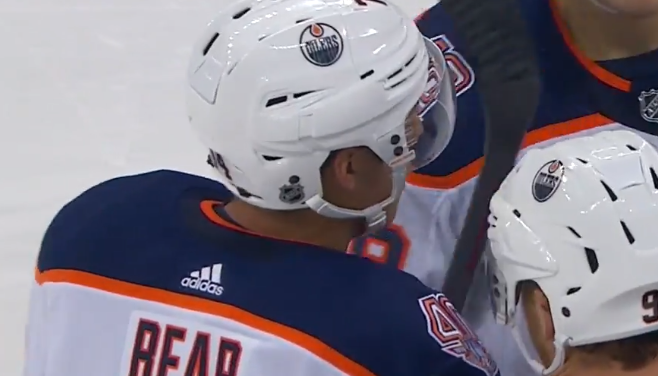 The Edmonton Oilers and Ethan Bear agreed on a two-year contract yesterday, an ideal move for the team and a solid bridge for the player. At $2 million times two, it gives cost certainty for a valuable young player. Bear will be an RFA with arbitration rights at the end of the deal, two years from being unrestricted and a $2.5 million second year cap number to build his third NHL contract. The best news is Bear will be in camp. He enters this year as a big piece of the puzzle for the first time, and the Oilers badly need his two-way skills.
THE ATHLETIC!
I'm proud to be writing for The Athletic, and pleased to be part of a great team with Daniel Nugent-Bowman and Jonathan Willis. Here is our recent work.
23-MAN ROSTER
I've been trying to figure out how many good goalies will be available on waivers this fall, and if any would be able to help Edmonton without a 14-day isolation. I think there are three goalies of interest, not all of them in the Canadian division. Let's start with the Oilers and their 23-man list, with assumed waiver eligibles.
Goalies: Mikko Koskinen, Mike Smith

Left Defense: Darnell Nurse, Caleb Jones, Kris Russell, Slater Koekkoek

Right Defense: Ethan Bear, Adam Larsson, Tyson Barrie

Center: Connor McDavid, Leon Draisaitl, Kyler Turris, Gaetan Haas, Jujhar Khaira

Left Wing: Ryan Nugent-Hopkins, Dominik Kahun, Tyler Ennis, James Neal

Right Wing: Zack Kassian, Kailer Yamamoto, Josh Archibald, Alex Chiasson, Jesse Puljujarvi

Waiver eligible: Joakim Nygard, Alan Quine, Seth Griffith, Joe Gambardella, Adam Cracknell, Patrick Russell, William Lagesson, Anton Forsberg.
There are some interesting names on the list, specifically Nygard and Lagesson, but teams will be fretting over their own players too and we'll see. Always worry about defensemen, you need a shyte tonne of them to get through a season. Here are the Canadian division goalies who could be available.
Calgary Flames: Louis Domingue

Montreal Canadiens: Charlie Lindgren

Toronto Maple Leafs: Aaron Dell, Michael Hutchinson

Winnipeg Jets: Eric Comrie
Dell is the most famous in the group, he had three strong seasons, then a poor one and rebounded a little last season. I don't think the Oilers would grab him on waivers without an injury. Michael Hutchinson is 30 and has been up and down but would also be an option. Louis Domingue is a good goalie but he needs to stay in one spot for a year and re-establish his value.
Training camp stars
Some pretty crazy verbal comes at you in training camp. The head coach has lines, pairings, injuries and winning games rolling around in his mind and is desperate to find someone, anyone, who has matured enough in the last 12 months to make things interesting in camp.
Todd McLellan in camp 2015: "The interesting line for me is that Draisaitl-Lander-Yakupov line. If we can get them gelling and playing the right way, they can be very dangerous. That's a goal of ours anyway."
I think Evan Bouchard has a real chance to get some NHL games this year, that would start with a strong camp. Nygard, Lagesson and Forsberg are names who could shine early.
Injury
We can't know who will get hurt but that will be a big part of the script, just as Adam Larsson's injury gave oxygen to Ethan Bear's chances last opening night.
ETHAN BEAR
This is a rock solid deal, far better than anyone I know (or read) thought it would be. The downbeat is that the club wasn't in a position to go long on a deal in the $4.5-5 million range ala Klefbom and Larsson. Perhaps you don't have that kind of confidence in Bear, I would have been delighted with such a move. Edmonton simply didn't have the room. That isn't on Ken Holland, the flat cap made it impossible.
OPENING NIGHT ROSTER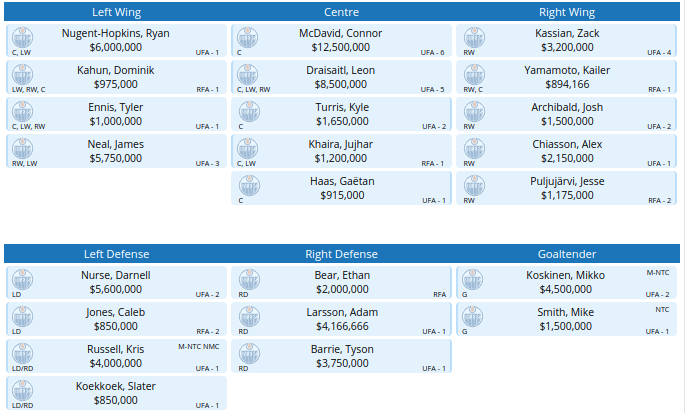 Oilers can send any number of veterans to the farm, Neal alone would do it, in order to get under the cap. As I understand it, and this is Hart telling me so if I'm wrong then it's me not getting it right, Holland will want to be as close to the cap without going over. Trading Alex Chiasson and running with 22 players at cutdown day would be ideal.
LOWDOWN WITH LOWETIDE
A busy morning, with Bear's signing and the Jonathan Toews news plus WJ's and more! TSN1260. Scott Wheeler from The Athletic will join me at 10:20 to talk about the World Juniors (it's been a blast) and at 11 R.J. Anderson from CBS Sports MLB will pop in to talk about the Padres massive weekend. 10-1260 text, @Lowetide on twitter. See you on the radio!