As time goes by, you'll say goodbye to so many things you've valued. Family, friends, a good recipe for rhubarb pie (where the hell is it?), and your favourite players from your town team. Still miss the jean jacket I owned at 20.
As we get closer to mid-season, and the deadline, less Nuge contract talk means more realization that a decade of RNH may be the end of the line. Seldom have I enjoyed the intelligent play of an Oilers center more than the man from Burnaby.
THE ATHLETIC!
I'm proud to be writing for The Athletic, and pleased to be part of a great team with Daniel Nugent-Bowman and Jonathan Willis. Here is our recent work.
OILERS IN MONTH NO. 1
Oilers in October 2015: 2-4-0, goal differential -4

Oilers in October 2016: 5-1-0, goal differential +7

Oilers in October 2017: 2-4-0, goal differential -7

Oilers in October 2018: 3-3-0, goal differential -6

Oilers in October 2019: 5-1-0, goal differential +6

Oilers in Month 1 2021: 2-3-0, goal differential -4
A win tonight gets Edmonton equal with 2018 and ahead of 2015 and 2017. The two playoff teams made themselves known early. Goal differential probably at least four games from reaching positive totals, if everything goes right.
WHAT TO EXPECT FROM MONTH NO. 1
At home to: Vancouver, Vancouver (Expected: 1-1-0)

(Actual 1-1-0)

At home to: Montreal, Montreal (Expected: 1-1-0)

(Actual 0-2-0)

On the road to: Toronto, Toronto, Winnipeg, Winnipeg (Expected 1-2-1)

(Actual 1-0-0)

At home to: Toronto, Toronto, Ottawa (Expected 2-1-0)
Overall expected result: 5-5-1, 11 points in 11 games

Current results: 2-3-0, 4 points after five games
I'm not sure what to expect tonight. Toronto is going to bring more effort, and I expect they'll score more than once this evening. Can Edmonton win? Either way, it's a big game for the Oilers. A victory puts the record at 3-3-0, a loss 2-4-0. Edmonton hasn't spent one night above .500 this season, we'll find out how close they are to reaching that humble goal later tonight.
CURRENT PROSPECT NHLE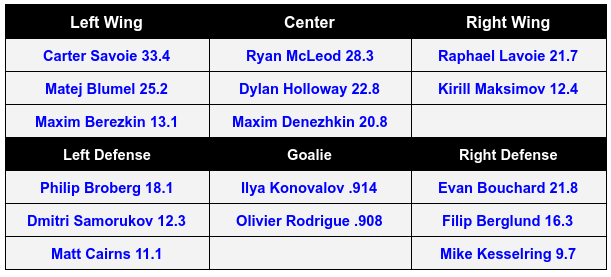 There are five (all over 20 NHLE) forwards who we can reasonably project as having plus seasons. Savoie's year is a stunner so far, the Oilers may have drafted a true scoring winger in the fourth round. McLeod had a rock solid run in Europe, Blumel is roaring through the Czech league, Holloway and Lavoie are above the Mendoza line.
On defense, both Broberg and Bouchard have delivered offensively during 2020-21, Samorukov is having an exceptional season in the KHL and my guess is that he's either NHL-ready or close. Konovalov would be a signing target for me, not sure if Holland considers him a priority.
NUGE
Elliotte Friedman had a quick note on Nuge during his recent 31 Thoughts, saying earlier rumblings about a contract extension have gone quiet. We've talked about this situation before and it comes down to cap and term. I'm a fan of Nuge, he's a smart player and a talented one, someone who has improved in some significant areas over the years. He has utility, two-way acumen and is a solid offensive contributor. Here are his numbers per 82 games compared to some famous teammates:
Connod McDavid 38-71-109

Leon Draisaitl 32-50-82

RNH 23-37-60

Kailer Yamamoto 20-30-50

Kyle Turris 18-29-47

Tyler Ennis 18-24-42

Dominik Kahun 15-26-41

Alex Chiasson 14-15-29

Zack Kassian 12-15-27
I think everyone values Nuge, the question is what is a fair price over the next five years? If you can get him under contract at a number that isn't too dear, then the top-six should mostly write itself in the next few years. If not? Oilers need someone to step up or sign a free agent in the $5-7 million range. My own belief is that once RNH reaches free agency, the Seattle Kraken are going to leave Edmonton's offer in the distance.
JACK STUDNICKA
It's finally happened. Last night, against the Philadelphia Flyers, Jack Studnicka scored his first NHL goal. He is the man drafted with the selection gifted to the Boston Bruins for the rights to recently fired Peter Chiarelli. The NHL rule was in place long enough for Edmonton to lose the pick used on Studnicka and college goalie Mike Robinson (in exchange for Todd McLellan's freedom), and then disappeared like a thief in the night.
PROJECTED LINES AND PAIRINGS
Nuge-McDavid-Kassian

Kahun-Draisaitl-Yamamoto

Ennis-Turris-Puljujarvi

Neal-Shore-Archibald

Nurse-Bear

Koekkoek-Larsson

Russell-Barrie

Koskinen (Skinner)
Nygard can be placed on the taxi squad, having previously cleared waivers. At some point Holland may be forced to waive William Lagesson, that seems especially likely with Caleb Jones also in the pressbox. If he plays, this will be James Neal's first game of the season.
LOWDOWN WITH LOWETIDE
At 10 this morning, TSN1260, we have a loaded show for Oilers game day and the weekend to come. At 10, Steve Lansky from Inside the Truck Podcast will join me, we'll chat about the Oilers road trip, how the rest of the NHL matters so much less now that we have a Canadian Division, and winning low scoring hockey games doesn't have to mean boring hockey games. James Mirtle from The Athletic will be our guest at 10:40, we'll chat about the Maple Leafs 3-2-0 start and roster tweaks with Joe Thornton now injured. At 11, Matthew Iwanyk pops in to talk NFL weekend (what happened to the Ravens) and we'll go head to head on the makeup of the Draisaitl line (Iwanyk is vehement Nuge belongs there). 10-1260 text, @Lowetide on twitter. It's the weekend starting at 10!