The Edmonton Oilers face a fast, skilled group tonight at Rogers. The Toronto Maple Leafs routinely make three short passes to get out of their zone under control and their forwards are fast and skilled.
Oilers coach Dave Tippett has yet to settle on a lineup, the third and fourth lines and bottom two pairings keeping him up late watching Seinfeld or Law & Order reruns. Dave Tippett, it's time for another edition of "Who do you Trust?"
THE ATHLETIC!
I'm proud to be writing for The Athletic, and pleased to be part of a great team with Daniel Nugent-Bowman and Jonathan Willis. Here is our recent work.
THE OILERS IN MONTH NO. 1
Oilers in October 2015: 3-6-0, goal differential -6

Oilers in October 2016: 7-2-0, goal differential +10

Oilers in October 2017: 3-5-1, goal differential -8

Oilers in October 2018: 4-3-1, goal differential -4

Oilers in October 2019: 7-1-1, goal differential +10

Oilers in Month 1 2021: 3-5-0, goal differential -5
It's likely the 2016-17 and 2019-20 teams are already gone, but the Oilers have had some impressive winning streaks over recent seasons. A win tonight puts the 2020-21 crew ahead of 2015-16 and 2017-18. A loss? You could be looking at the least impressive start by an Oilers team since Connor McDavid arrived in the city.
WHAT TO EXPECT IN MONTH NO. 1
At

home to: Vancouver, Vancouver (Expected: 1-1-0)

(Actual 1-1-0)

At home to: Montreal, Montreal (Expected: 1-1-0)

(Actual 0-2-0)

On the road to: Toronto, Toronto, Winnipeg, Winnipeg (Expected 1-2-1)

(Actual 2-2-0)

At home to: Toronto, Toronto, Ottawa (Expected 2-1-0)
Overall expected result: 5-5-1, 11 points in 11 games

Current results: 3-5-0, 6 points after eight games
I think it's early for "must win" but the Oilers need to win two of their last three games before the end of the month. We can assume the Sens game is an auto W, but the Ottawa silver seven tend to be a tough out in this northern town. A big game tonight.
OILERS A YEAR AGO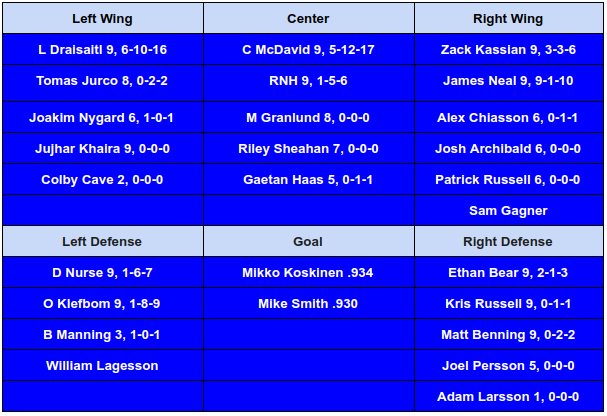 The goaltending was miles ahead one year ago, Oscar Klefbom was playing big minutes and Ethan Bear was emerging as a quality rookie. Up front, McDavid and Draisaitl were gone baby gone and James Neal had nine goals. The bottom six had the look of a good ship and crew in peril. No one on LW past Leon was pissing a drop, either.
OILERS CURRENTLY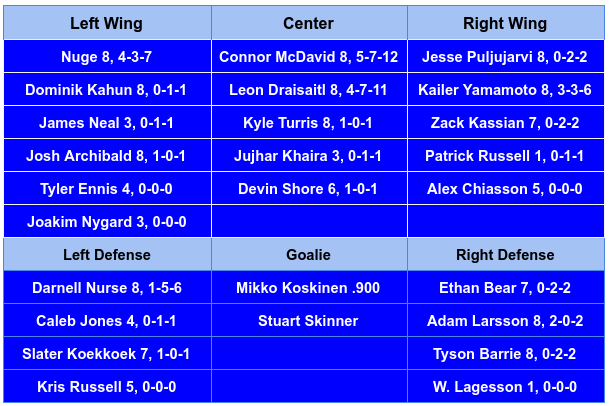 The goalie gap year over year is massive, it's fair to suggest Koskinen's workload has had an impact on his results. After nine games a year ago, Edmonton was 30-20 (+10) in goals, had an overall save percentage of .929 and a shooting percentage of 12.3 in all disciplines.
Through eight games this season, Edmonton is 23-29 (-6) in goals, have an overall save percentage of .893 and a shooting percentage of 8.95. The current Oilers are do for a hot streak based on the team's top-end talent.
The next transaction is likely to be Troy Grosenick added to the roster, and he could play in the next week or so (possibly Ottawa).
LOWDOWN WITH LOWETIDE
It's Bell Let's Talk Day, so we'll be talking mental health and encouraging you to help raise dollars by doing any of the above between now and midnight. We're on TSN1260 at 10 this morning with Michael Landsberg from TSN1050 will talk about his journey and the importance of being open about mental health. Frank Seravalli from TSN will talk Oilers, Jim Rutherford and a three-way trade in the NHL. 10-1260 text, @Lowetide on twitter.