The Oilers started the second half of the season with a solid 6-2 win over the Ottawa Senators. The visitors were in a foul mood and played well enough to keep the game tied well into the contest, but the top line and secondary trios got rolling and (once again) defensemen chipped in substantially on offense. Edmonton has played well since the week from hell (TML), and get another test tonight on the left coast.
THE ATHLETIC!
I'm proud to be writing for The Athletic, and pleased to be part of a great team with Daniel Nugent-Bowman and Jonathan Willis. Here is our recent work.
OILERS AFTER 30 GAMES
Oilers in 2015-16: 13-15-2, 28 points; goal differential -8

Oilers in 2016-17: 14-11-5, 33 points; goal differential +5

Oilers in 2017-18: 12-16-2, 26 points; goal differential -11

Oilers in 2018-19: 16-12-2, 34 points; goal differential 0

Oilers in 2019-20: 17-10-3, 37 points; goal differential +5

Oilers in 2020-21: 18-11-0, 36 points; goal differential +13
The Tippett seasons are rolling now, marching basically in lock step and delivering the two best starts of McDavid's career. A win tonight gets Edmonton to 38 points after 30 games, that's a 71-point trajectory. Definite playoff team.
WHAT TO EXPECT FROM MARCH
At home to: Toronto, Toronto, Calgary (Expected: 1-1-1)

(Actual 1-2-0)

At home to: Ottawa, Ottawa, Ottawa (Expected: 2-1-0)

(Actual 3-0-0)

On the road to: Vancouver, Calgary, Calgary (Expected: 2-1-0) (Actual 0-0-0)
At home to Winnipeg, Winnipeg (Expected: 1-1-0) (Actual 0-0-0)
On the road to: Montreal, Montreal, Montreal (Expected 2-1-0) (Actual 0-0-0)
On the road to: Toronto, Toronto (Expected 1-1-0) (Actual 0-0-0)
Overall expected result: 9-6-1, 19 points in 16 games

Current results: 4-2-0, 8 points in six games
Through 29 games, and especially considering the 3-6-0 start, I think this Oilers teams has earned some credit. Some strange happenings in the first half, but the February run (9-3-0) set the team on a course for the post season and March looks promising. The tough driving is straight ahead. Folks, this team will be flat out exhausted this time next week.
LINES, LAST NIGHT
Draisaitl-McDavid-Yamamoto

played 14:19, going 10-10 shots, 2-1 goals, 6-4 HDSC and 16-16 Corsi five on five. Draisaitl went 1-2-3 with 10 shot attempts and 3 takeaways, he had some jump, plus six HDSC scoring chances, three at five on five and three on the power play. McDavid went 1-2-3 despite being manhandled by the Senators and ignored by the refs. How he doesn't go off in every post-game avail is a mystery. His pass to Barrie just before the goal was majestic. Yamamoto had an assist and two stunning scoring chances, four HDSC at five on five in total. This line, man. Yamamoto's Game 82 last night, 19-27-46. Eberle's first 82 games: 21-33-54. Considering KY's first 26 games were teenage auditions, I'd say those two players have some things in common.

Shore-Khaira-P. Russell

played 10:34, going 8-6 shots, 1-0 goals, 1-3 HDSC and 13-10 Corsi five on five. Tippett is using this as his second line now, don't know how long that last but it's a surprising tweak. Shore was quiet offensively but made smart plays all over the ice. He's a good interceptor of passes, although less than an aggressive forechecker and more of a stealth puck hawk in the neutral zone. Khaira had two shots, a takeaway and won six of 11 in the dot. I barely recognize the player now compared to a year ago. Confidence and a well defined role have Mr. Khaira delivering consistent quality. He was on the penalty kill when Ottawa scored, but was quality otherwise. Russell picked up an assist and had a takeaway. The coach trusts him, played Russell 11:49 at even strength.

Ennis-Nuge-Puljujarvi

played 9:52, 7-5 shots, 1-0 goals, 5-2 HDSC and 8-14 Corsi five on five. Ennis scored a goal by being in the areas where goals are scored, that's his third of the year in Game 20. Oilers should play him more. Also had an assist. Nuge got an assist on the Ennis goal, had one great chance of his own, and continues to look a little out of sync. Was alongside Khaira on the goal against with Edmonton on the PK. Puljujarvi roamed the earth freely, making just one misstep (went back into his zone twice and couldn't overcome the forecheck. He hit the post on a lovely goal mouth pass by Ennis and used his giant frame effectively. He is 12-6 five on five on-ice goal differential since the beginning of February.

Neal-Haas-Chiasson

played 8:33, 1-3 shots, 0-3 HDSC and 4-10 Corsi five on five. This line was a little shy by the numbers but one of the three had a good night. Neal had three shots, Haas scored a fabulous goal and Chiasson blocked a shot and had a quiet evening offensively.
PAIRS, AND GOALIE
Nurse-Barrie

played 15:30, going 12-10 shots, 2-1 goals, 5-4 HDSC and 19-16 Corsi five on five. Nurse had a goal, a takeaway and two blocked shots, also went 3-0 shots and 1-0 goals in 1:45 with Ethan Bear (who is settling in now). Barrie scored and had an assist, and had chaos with him on several shifts during the game. He's a great talent, the shot on his goal was inspired, but he's pretty loose with the puck for a guy playing a feature role. The playoffs are going to be dead man's curve.

Lagesson-Larsson

played 15:13, going 8-9 shots, 2-0 goals and 5-5 HDSC and 14-25 Corsi five on five. Larsson had an assist and drew a penalty, he's playing so well now it's amazing. That back must give him fits, and that makes him a risky signing, but I'm a fan. Lagesson had a HDSC, and a giveaway, but mostly provided consistent defense and mistake free handling of the puck.

Jones-Bear

played 13:07, going 7-3 shots, 4-2 HDSC and 11-7 Corsi five on five. Jones is so mobile, his pinches are well timed and he had a takeaway on Friday night. He earned another game. We'll see. Bear is getting closer to normal but he had a couple of giveaways on the night. I think this duo for a third pairing could be very strong come playoff time.

Mike Smith

stopped 23 of 25, .920. His save percentage for the season is .927 and he ranks No. 8 in five on five SP (.936).
BAKERSFIELD NOTES
Stuart Skinner leads AHL starters with a 1.56 goals-against average and is third in the league with a .940 save percentage. He posted an .892 SP last season, his first full campaign in the league. His career path as a pro is a little offbeat, I thought at the time the turmoil on defense in 2019-20 might be skewing the numbers. Is that it? Or does the defensive six that is Ryan Stanton, Kevin Gravel, Vincent Desharnais, Markus Niemelainen, Yanni Kaldis and Janis Jaks so strong Skinner has it easy every night? This is a story worth following all season.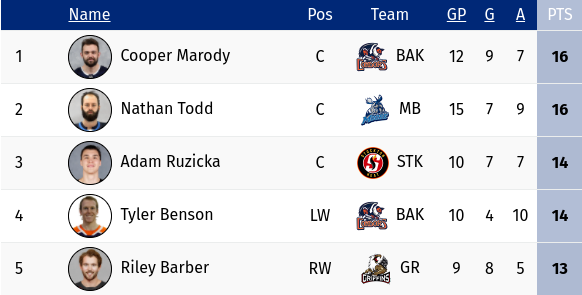 Marody leads the AHL in points, Benson inside the top-5 scorers despite missing a few games. Ryan McLeod is 5-5-10 after 12 games. Prospects who deliver this much normally get a recall, the Covid-19 restrictions make it unlikely. That means the story will roll out in the fall at training camp. Fascinating all three are flourishing and on the same line.