I saw the Jets in their old barn several times, the most recent being March 2, 1990. That was a fine Jets team, if they had played in another division there's zero doubt in my mind they would have won at least a round of the playoffs. I saw Wayne Gretzky, Luc Robitaille, Larry Robinson, Dale Hawerchuk. I had to strain my neck to see some of the goals, Winnipeg Arena was unique good and bad.
The one thing I remember from that night: No points from Hawerchuk. Wonderful player. He belongs on a very short list of greats who didn't post crooked numbers when I saw them live. He's right at the top of the list, with Dave Winfield, who went 0-for-4 one night in Anaheim, each out more impressive than the last.
THE ATHLETIC!
I'm proud to be writing for The Athletic, and pleased to be part of a great team with Daniel Nugent-Bowman and Jonathan Willis. Here is our recent work.
OILERS AFTER 34 GAMES
Oilers in 2015-16: 14-18-2, 30 points; goal differential -17
Oilers in 2016-17: 17-12-5, 39 points; goal differential +5
Oilers in 2017-18: 15-17-2, 32 points; goal differential -8
Oilers in 2018-19: 18-13-3, 39 points; goal differential +3
Oilers in 2019-20: 18-12-4, 40 points; goal differential +1

Oilers in 2020-21: 20-13-0, 40 points; goal differential +16
A win tonight puts Edmonton on a 69-point trajectory. The current fifth place team (Vancouver) would need to finish 16-2-4 in the final 22 games to finish with 70 points. Calgary would have to go 17-5-3 in their last 25 to finish with 70 points. Montreal would have to get there in their final 26 by going 9-0-17 to finish with 70 points.
WHAT TO EXPECT FROM MARCH
At home to: Toronto, Toronto, Calgary (Expected: 1-1-1)

(Actual 1-2-0)

At home to: Ottawa, Ottawa, Ottawa (Expected: 2-1-0)

(Actual 3-0-0)

On the road to: Vancouver, Calgary, Calgary (Expected: 2-1-0)

(Actual 1-2-0)

At home to Winnipeg, Winnipeg (Expected: 1-1-0)

(Actual 1-0-0)

On the road to: Montreal, Montreal, Montreal (Expected 2-1-0) (Actual 0-0-0)
On the road to: Toronto, Toronto (Expected 1-1-0) (Actual 0-0-0)
Overall expected result: 9-6-1, 19 points in 16 games

Current results: 6-4-0, 12 points in 10 games
Edmonton has six games left in the month, my projection suggests seven more points are out there. I have to say most of this month my prediction looked over-aggressive, but a win tonight would mean that five points in five games would get it done.
CLUSTERS
The Oilers Stanley Cups were built on the back of Wayne Gretzky and the 1979-81 drafts, with a couple of echo selections (Esa Tikkanen, Jeff Beukeboom) chiming in. The first three drafts (with the echo)netted an entire team's worth of personnel that ranged from above average to elite:
Goal: Grant Fuhr, Andy Moog

Defense: Paul Coffey, Kevin Lowe, Steve Smith, Jeff Beukeboom

Center: Wayne Gretzky, Mark Messier, Marc Habscheid

Left Wing: Esa Tikkanen, Willy Lindstrom (via Walt Poddubny), Jaroslav Pouzar

Right Wing: Jari Kurri, Glenn Anderson
The Oilers will never see that kind of cluster again, but this year the 2013-2015 cluster, added to the echo of 2016-17, gives this team a solid foundation:
Left Defense: Darnell Nurse, Caleb Jones, William Lagesson

Right Defense: Ethan Bear

Center: Connor McDavid, Leon Draisaitl

Right: Jesse Puljujarvi, Kailer Yamamoto
Men who are just arriving now include Jones, Lagesson, Puljujarvi and Yamamoto. Not all of those will make it with the team, someone in this group is Walt Poddubny.
OILERS 2020-21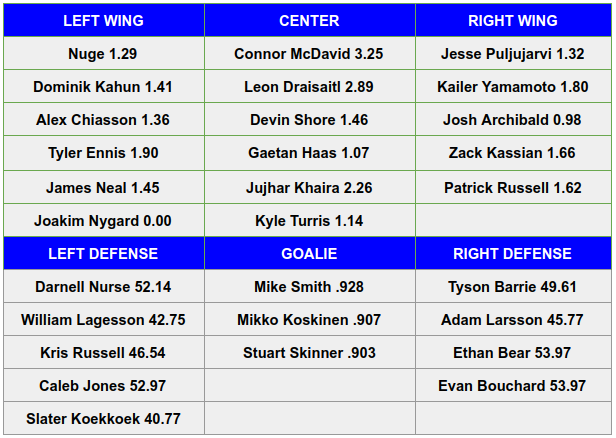 This is five on five pts-60 (forwards), Corsi five on five (defense) and five on five save percentage (goalies). Koskinen should be .909, that's on me.
The concern I have here is Nuge's scoring, Edmonton needs him to be over 1.75 per 60 and he should be able to cover that number. Puljujarvi is posting a similar number but he's a young player building his resume. A total of 1.50 by season's end is a reasonable goal, and his total with McDavid (1.82 per 60) is in the range of quality (you'd like to see 2.00+ for a McDavid winger). Nuge with McDavid is 1.21 per 60. It's a concern.