Sometimes I wonder if Oilers fans of today understand how much offensive firepower the 1980's clubs employed. In 1984-85, the average NHL team scored and allowed 311 goals. Edmonton's defense was a little better than average (298) that season, but the offense (401) was 90 goals clear of the average NHL team.
This year's average NHL team scores and allows 153 goals. Edmonton's goals against (141) is almost as impressive as the goals total (170). The Oilers offense ranks No. 8 in goals per game and No. 9 in goals against. That's a team that has a story to tell and is on the rise but cannot be compared to the NHL's best.
This year's team was similar to the 1984-85 Los Angeles Kings in terms of quality of offense and defense. The 1984-85 Oilers placed into current context? The current Colorado Avalanche, when healthy have similarities (without having the same number of extreme talents). How do the current Oilers go from successful to formidable?
THE ATHLETIC!
I'm proud to be writing for The Athletic, and pleased to be part of a great team with Daniel Nugent-Bowman and Jonathan Willis. Here is our recent work.
OILERS AFTER 53 GAMES
Oilers in 2015-16: 21-27-5, 47 points; goal differential -23
Oilers in 2016-17: 28-17-8, 64 points; goal differential +11
Oilers in 2017-18: 23-26-4, 50 points; goal differential -25
Oilers in 2018-19: 23-25-5, 51 points; goal differential -19
Oilers in 2019-20: 28-10-6, 62 points; goal differential +4

Oilers in 2020-21: 32-18-2, 66 points; goal differential +20
The goal differential tells all. In 1984-85, Edmonton's goal differential was +103. The Oilers beat the Flyers in the final, their GD? +107.
WHAT TO EXPECT IN MAY
At home to: Calgary (Expected: 1-0-0)

(Actual 1-0-0)

On the road to: Vancouver, Vancouver (Expected: 1-1-0)

(Actual 2-0-0)

At home to: Vancouver, Vancouver (Expected 1-0-1)

(Actual 0-1-0)

On the road to: Montreal, Montreal (Expected 0-1-1) (Actual 0-0-0)
At home to: Vancouver (Expected 1-0-0) (Actual 0-0-0)
Expected May record: 4-2-2, 10 points in 8 games
Actual May record: 3-1-0, 6 points in 4 games
In 1984-85, there were 117 forwards league wide who scored 20+ goals. In a 21-team league, that's 5.57 20-goal scorers per team. Edmonton had five. They were Wayne Gretzky (73), Jari Kurri (71), Mike Krushelnyski (43), Glenn Anderson (42) and an injured Mark Messier (23). How many above average top-six scorers are on the current team?
At this point in the season 13 goals represents 20 goals in a full season (80 games, as was the case in 1984-85). There are 123 forwards who have scored 13+ goals in the NHL this season, that's 3.97 13-goal scorers per team (most of a scoring line is gone 36 years later). Edmonton has four. They are Connor McDavid (31), Leon Draisaitl (28), Jesse Pulujarvi (14) and Ryan Nugent-Hopkins (14).
How best to build on that group?
PROJECTED OILERS ROSTER OPENING NIGHT 2021-22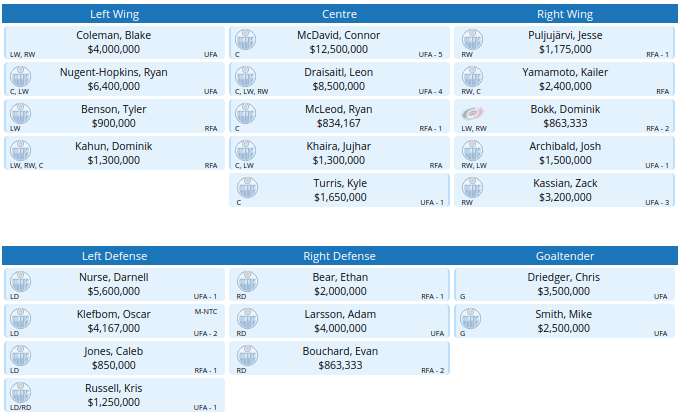 Since there are always tons of questions I never answer, let me answer a few and then not answer the ones you wanted answered:
William Lagesson went to the Seattle Kraken. I protected Nurse, Bear, Klefbom and Jones, signing Larsson to a handsome contract just ahead of free agency. I know you'll all agree that was a good deal, and the four year term will make you smile with delight.
James Neal's contract was bought out.
I traded Mikko Koskinen (half the contract retained) and Dmitri Samorukov to the Carolina Hurricanes for RW Dominik Bokk and a sixth-round pick. He's a fascinating prospect, there's an overwhelming amount of talent and he could be a flat out steal if things break right. He has played 25 games in the AHL this season, scoring nine goals (five on the power play). He could be one of those men who scores an above average amount on a skill line and one day contributes to a Stanley. I looked at a lot of inexpensive scorers on the wing and chose him.
Blake Coleman was my preferred outside free agent, mostly because he is a solid two-way winger who should score 20+ goals with McDavid even without power-play time. I looked at Zach Hyman but don't think the Oilers will be able to afford him.
I have Klefbom returning and healthy, that's clearly a question mark and will have to be addressed if he isn't able to perform.
The key is finding offensive contributors who can play in the NHL. That's going to be the draft and there are possible solutions on the way (Holloway, Lavoie, Savoie). Bringing back Nuge, adding Coleman, Bokk and Benson from the AHL and adding Kahun to a fourth line makes the bottom six a more talented group.
The six PK forwards are Khaira-Archibald, McLeod-Coleman and Nuge-Benson.
The Coleman contract is four years and Nuge deal is five.
Driedger is an excellent goalie option, that's a three-year deal.
Losing Samorukov is less than ideal but the Oilers still have plenty of Leftorium leftoverium.