The offseason in any sport is the only time one gets to assess things. My Dad used to call it the 'lay of the land' and most years it's a good idea. The McDavid Oilers, having had the same problem since he arrived, are not in need of extra time to get a 'lay of the land' because if management doesn't know the problem by now, they're doomed already.
THE ATHLETIC!
I'm proud to be writing for The Athletic, and pleased to be part of a great team with Daniel Nugent-Bowman and Jonathan Willis. Here's the latest!
OILERS 50-MAN LIST (30 + 9 RFA)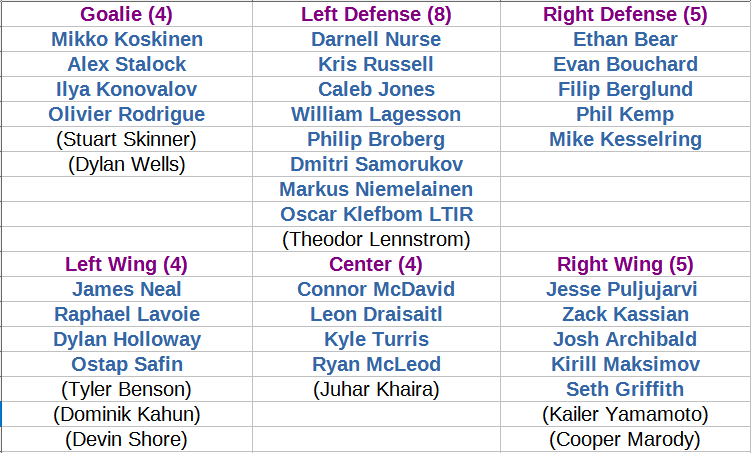 This is the time of year where we can look at each position and go blue sky a little In goal, we're likely to see an overhaul on the current depth chart, with Mike Smith coming in and possibly Mikko Koskinen going out. I wouldn't be shocked to see Smith-Koskinen spend a final year together, honestly. I don't think it's wise or efficient, but a buyout is unnecessary-surely a trade can be worked with someone. I expect Ilya Konovalov will play well in Bakersfield and maybe we see him during the NHL season. Ideally, Holland brings in Dreidger from Florida or similar, and Konovalov flourishes in Bakersfield.
Darnell Nurse is the only sure thing at LHD, although I think Caleb Jones is worth a full shot on the left side. Oscar Klefbom is the great unknown, and if you're asking me to guess, I expect the organization will prepare as if he will not return. What does that mean? I think the remaining options (Kris Russell, William Lagesson and the kids who haven't seen the NHL listed above) are all shy of being regulars the team can count on. What does that mean? Well, I think fans believe Jamie Oleksiak is coming to town, but would advise you to imagine Holland signing Dmitry Kulikov. Call me rain cloud, but it's a likely play. I also believe Philip Broberg will be a bigger story than we're anticipating at this time. More in a minute.
Ethan Bear had a far better season than most fans have given him credit for, despite a tough start and a difficult finish. Young blue who play feature roles are often in memorable (the bad kind) photos, you may recall Nurse in 2017. It's part of the investment made in defensemen and Bear is going to help a team win those same games later in his career. Evan Bouchard is beyond ready and will slide in on the third pair with some power-play time that increases through the year. He is not eligible for the Calder Trophy, having played 7 and 14 games in previous seasons (the rule is "a player cannot have played more than 25 games in any single preceding season nor in six or more games in each of any two preceding seasons in any major professional league") so that's not going to happen for Bouchard. After that, no one currently populating the 50-man list is a strong candidate for NHL work. Adam Larsson is not signed, but it sounds like he will be, and I think there's a chance Slater Koekkoek also returns depending on what happens in the expansion draft. Tyson Barrie had a big offensive season with Edmonton but it would be a mistake to bring him back. The cap hit alone would derail other parts of the roster, and of course it would delay Bouchard's ascension to his proper role by another year.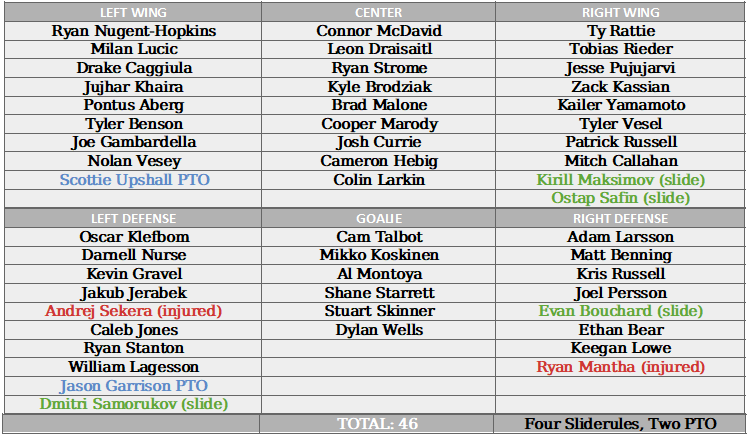 This is the 50-man list from August of 2018, notice Nuge on LW and Mikko Koskinen in a backup (he would play 55 games) role.
Left wing includes an eroding James Neal along with talented prospects Dylan Holloway and Raphael Lavoie, plus a lesser but interesting prospect in Ostap Safin. Tyler Benson, Dominik Kahun and Devin Shore are RFA, I expect we'll see one or two signed but have a feeling the best one (Kahun) sails on down the line. A LW depth chart of Nuge, Blake Coleman, Benson, Shore and Neal is both better than last season and far from championship calibre. Holland needs all of Holloway, Lavoie and Benson to spike on demand and that isn't realistic. The most fascinating position on the team.
Connor McDavid is the best player in the game, Leon Draisaitl a stunning talent who has emerged as both a complementary winger and a center who can also drive his own line. This is the heart of the order for the Edmonton Oilers. Finding two centers behind those two towers has proven difficult, but rookie Ryan McLeod appears to be a key piece. The question surrounding McLeod has to do with readiness and we'll have to wait and see. Kyle Turris didn't cover the bet made on him and represents a misstep by the organization. Certainly not the only one, but to have missed by this much has to be a concern. Jujhar Khaira is RFA and I expect will return on a two-year deal.
Jesse Puljujarvi is the poster example of what the Oilers need to do this season on left wing, except Holland needs to double the recipe and deliver two LW's. Zack Kassian and Josh Archibald are both NHL veterans who play specific roles (Kassian physical, Archibald PK) including secondary offense. The problem for both is five on five scoring and that needs to get better in a hurry. It's a stretch to call them part of the solution. Kirill Maksimov is a wild card, he has talent but needs to score consistently to establish himself. Seth Griffith is an effective AHL skill winger. RFA's Kailer Yamamoto and Cooper Marody occupy different spots on the organization's depth chart, both in need of new deals. Yamamoto is a key, and when he slumps (ended the regular season going 1-6-7 in 25 games) the Oilers need to have an alternative.
HOLLAND'S MEN
I think we can all agree that the next wave of newcomers from the minors/Europe will come from players drafted before Ken Holland arrived in Edmonton. Evan Bouchard, Ryan McLeod, Tyler Benson, Stuart Skinner and Dmitri Samorukov should be expected to establish themselves as NHL regulars or at least push in the coming season.
Beginning this fall, the "Holland Oilers" will have an impact in my opinion. Philip Broberg turns 20 in June, and his career trajectory is similar to Oscar Klefbom's, who played NHL games at 20. Ilya Konovalov turns 23 in July, and if he flourishes in Bakersfield (his KHL resume is strong) we could see him in Edmonton during the 2020-21 season. Raphael Lavoie is 21 in September. Dylan Holloway turns 20 in September.
They're coming soon to a rink near you.
LOWDOWN WITH LOWETIDE
At 10, we kickstart the weekend on TSN1260. Steve Lansky from Inside the Truck Podcast will talk about the Scheifele suspension, the World Hockey Championships and who he likes to come out of the North division. Plus the coming CFL season. At 11, Hernan Salas from TSN1260 talks Euro and the craziness that is to come. 10-1260 text, @Lowetide on twitter. It all hits the radio at 10!