It's possible—unlikely, but possible—the Edmonton Oilers will feature a couple of former Bakersfield Condors among the 14 forwards in the opening night lineup. A lot of attention has been paid to Tyler Benson, Cooper Marody, even Kailer Yamamoto. Let's spend a little time talking Josh Currie, Joe Gambardella and Patrick Russell.
THE ATHLETIC!
The Athletic Edmonton features a fabulous cluster of stories (some linked below, some on the site). Great perspective from a ridiculous group of writers and analysts. Proud to be part of the group, here's an incredible Offer!
WAIVE BABIES
If I've guessed correctly on my RE, the Oilers will waive Brandon Manning, Keegan Lowe, Brad Malone, Joe Gambardella, Patrick Russell and Josh Currie in the days leading up to opening night. There's a lot of utility among the forwards, and we might see one in the group sneak onto the opening night roster (or be recalled during the year). Here are the NHL numbers from a year ago:

These are small sample sizes (Currie 181 minutes) but each of these three men made their NHL debuts and played well enough for us to talk about them as recall options during the 2019-20 season. Eric Rodgers' time on ice estimates give us an even better chance to drill down on AHL scorers, and his work on the 2018-19 Condors was revealing: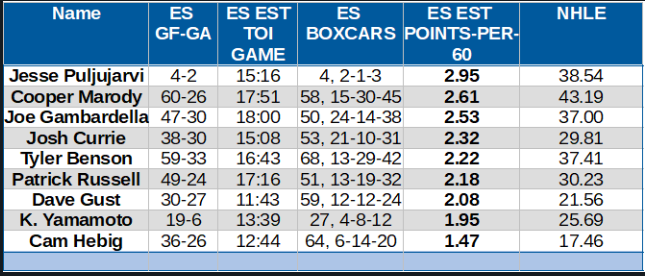 Even strength points are the great equalizer, and the three forwards we're discussing today show very well against Marody and Benson. I can see the three older Condors getting work on the depth lines, while the kids spend more time in Bakersfield waiting for the call.
Marody is the top player in this group, but he'll either play on a skill line or return to Bakersfield. It's going to come down to foot speed, for Marody and for Benson. Yamamoto's injuries impacted his offense and I do believe he's a lock to start the year in Bakersfield. I really liked Gambardella on the forecheck, and Currie had more skill than I thought he would at the NHL level. The Oilers badly need depth (along with quality) in an effort to finally find a balanced roster. These mid-20's forwards may help.
LOWDOWN WITH LOWETIDE
At 10 this morning, TSN1260. We'll have a lively show featuring Bruce McCurdy from the Cult of Hockey at the Edmonton Journal. We'll talk the Perseids-on adventure, Bianca Andreescu and the young Jays. Kris Abbott from OddsShark will also be by to talk CFL, NFL and college football. 10-1260 text, @Lowetide on twitter and we'll see you on the radio!