I don't recall an offseason that left this much business so late into summer. There are like 30 rfa's to sign (Jesse Puljujarvi is one) and there are several attractive UFA's. Edmonton doesn't have much money left, but there's room for a depth signing. Who are the candidates?
THE ATHLETIC!
The Athletic Edmonton features a fabulous cluster of stories (some linked below, some on the site). Great perspective from a ridiculous group of writers and analysts. Proud to be part of the group, here's an incredible Offer!
THE CANDIDATES
This is goals-per-60 and points-per-60 at five-on-five
Tomas Vanek 1.02 2.21
Jason Pominville 1.08 2.01
Brock McGinn 0.45 1.35
Patrick Marleau 0.58 1.16
Patrick Maroon 0.54 1.08
Riley Sheahan 0.46 1.05
Brian Boyle 0.83 1.02
Magnus Paajarvi 0.53 1.00
Derick Brassard 0.61 0.94
Edmonton needs help at centre, so Brassard, Boyle and Sheahan would be likely targets. I don't know how many PTO's the Oilers will sign, and it could be a straight one-year deal. Among wingers, Vanek might be a solid power-play addition.
The Oilers do have some internal solutions on the wing. Tyler Benson and Cooper Marody could push for jobs and realistically it would be tough for management to send either back if they find chem with established players.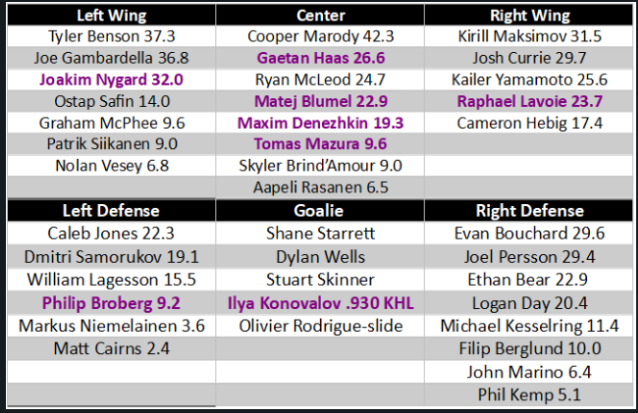 If we use 30 points NHLE as the line in the sand, then Marody, Benson, Gambardella, Nygard and Kirill Maksimov are the options. I don't think Maksimov makes the grade (Holland will likely slow play him), so the four remaining are your pool of possibles. What about something like this?
Leon Draisaitl—Connor McDavid—Zack Kassian
Tyler Benson—Ryan Nugent-Hopkins—James Neal
Markus Granlund—Derick Brassard—Josh Archibald
Alex Chiasson—Jujhar Khaira—Sam Gagner
I don't think it will go that way (Neal and Chiasson are the safe second-line wingers) but if you are Dave Tippett and Benson (or Marody) show well, it's an option that has to be contemplated.
HAYDEN HAWKEY
College goalie is now free to sign, and his resume is strong. Oilers gave up an asset to acquire an asset, and then set it free. Management changes leave orphans all over hell's half acre.
LOWDOWN WITH LOWETIDE
A busy morning, TSN1260 beginning at 10. DTonSC joins us at 10:20 to preview the CFL weekend, DraftKings Sports Book Director Johnny Avillo pops in later and we'll talk Jays as well. 10-1260 text, @Lowetide on twitter. Talk soon!