Gaetan Haas and Joakim Nygard have a few things in common, including strong European resumes and unusual names. Nygard drew interest from 20+ teams, while Haas had an audience of one (Ken Holland) from what we know. Oilers fans are uneasy about the roster over the summer, with No. 3 center (Haas) and fleet winger (Nygard) areas of possible improvement.
What can we tell about these two men and their NHL chances?
THE ATHLETIC!
The Athletic Edmonton features a fabulous cluster of stories (some linked below, some on the site). Great perspective from a ridiculous group of writers and analysts. Proud to be part of the group, here's an incredible Offer!
EUROPE
There are teams (San Jose Sharks) who can grab a European and coach him up within a year. Having a 'plug and play' supermarket is a big damned deal. Edmonton has had an uneven track record in procuring Europeans, but Holland has done well over many years.
The League Nygard plays in lets a bunch of air out of the tires of each player's boxcar number. The tools I use punish the SHL at 58 percent of total. That's the second best (KHL) league in captivity.
Haas plays in the NLA, where the NHLE punishes more than half (43 percent) and thus the Haas number is less impressive.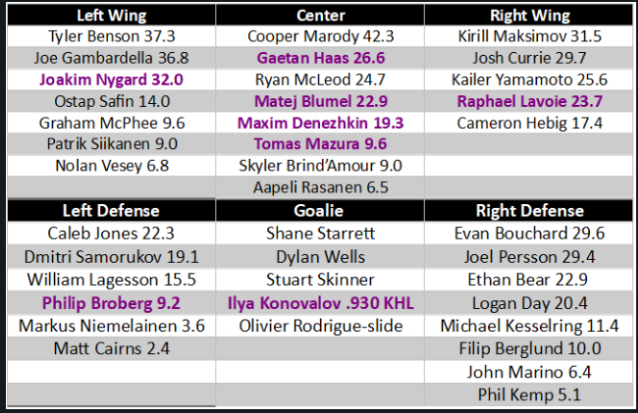 However, opportunity is a major item in the case of Haas and Nygard. Haas is a guy who Ken Holland liked, he is signed and the team is not exactly flush in RHC.
I'm finishing up my RE numbers now, and this little Euro battle is a fascinating inside the roster item. Mamas, don't let your babies grow up to be left shot centers.