Back in 1980, everything seemed fresh, new and exciting. Jari Kurri couldn't speak English but turned heads in camp. Matti Hagman was another newcomer to camp, and a Finn, so he and Risto Siltanen could help out there. Mark Messier was at camp with brother Paul, Glenn Anderson finally done with his Olympic commitment and ready to climb the NHL ladder.
Things seemed simpler then, easier. Maybe it was just a case of impact talent making it look that way.
THE ATHLETIC!
The Athletic Edmonton features a fabulous cluster of stories (some linked below, some on the site). Great perspective from a ridiculous group of writers and analysts. Proud to be part of the group, here's an incredible Offer!
1980-81 TRAINING CAMP ROSTER
Goalies (6): Ron Low [26, 3.58 .890], Eddie Mio [34, 4.22 .868], Bob Dupuis [1, 4.07 .886], plus hopefuls Pete LoPresti (claimed in the expansion draft but inactive in 1979-80), Gord Garbutt (41 IHL games) and Andy Moog (1980 pick out of Billings of the WHL, he posted a .902SP).
Defense (15): Doug Hicks [78, 9-31-40], Risto Siltanen [64, 6-29-35], Pat Price [75, 11-21-32], Kevin Lowe [64, 2-19-21], Lee Fogolin [80, 5-10-15], Colin Campbell [72, 2-11-13], Charlie Huddy (a truly impressive minor league season at 20, 14-34-48 in 79 games), Mike Forbes (2 NHL games, offensive defenseman in the minors), Larry Goodenough (5 games with the Vancouver Canucks and a solid minor league season), Bryon Baltimore (2 NHL games plus a minor league regular), John Hilworth (15 NHL games with Detroit, 12 in the minors), Mike McCann (low minors), Paul Coffey (star OHA rearguard, 102 points, first round pick), Jim Crosson (undrafted WHL free agent, 76 points and 256 pims with Calgary Wranglers), plus George Pesut (who had been out of NA hockey, playing for HC Davos, for a couple of years).
Center (12): Wayne Gretzky [Wayne Gretzky], Stan Weir [79, 33-33-66], Matti Hagman (former Bruin coming over for another NHL shot), Don Ashby (18 brilliant games with the Oilers and a solid minor league campaign), Paul Messier (57 minor league games), Mike Toal (3 NHL games and an impact minor league debut, 76 points in 76 games), Roy Sommer (some NHL experience, he had a strong season in Oilers system '79-80), Dave Barr (undrafted would eventually sign with Boston), Walt Poddubny (1980 draft pick, 30+ goals in the WHL), Gord Stafford (undrafted WHL forward scored 50 in final junior season), Mike Winter (sixth round pick in 1980, would return to junior), Kevin Redmond (AJHL player for Sherwood Park).
Left Wing (11): Brett Callighen [59, 23-35-58], Dave Hunter [80, 12-31-43], Mark Messier [75, 12-21-33], Dave Semenko [67, 6-7-13], Peter Driscoll [39, 1-5-6], Jari Kurri (strong Sm-Liiga season, he was a 1980 Edmonton pick and listed as a LW), Barry Dean (impressive AHL season in Philly system), Dean Magee (one of Edmonton's top scorers in Houston, '79-80), Mark Miller (mid-level winger on Edmonton's first farm team), Max Kostovich (1979 Oilers draft pick, played 20 games with Edmonton's top farm club), Scott Currie (fringe pro played three games with Edmonton's top farm team in '79-80).
Right Wing (12): Blair MacDonald [80, 46-48-94], Dave Lumley [80, 20-38-58], Don Murdoch [10, 5-2-7], Glenn Anderson (impact prospect, he played for U. Denver, the Canadian Olympic team and the Seattle Breakers in '79-80), Tom Roulston (he would play in the NHL and for the Oilers, here he was coming off a strong minor league campaign in '79-80), Rick Bourbonnais (he played for the Blues mid-70s, by 1980 he was hanging on to a minor league job), Cal Roadhouse (he was a good winger for the early Oilers farm teams), Shawn Babcock (third-round pick in the '80 draft, enforcer from the Windsor Spitfires. No. 48 overall, he was the only early miss at the draft by Barry Fraser in 1979 or 1980), Dale Baldwin (out of Bemidgi State, he would have a solid IHL career), Blair Barnes (a sixth-round pick in '79, he would turn pro in 1980 and emerge as a good AHL scorer), Mike Kouwenhoven (undrafted WHL winger out of Billings, he played for the minor league team for a time), Bill Joyce (turned pro out of Western Michigan and played a few years in the IHL).
NAMES IN BOLD
Want to look like a genius? Bring all the men in bold (Andy Moog, Paul Coffey, Charlie Huddy, Matti Hagman, Walt Poddubny, Jari Kurri, Glenn Anderson) to training camp as possible additions. Holy crap!
The current Oilers don't have seven names in bold, but they do have one. Evan Bouchard. They have a few more who might qualify under the Poddubny tree, including Tyler Benson, Cooper Marody, Kailer Yamamoto, Dmitri Samorukov. Maybe Joel Persson can be a modern Matti Hagman (despite the lack of NHL experience).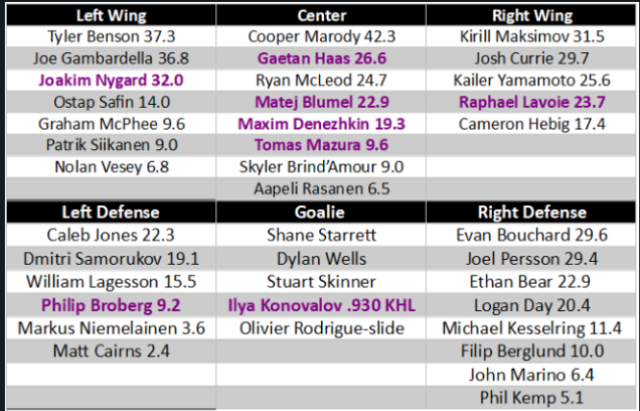 Bouchard turns 20 in October, he has already played in the NHL (seven games, scored a goal, 53 percent Corsi for five-on-five) and the Oilers are looking for his player type. I think we see him in Edmonton this season, maybe not opening night.
My most likely opening night rookies? I have Caleb Jones, Joel Persson, Gaetan Haas, Joakim Nygard. More Hagman's than Huddy's. We'll see.