For a long time after he was drafted, Tyler Benson answered a lot of questions about his health. In his draft season, he missed 42 games (playing in 30), and draft +1 he played 33 of 72.
It reached a point where Benson expressed frustration, telling Steve Ewen of the Vancouver Province "I'm just worried about trying to get back to healthy and back on the ice with my team."
THE ATHLETIC!
The Athletic Edmonton features a fabulous cluster of stories (some linked below, some on the site). Great perspective from a ridiculous group of writers and analysts. Proud to be part of The Athletic, we are celebrating our 2-year anniversary this week. To mark the occasion, you can get 40% off subscriptions until Sept. 19 here.
BENSON
Benson's AHL debut was a Godsend for an Oilers organization that badly needs some of its prospect forwards to cash. We've done this exercise before, but here are the numbers for picks 31-39 from the 2016 draft, with Alex DeBrincat drafted last and long gone: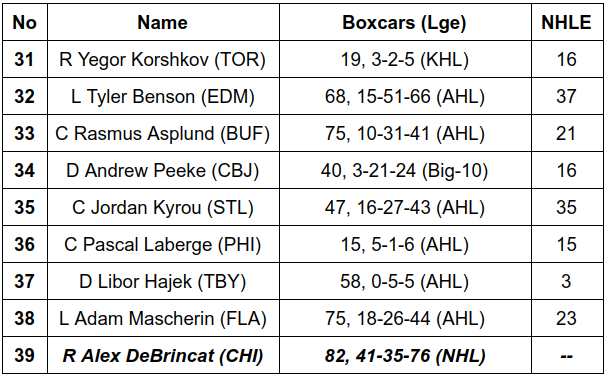 DeBrincat will never be caught, he'll pass 100 NHL goals this season. Benson and Kyrou are probably the two best players on the list after him, although injuries to names like Korshkov and Laberge have to be considered. The big number for Benson is games played. He didn't miss even one. I don't know if he makes the team out of camp but if Benson continues to deliver at a point-per-game in Bakersfield, it won't be long.
The Oilers need a puck mover but not at $4.83 million and Faulk has his own issues. Puck IQ's elite numbers are good not great and he badly trails the rest of the Hurricanes defenders. Suspect he'll be dealt, don't think it's Edmonton.
TONIGHT'S GAME
I know it's rookies and an exhibition but it's hockey and some of the names who are likely to play may spend time in the NHL in the season to come. If you're going to the game, please post a report for the group.
KYLE BRODZIAK
One of the final posts I wrote at hfboards was about Kyle Brodziak and Marc Pouliot. I ran their numbers and asked if Brodziak might have the better career? Brodziak was a year older but in 2003-04 their numbers in junior were similar and MP was already having injury issues:
Marc Pouliot (age 18) 42, 25-33-58 (1.38)
Kyle Brodziak (age 19) 70, 39-54-93 (1.33)
Pouliot stopped short of 200 NHL games but Brodziak kept on rolling. It looks like his final total will be 917 regular season games. Brodziak, Shawn Horcoff and Jason Chimera represent outstanding value from a bygone era of Oilers later round drafting. Edmonton could use that kind of drafting now.
Sail on, Fort Saskatchewan Ranger. You met all expectations and then spent a decade exceeding them in the best league in the world. We won't forget you.