This blog spends a lot of time on prospects and the future. So much time in fact that I was once accused of contributing to Edmonton's poor record by romanticizing the draft. Seriously. I started the top 20 prospects for winter 2019 at The Athletic yesterday and this is a good time to run the NHLE's and have a chat about the future.
THE ATHLETIC!
The Athletic Edmonton features a fabulous cluster of stories (some linked below, some on the site). Great perspective from a ridiculous group of writers and analysts. Proud to be part of The Athletic, less than two coffees a month offer here.
COMPLETE PROSPECT NHLE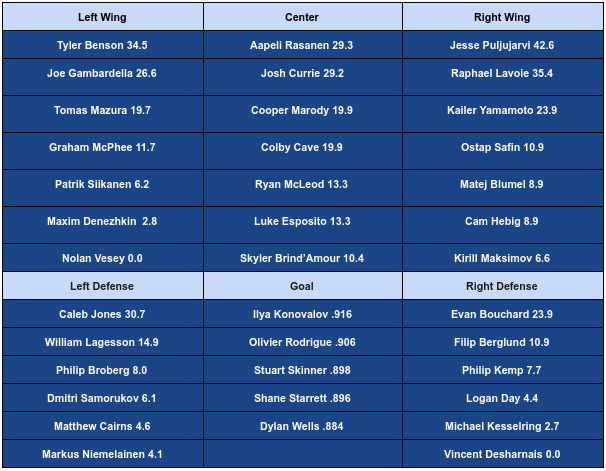 I included Jesse Puljujarvi in this look although he doesn't fit my definition of a prospect (your mileage may vary). There are three (Lavoie, Benson, Jones) who have an NHLE over 30 and that's the start of a very impressive season. Men 25-29 NHLE include Aapeli Rasanen, Josh Currie and Joe Gambardella. Players 20-24 points NHLE are Evan Bouchard and Kailer Yamamoto. Excluding goalies, how many top end prospects are <20 NHLE? I'll suggest three defenders (William Lagesson, Dmitri Samorukov and Philip Broberg), plus forwards Cooper Marody, Ryan McLeod and Kirill Maksimov.
I checked on Friday and there were still tickets left, they are free for The Athletic subscribers (and you can bring someone). It's a great venue and our chance to say thanks. Last year's was a blast and the Q&A was a lot of fun, led to some great suggestions by subscribers (many of those were added to what we present today). Ask anything you like, I'll even describe the balance photo if you ask. Click on the link above and register, love to see you on Saturday!
AHL EVEN STRENGTH SCORING
Brad Malone 14, 2-6-8 .571
Joe Gambardella 9, 3-2-5 .556
Tyler Benson 15, 2-6-8 .533
Josh Currie 15, 5-2-7 .467
Kailer Yamamoto 15, 3-3-6 .400
Colby Cave 10, 2-2-4 .400
Cooper Marody 12, 1-3-4 .333
Caleb Jones 13, 1-3-4 .308
Ryan McLeod 15, 1-3-4 .267
Evan Bouchard 15, 1-3-4 .267
Here are the top 10 even-strength scorers this year (by points-per-game). Here's what that looked like one year ago around the same time
Cooper Marody 7, 2-4-6 .860
Brad Malone 11, 3-5-8 .730
Patrick Russell 11, 3-5-8 .730
Tyler Benson 11, 2-5-7 .640
Joe Gambardella 11, 4-3-7 .640
Caleb Jones 11, 1-5-6 .550
Cameron Hebig 11, 1-4-5 .450
Dave Gust 9, 1-3-4 .440
William Lagesson 10, 2-2-4 .400
Josh Currie 11, 3-1-4 .360
A couple of things. First, Cooper Marody being hurt impacts the offense in Bakersfield. Second, none of the prospects outside of Marody are way off the pace. Finally, Kailer Yamamoto isn't tearing the cover off the ball but he's in the pack and hasn't gone on a heater (the kids use that word for hot streak now) yet.
ROOKIES BY YEAR
One thing I like to follow each year is the number of games a team deploys former minor leaguers in the season following their time in the AHL. It looks like 2019 is going to be a good one.
2015 (320) Darnell Nurse 69, Iiro Pakarinen 63, Brandon Davidson 51, Connor McDavid 45, Griffin Reinhart 29, Adam Clendening 20, Jordan Oesterle 17, Jujhar Khaira 15, Anton Slepyshev 11.
2016 (212) Matt Benning 62, Drake Caggiula 60, Anton Slepyshev 41, Jesse Puljujarvi 28, Jujhar Khaira 10, Laurent Brossoit 8, Dillon Simpson 3.
2017 (61) Ethan Bear 18, Pontus Aberg 16, Laurent Brossoit 14, Kailer Yamamoto 9, Nathan Walker 2, Keegan Lowe 2.
2018 (137) Colby Cave 33, Josh Currie 21, Kailer Yamamoto 17, Caleb Jones 17, Joe Gambardella 15, Evan Bouchard 7, Patrick Russell 6, Cooper Marody 6, Valentin Zykov 5.
2019 (53) Ethan Bear 22, Patrick Russell 19, Joel Persson 10, Caleb Jones 2.
LOWDOWN WITH LOWETIDE
A busy Monday morning with all kinds of major stories to cover. We'll have Darren Bauming from TSN Winnipeg at 10:20 to talk Blue Bombers and the Grey Cup. Jason Gregor will be by at 11 to chat about the Eskimos season and what the offseason might look like, as well as the Oilers road trip ahead. 10-1260 text, see you on the radio!