The Edmonton Oilers reminded us Saturday afternoon: This is a building team, not a Stanley Cup contender. It's an important reminder, because 'trade Puljujarvi for a checking center' arguments are out of time with this season. This team's best players may will the rest of the group into the postseason, but there are many miles to go.
THE ATHLETIC!
The Athletic Edmonton features a fabulous cluster of stories (some linked below, some on the site). Great perspective from a ridiculous group of writers and analysts. Proud to be part of The Athletic, less than two coffees a month offer here.
OILERS AFTER 22 GAMES
Oilers in 2015: 7-14-1, 15 points; goal differential -12
Oilers in 2016: 12-8-2, 26 points; goal differential +10
Oilers in 2017: 8-12-2, 18 points; goal differential -14
Oilers in 2018: 10-10-2, 22 points; goal differential -9
Oilers in 2019: 13-6-3, 29 points; goal differential +12
This year's team is the best of the bunch in total points and goal differential, but lack of depth and balance will eventually end this team's season. The question now, and we have 60 games to track it, surrounds Edmonton's chances at getting to the dance, the second season.
OILERS IN NOVEMBER
Oilers in November 2015: 3-4-1, seven points; goal differential -1
Oilers in November 2016: 2-5-1, five points; goal differential -9
Oilers in November 2017: 4-3-1, nine points; goal differential +6
Oilers in November 2018: 3-5-0, six points; goal differential -4
Oilers in November 2019: 4-2-2, 10 points; goal differential +7
The 2017 team is the match for November, and that's reminder about what can go wrong even in a season that begins well. I know fans were disappointed after the third period and overtime, but it's important to get that Bettman point.
WHAT TO EXPECT IN NOVEMBER
On the road to: PIT (Expected 0-1-0) (Actual 1-0-0)
At home to: ARI, STL, NJD (Expected 2-1-0) (Actual 1-1-1)
On the road to: ANA, SJS (Expected 1-0-1) (Actual 1-1-0)
At home to: COL, DAL (Expected 1-1-0) (Actual 1-0-1)
On the road to: SJS, LAK, VEG, ARI, COL (Expected 2-3-0)
At home to: VAN (Expected 1-0-0)
Overall expected result: 7-6-1, 15 points in 14 games
Current results: 4-2-2, 10 points after eight games
Oilers are tracking to finish a little ahead of my prediction at the beginning of the month, the road trip from hell lies ahead. I think the LAK game this week and the Arizona game next week will be keys. I think four points on the trip is completely reasonable as an expectation.
LINE 1 Leon Draisaitl-Connor McDavid-Zack Kassian played 15:19, going 15-14 Corsi, 10-7 shots, 1-3 goals and 5-2 HDSC. All numbers five-on-five via NST unless noted.
Leon Draisaitl scored, had two shots and a HDSC. Leon's chem with 97 was on display on the goal, they are magic. Won eight of 11, a little reckless on the passing and coverage. Connor McDavid had two assists (plus a third on the PP), four shots, two HDSC, two takeaways. Just one of seven in faceoffs. Zack Kassian took a tumble, but had two shots and two HDSC.
LINE 2 Jujhar Khaira-Riley Sheahan-Patrick Russell played 11:51, going 7-8 Corsi, 1-0 goals and 4-2 HDSC.
Jujhar Khaira had a brilliant game, two goals, five shots, two HDSC, one takeaway and physical. What a game! Riley Sheahan is getting closer to scoring a goal, suspect a national holiday will be declared when it happens. Three shots, 2 HDSC, won nine of 15 in the dot. Patrick Russell rung iron (again!) and played well on an effective line.
LINE 3 James Neal-Nuge-Josh Archibald played 9:40 and got caved, going 3-13 Corsi, 1-7 shots, no goals and 0-2 HDSC.
James Neal drew a penalty but is in the 'golden slumbers' portion of his seasons. Snipers. They run hot and cold. Nuge was physical (he uses his stick for cross checks and general agitation more than ever) but didn't impact the game at evens. Josh Archibald is a sublime skater but at five-on-five gets shockingly little done. Oilers should put Neal on RW and Khaira on the left side.
LINE 4 Markus Granlund-Gaetan Haas-Sam Gagner played just 4:28, going 8-6 Corsi, 5-4 shots, 0-1 goals and 1-2 HDSC. Haas not getting the puck out was the big play on the first goal against.
Markus Granlund had a takeaway and isn't among the team's PKers. Hanging by a thread. Haas made the clearance error, had two shots and a HDSC. I like him but don't really know if he's going to make it. Sam Gagner had a shot and drew a penalty, looked damned painful.
OILERS 2019-20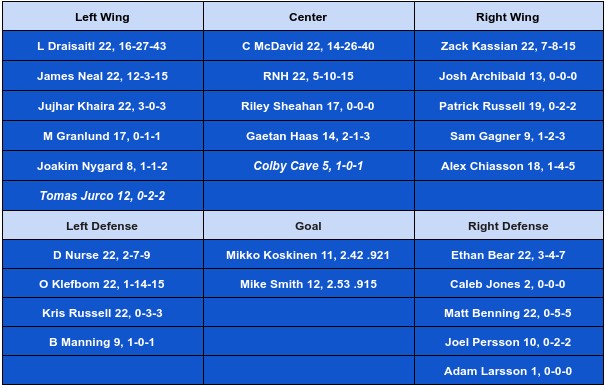 PAIRING ONE Darnell Nurse and Ethan Bear played 15:46, going 15-13 Corsi, 9-11 shots, 2-3 goals and 7-2 HDSC. Were 4-6 offensive-defensive faceoffs.
Darnell Nurse didn't stop the pass into the slot on the first goal, did something similar (although there was same bad luck as the crosstown pass was tipped) on the third goal, and was quite poor on coverage and then beaten clean by Benn on the winner. Ethan Bear is clearly being scouted and now targeted. Several times in the game Dallas overloaded his side on entry and then won a battle for the puck with the rookie. On the second goal Benn easily sealed off Bear, he wasn't strong enough on the third goal (giving up possession too easily). If you ever wonder why coaches value Adam Larsson player-types, yesterday's game (and Bear's defensive shortcomings) are a reason. Those wall battles are fierce. Never fear, the young man will get there. Bear scored a lovely power-play goal. Rookies are rookies, ladies and men. Bear is a good one but growing pains are part of the process. Stay with him, he's bona fide. Pairing played 10:57 against Seguin (1-1 goals) and 10:22 against Benn (2-2 goals). That's a hard match.
PAIRING TWO Oscar Klefbom and Caleb Jones played 13:07, going 19-8 Corsi, 11-5 shots, no goals, 2-2 HDSC, 5-4 offensive-defensive faceoffs.
Oscar Klefbom had an assist, three shots and a takeaway in an efficient game for Edmonton's best defenseman. He is taking on a mentor role under coach Tippett and doing damn well. Caleb Jones had a shot on goal, one giveaway but otherwise moved the puck well. I haven't noticed awkward off-side moments so far. Pairing played less than two minutes against Benn and Seguin.
THIRD PAIRING Kris Russell and Matt Benning played 11:10, going 9-9 Corsi, 4-7 shots, no goals, 1-3 HDSC and 5-3 offensive-defensive faceoffs.
Kris Russell had one shot, a takeaway and three blocked shots. Also led defensemen with 2:07 on the PK. He can defend. Matt Benning didn't get the puck out early on the sequence that led to the first goal against, had a shot on goal in what was (for him) a generally quiet night.
GOALIE Mikko Koskinen stopped 31 of 36, .861. In my opinion he's clearly Edmonton's best goalie but he didn't have a good game. The fourth goal was a good shot from a known sniper but Koskinen makes that save when he's on. In overtime, Benn's move fooled Nurse but Koskinen's position was compromised and he couldn't recover. He needed to make that save and for the first portion of this season he's done just that thing.
CONDORS 2019-20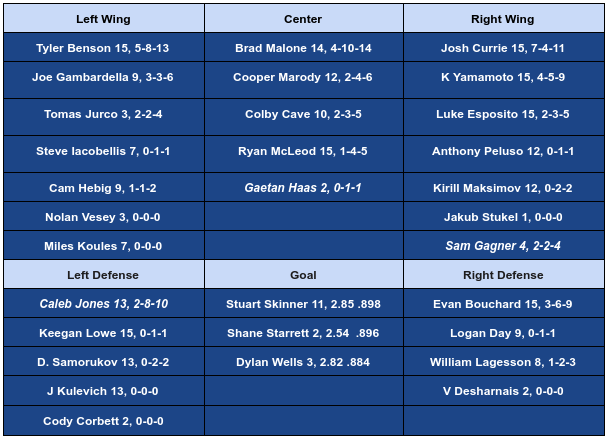 A few quick notes: Stuart Skinner is finding his way. In his most recent six games, he has stopped 164 of 178, .921. Tyler Benson didn't score this weekend but I think he has now reached a point where he is as likely as Kailer Yamamoto to be the prospect recall around Christmas. Evan Bouchard has moved up the depth chart and we'll see how he shines, suspect the organization's next defensive recall is William Lagesson.