For some reason, the Edmonton Oilers are not considered worthy of the featured Saturday night Tabernac. I'm certain some of the reasoning involves past seasons but schedules can be changed and the networks have the most entertaining Canadian team playing at two p.m. local time today. Someday, the Oilers will be the feature team on the late Saturday game and I suspect someday will be soon if the team keeps winning enough games.
THE ATHLETIC!
The Athletic Edmonton features a fabulous cluster of stories (some linked below, some on the site). Great perspective from a ridiculous group of writers and analysts. Proud to be part of The Athletic, less than two coffees a month offer here.
New Lowetide (will link):  Oilers college procurement could increase under Ken Holland
Jonathan Willis: A shift-by-shift analysis of Caleb Jones in his Oilers season debut
Daniel Nugent-Bowman: 'Sometimes it's just unstoppable': How McDavid and the Oilers' power play dominated the Avalanche
Jonathan Willis: Darnell Nurse, Caleb Jones and the crisis that's looming in the Oilers' middle distance
Jonathan Willis: Basically, yes, the Oilers should keep Ryan Nugent-Hopkins 'forever'
Lowetide: Why the recall of NHL-ready Caleb Jones should benefit the Oilers in the long run
Daniel Nugent-Bowman: Oilers Report Cards: Several drivers make the grade but Edmonton's bus still has a few passengers
Daniel Nugent-Bowman: From 4 to 97, Oilers both new and old share the stories behind their jersey numbers
Jonathan Willis: Could a fall trade improve the fortunes of your NHL team in 2019-20?
Lowetide: Analyzing Dave Tippett's defensive usage and what the Oilers will do when Adam Larsson returns
Lowetide: What's going on with the Bakersfield Condors?
Daniel Nugent-Bowman: Ryan Nugent-Hopkins shines, mad props for Leon Draisaitl and more to like as the Oilers beat the Devils
Daniel Nugent-Bowman: What inexperienced defencemen like the Oilers' Joel Persson must do to gain their coach's confidence
Lowetide: Oilers are closer to having an effective second line than a year ago, but few have noticed
Daniel Nugent-Bowman: The beauty of a good night's sleep can be elusive for many NHL players
Jonathan Willis: Why the Oilers were wise to gamble on Tomas Jurco, even though it didn't pan out
Jonathan Willis: The unlikely goalie performances underpinning the Oilers' hot start
Lowetide: How far away is Evan Bouchard and what role will he play with the Oilers?
Jonathan Willis: Oilers right to wait until they're sure before recalling Kailer Yamamoto, Tyler Benson
Lowetide:  Can Leon Draisaitl score more than 50 goals this season?
OILERS AFTER 22 GAMES
Oilers in 2015: 7-14-1, 15 points; goal differential -12
Oilers in 2016: 12-8-2, 26 points; goal differential +10
Oilers in 2017: 8-12-2, 18 points; goal differential -14
Oilers in 2018: 10-10-2, 22 points; goal differential -9
Oilers in 2019: 13-6-2, 28 points; goal differential +13
This has 2016 written all over it, the seasons are close. After 21 games in 2016-17, Connor McDavid's boxcars (9-18-27) were quality. This season his boxcars (14-23-37) are from another world. Leon Draisaitl's '16-17 (7-9-16) fades compared to his start this year (15-26-41). Nuge? 3-7-10 after 21 in 2016-17, 5-10-15 this time. Man this team would be airborne with a Tyler Pitlick (6-1-7) scoring from the bottom six.
OILERS IN NOVEMBER
Oilers in November 2015: 3-4-1, seven points; goal differential -1
Oilers in November 2016: 2-5-1, five points; goal differential -9
Oilers in November 2017: 4-3-1, nine points; goal differential +6
Oilers in November 2018: 3-5-0, six points; goal differential -4
Oilers in November 2019: 4-2-1, nine points; goal differential +8
The 2017 team caught fire during that month, Connor McDavid was 6-14-20 and Nuge 5-7-12. Leon 6-6-12. Jordan Eberle went 8-1-9 for the NY Islanders that month, while Ryan Strome posted 3-4-7 in Edmonton. Oilers could use either man this afternoon.
WHAT TO EXPECT IN NOVEMBER
On the road to: PIT (Expected 0-1-0) (Actual 1-0-0)
At home to: ARI, STL, NJD (Expected 2-1-0) (Actual 1-1-1)
On the road to: ANA, SJS (Expected 1-0-1) (Actual 1-1-0)
At home to: COL, DAL (Expected 1-1-0) (Actual 1-0-0)
On the road to: SJS, LAK, VEG, ARI, COL (Expected 2-3-0)
At home to: VAN (Expected 1-0-0)
Overall expected result: 7-6-1, 15 points in 14 games
Current results: 4-2-1, 9 points after seven games
The Dallas Stars are on fire these days, 8-1-1 in the last 10. Edmonton is 5-4-1 in the last 10 but quality (7-2-1) at home this year. I imagine Koskinen starts and Jones sees another game.
OILERS 2019-20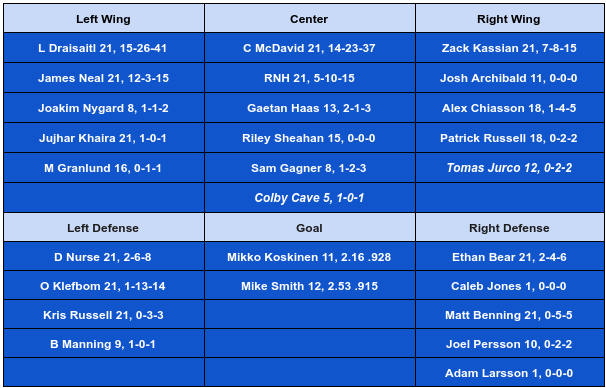 One of the things I've been paying close attention to this year is goal differentials (five-on-five) for the team's centers. This is important stuff, because it's an extension of McDavid on and off, but with the added advantage of seeing where on the roster progress is being made:
Connor McDavid 24-13 +11
Ryan Nugent-Hopkins 12-8 +4
Gaetan Haas 3-4 -1
Riley Sheahan 0-9 -9
Colby Cave 1-2 -1
Seems we have some improvement with the Haas group but the Sheahan trio continues to be a drag. Let's check on the blue:
Matt Benning 14-5 +9
Kris Russell 10-5 +5
Oscar Klefbom 14-12 +2
Joel Persson 7-7 0
Darnell Nurse 18-22 -4
Ethan Bear 17-23 -6
About what one might expect, Adam Larsson's return should help more than one pairing.
I don't know what to expect from today. In the past this would be a loss. Afternoon game, Dallas Stars, I'd predict a fluke goal early and then some nasty business that leaves the Oilers shorthanded and eventually down 2-0. A push results in a goal but a mid-third goal would put things to bed. This Oilers team isn't following the November script. We wait.