Zack Kassian is a good NHL player having a career season but he was poor early in the Saturday night game. After taking a hit from Alex Edler. He took a piece of Chris Tanev, and a foolish penalty, and the Oilers were chasing a game they could never catch from that moment on.
Dave Tippett has a lot of ammo to use today as he gets the troops ready and there are several pressbox candidates. How bad was this game? I wouldn't be surprised to see Mikko Koskinen, Matt Benning and Joakim Nygard playing this evening in Vancouver. Tippett is limited only by available replacements after last night. Many players don't have the proverbial leg to stand on in terms of asking for ice time after several poor performances.
THE ATHLETIC!
The Athletic Edmonton features a fabulous cluster of stories (some linked below, some on the site). Great perspective from a ridiculous group of writers and analysts. Proud to be part of The Athletic, less than two coffees a month offer here.
OILERS AFTER 29 GAMES
Oilers in 2015: 12-15-2, 26 points; goal differential -10
Oilers in 2016: 14-11-4, 32 points; goal differential +5
Oilers in 2017: 12-15-2, 26 points; goal differential -10
Oilers in 2018: 15-12-2, 32 points; goal differential -1
Oilers in 2019: 16-9-3, 35 points; goal differential +7
Suddenly, the 2016 McDavid Oilers are close in goal differential and not that far behind in points. The 2018 team also had 32 points after 29 games. If the Oilers win tonight, the 37 points in 29 games would put them on a trajectory to finish the season with 105 points. A loss tonight would mean 35 points in 29 games, which projects to 99 points. This roster has some weaknesses, every man has to play smart. You're going to lose some games for reasons uncontrollable, but last night there were issues that can't happen.
OILERS IN NOVEMBER
Oilers in November 2015: 4-7-2, 10 points; goal differential -9
Oilers in November 2016: 5-6-3, 13 points; goal differential 0
Oilers in November 2017: 5-8-1, 11 points; goal differential -6
Oilers in November 2018: 6-7-1, 13 points; goal differential -8
Oilers in November 2019: 7-5-2, 16 points, goal differential +2
This represents the strongest November by the Oilers in the McDavid era and the only time in five Novembers that the team finished with a positive goal differential.
OILERS IN DECEMBER
Oilers in December 2015: 1-0-0, two points; goal differential 0
Oilers in December 2016: 1-0-0, two points; goal differential +3
Oilers in December 2017: 1-0-0, two points; goal differential +2
Oilers in December 2018: 1-0-0, two points; goal differential +1
Oilers in December 2019: 0-0-0, no points; goal differential nil
Incredible. Oilers over the last four years were under water in November and all four times began with a victory in the first December game. Can the team continue the trend?
WHAT TO EXPECT IN DECEMBER
On the road to: VAN (Expected 1-0-0)
At home to: OTT, LAK, BUF, CAR (Expected 2-1-1)
On the road to: MIN (Expected 1-0-0)
At home to: TOR (Expected 0-1-0)
On the road to: DAL, STL (Expected 0-2-0)
At home to: PIT, MTL (Expected 1-1-0)
On the road to: VAN (Expected 0-0-1)
At home to: CAL, NYR (Expected 1-1-0)
Overall expected result: 6-6-2, 14 points in 14 games
Current results: 0-0-0
I have the Oilers starting the month 4-1-1, then going 1-4-0, so one expects the actual results will be a little more consistent. I have tonight as a victory because after the last two games every man in that room has to know how big tonight's game is going to be. Two months worth of hard work can disappear in a hurry. That's hockey. I think we'll see a far better effort.
ABOUT LAST NIGHT
All numbers NST, I'm not going to do the usual run because there was a lot of line shuffling during the evening.
Connor McDavid had a goal and an assist, but the Canucks didn't give him much. At five-on-five, Vancouver ran JT Miller-Elias Pettersson-Brock Boeser against 97 for seven minutes, outshooting the Oilers captain 11-1. McDavid outscored them 1-0 despite the disadvantage. Comedy.
Mike Smith was poor. He stopped 33 of 38, .868. He was not strong on at least two, you could argue three although power-play goals are a different category. Edmonton is playing him too much and Smith's recent results are not in the same range as Mikko Koskinen. Time to let the big Finn take the net more often. Smith looked injured on the third goal but did not come out.
Leon Draisaitl had three shots, all on the power play, and didn't get a lot of air on the night. I wonder if we see him at No. 2 center tonight in Vancouver. He's hitting his first dry spell of the year.
Zack Kassian scored a goal and as mentioned above is having a terrific season. Edmonton can't take penalties like the one he was called for in the first period. The puck was available on the play, too, meaning an offensive opportunity was passed over in order to deliver a hit. Can't have that, not on the McDavid line.
Alex Chiasson had a dandy chance.
Darnell Nurse-Ethan Bear played 14:34 together, I mostly liked what they accomplished (2-1 goals five-on-five) but they were in their own zone too damned much. The GA was a poor effort by Smith after a Bear turnover. That sequence rarely results in a goal unless there's a one in a million shot on net or an impact player is making that move from behind the net. Bear's passing was brilliant, his assist sublime.
Josh Archibald can't piss a drop offensively, he sure as hell better cover Sundial Eriksson in a race to the net. He was not successful.
Jujhar Khaira is back in his 'doesn't touch the puck much' segment of the season. Seize the day, young man!
Oscar Klefbom-Caleb Jones were 12-4, Oscar most noticeable for the defensive work on the SH goal. Timing was everything in that instance.
OILERS 2019-20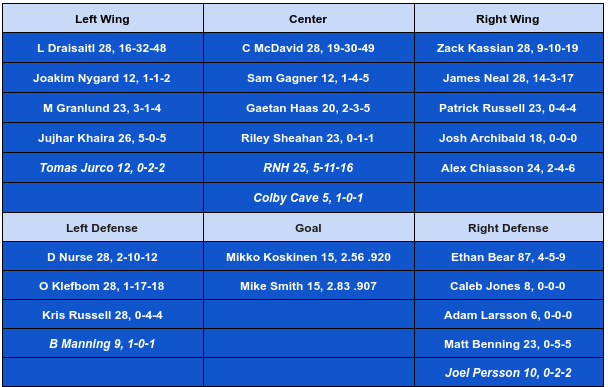 BAKERSFIELD 2019-20
A lot of offense from Edmonton's top prospects last night, with two points each from Kailer Yamamoto, Evan Bouchard and Cooper Marody. Lines via Wilde as always.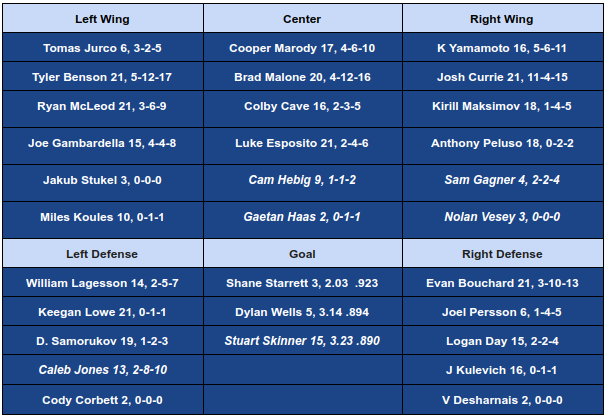 Yamamoto was at the top of the list of potential recalls before leaving the lineup for a vague reason. If he posts crooked numbers consistently, we'll see him in Edmonton soon. Bouchard isn't as easy to project, he could spend the entire season in Bakersfield depending on what happens up top. If the organization believed in Marody, he would be in Edmonton today.