The Edmonton Oilers won on the road in Vancouver Sunday night, delivering instant redemption for the Tabernac Saturday troupe who were not as good as they needed to me.
THE ATHLETIC!
The Athletic Edmonton features a fabulous cluster of stories (some linked below, some on the site). Great perspective from a ridiculous group of writers and analysts. Proud to be part of The Athletic, less than two coffees a month offer here. There is also a Christmas gift offer here.
OILERS AFTER 29 GAMES
Oilers in 2015: 12-15-2, 26 points; goal differential -10
Oilers in 2016: 14-11-4, 32 points; goal differential +5
Oilers in 2017: 12-15-2, 26 points; goal differential -10
Oilers in 2018: 15-12-2, 32 points; goal differential -1
Oilers in 2019: 17-9-3, 37 points; goal differential +8
This is a quality record and the Oilers own it. We'll delve into last night's game and what it means in just a minute, but do me a favor and line-by-line this table and imagine the songs that go with each one. First up is "Long December" followed by "Oh What a Night (December 1963)" and right back to Norah Jones "December" and once again "If we Make it Through December". So it's the world's weirdest juke box, until this year when "December will be Magic Again" hits the stylus.
OILERS IN DECEMBER
Oilers in December 2015: 1-0-0, two points; goal differential 0
Oilers in December 2016: 1-0-0, two points; goal differential +3
Oilers in December 2017: 1-0-0, two points; goal differential +2
Oilers in December 2018: 1-0-0, two points; goal differential +1
Oilers in December 2019: 1-0-0, two points; goal differential +1
This kind of freaks me out. I'm going to worry about next year all year. What kind of strangeness is this? Come on. Tell me you knew this. Liar!
WHAT TO EXPECT IN DECEMBER
On the road to: VAN (Expected 1-0-0) (Actual 1-0-0)
At home to: OTT, LAK, BUF, CAR (Expected 2-1-1)
On the road to: MIN (Expected 1-0-0)
At home to: TOR (Expected 0-1-0)
On the road to: DAL, STL (Expected 0-2-0)
At home to: PIT, MTL (Expected 1-1-0)
On the road to: VAN (Expected 0-0-1)
At home to: CAL, NYR (Expected 1-1-0)
Overall expected result: 6-6-2, 14 points in 14 games
Current results: 1-0-0, 2 points in 1 game
That victory vaults Edmonton seven points clear of Vancouver, while a regulation loss would have resulted in just three points of clearance. Losing the opener of the weekend set was a mortal sin, but winning the second game is like getting a Pac-man power pellet. If you listen closely, you can actually hear the sound.
OILERS 2019-20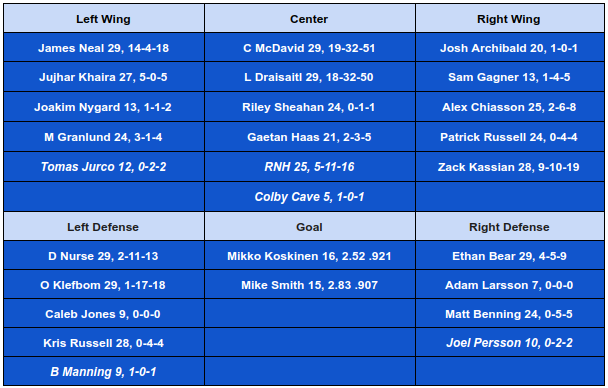 All numbers NST and five on five unless referenced. McDavid and Draisaitl both hit 50 points in 29 games and that's a big damned deal historically.
LINE 1 James Neal-Connor McDavid-Josh Archibald played 13:07, going 13-9 Corsi, 8-3 shots, 1-0 goals and 2-0 HDSC.
James Neal played well, he was aggressive and engaged, he had a power-play assist and a shot on goal. Liked his game, he could have cashed but things happen in a hurry. Connor McDavid is so fast! I know you know, but we should throw that in once in awhile. Two assists, two takeaways, missed out on a PP assist because everyone was passing, took a penalty and should have drawn a dozen. I don't know what Oilers fans did to deserve 97, but my goodness it was worth it. Josh Archibald scored a nice goal and has finally joined the hit parade. Credit to Dave Tippett for getting everyone a chance with the human cheat code.
LINE 2 Jujhar Khaira-Leon Draisaitl-Sam Gagner played 11:22, going 7-8 Corsi, 6-4 shots, no goals and 0-1 HDSC.
Jujhar Khaira didn't get a lot done at five-on-five but was solid on the PK and kept the line moving. Leon Draisaitl had four shots and a takeaway and a goal (plus one on the PP) and looked much more involved than the previous night. I liked the line, but Leon did his damage with 97. Sam Gagner had three shots and made some nifty passes too.
LINE 3 Joakim Nygard-Riley Sheahan-Alex Chiasson played 6:34, going 5-4 Corsi, 4-3 shots, 0-1 goals and 1-3 HDSC.
Joakin Nygard skates swiftly and it creates chaos. Oilers need to play him more so he can find the range. I think he might be able to help. He had two shots and one HDSC. Riley Sheahan marked JT Miller right to the edge of the property before Miller sent a dart that started the first Vancouver goal. Tippett needs him to fill that checking role, he has struggled. Alex Chiasson delivered a great pass which led to a Leon PP goal, and had another at five-on-five; he is finding the range more often offensively.
LINE 4 Markus Granlund-Gaetan Haas-Patrick Russell played 8:22, going 9-4 Corsi, 4-2 shots no goals and 1-0 HDSC.
A fine night from this line, they were on pucks like a fly on stink. Markus Granlund forechecked well and was strong on the PK. Gaetan Haas had four shots, one HDSC and a takeaway. He continues to impress with his utility. Patrick Russell scored his first NHL goal, but the Scrooge was in town and found two ghosts, so disallowed.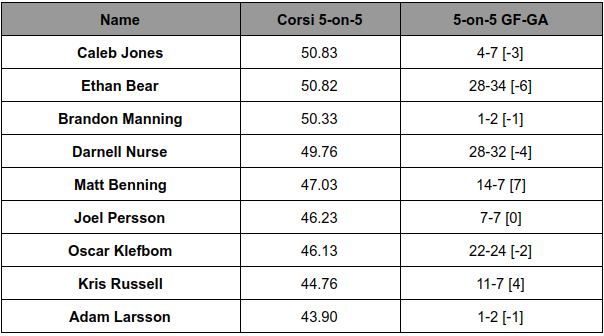 PAIRING ONE Darnell Nurse and Ethan Bear played 19:28, going 20-16 Corsi, 12-8 shots, 1-1 goals, 3-2 HDSC and 9-4 offensive-defensive faceoffs. Nurse played 13:21 with 97, Bear 11:34. Played 9:10 against Pettersson group.
Darnell Nurse picked up an assist on the Archibald goal, sending a dandy tippable pass to the slot and the cash. Bear was caught both trying to stop the pass from Hughes to Boeser and interrupt Boeser's open net opportunity and was unable to do either. Nurse had a brief chance to intercept the pass from Miller but that was a dart and a helluva play. Nurse had three shots on goal and a couple of promising sorties (one a pass from McDavid that never did get to Nurse), Bear had some rookie vapor lock in one instance but delivered cherry passes all over as well. Good pairing.
PAIRING TWO Oscar Klefbom and Adam Larsson played 17:19, going 13-22 Corsi, 8-10 shots, 0-1 goals, 0-2 HDSC and 5-4 offensive-defensive faceoffs. Klefbom played 4:40 with 97, Larsson 4:31. Pair was 6:40 against Pettersson trio.
Oscar Klefbom had his man but the puck squirted to Josh Leivo (I SO said the Oilers should acquire him many many times) and that's all she wrote. Adam Larsson looked like his old self to me, or at least closer to, and seems to be more mobile by the hour. Good sign.
THIRD PAIRING Caleb Jones and Matt Benning played 6:01, going 0-8 Corsi, 0-5 shots, no goals and 0-3 HDSC.
Matt Benning's final shift ended at 16:49 of the second period, he was pulled from the game for impersonated Mathieu Roy. Caleb Jones final shift was the same one as Benning's, although Jones remained on the ice for another 30 seconds. Neither man played the third period, one due to injury and the other due to rookie.
GOALIE Mikko Koskinen stopped 30 of 32, .938. He was rock solid in net, exactly the kind of goaltending this team needed on a night when some important pieces were missing. Do me a favor and remember this game, spent on the road against a good team, shorthanded and in need of a win to stop the bleeding. Koskinen is the Oilers best goalie and it's not close.
BIG WIN
The Bettman NHL is a lot about avoiding long losing streaks and Edmonton went into last night's game having lost two in a row with an ugly goal differential. It was a big win, in division and in regulation. Remember this one.
MATT BENNING
After the slap shot to the head (hockey is such a dangerous game) Matt Benning returned and he made a play that has me a little worried about him. I don't remember the forward, but a Canucks player had a seam and the puck came to him inside the blue line. Benning was the last line of defense, but he took a weird route (I think he was trying to hit the Vancouver player) and botched it, leaving the puck, the Canuck and Mikko Koskinen alone together. Matt Benning doesn't make a reckless play like that one. I know the Oilers will make sure he's ready before return, but this young man has had some head hits over the years. It's a worry.
LOWDOWN WITH LOWETIDE
A busy morning with much to discuss gets underway at 10 this morning, TSN1260. Reid Fowler from Draft Kings/NFL looks back at a crazy weekend, Guy Flaming from The Pipeline Show will preview Canada's World Junior roster (announcement this morning at 11). Jason Gregor will be by at 11 to talk Oilers and the big win last night.