I find myself wondering about Patrick Russell's future these days. I remember when the Oilers signed him, it was something like an afterthought. I could barely find a thing on him. Even a year later we were dealing in math and some small anecdotal information. That was about it, to be honest. From those humble beginnings, brick by brick, Patrick Russell is finding his own way. It's an impressive story.
At the time of his signing I wrote "although most are (I believe correctly) putting less value on the Russell signing than the Drake Caggiula addition, the real facts are that you never know. Both could flop, or both could go on to productive careers."
Russell isn't a burner, but he's near the play all damn game. As for the race to NHL regular status with Drake Caggiula, it isn't close right now. Russell has played 30 games in the NHL and has four points, while Caggiula sits at 197 games, 35 goals and 65 points. However, if you watch Russell you can see a player who is settling in to a role his coach values and he's doing it well. Consistently well. I can't wait to see his future.
THE ATHLETIC!
The Athletic Edmonton features a fabulous cluster of stories (some linked below, some on the site). Great perspective from a ridiculous group of writers and analysts. Proud to be part of The Athletic, less than two coffees a month offer here. There is also a Christmas gift offer here.
OILERS FORWARDS 5-ON-5/60 NOVEMBER 1+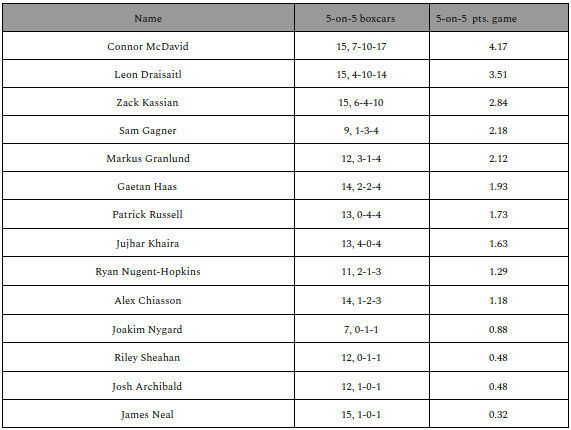 This is from the beginning of November, and Patrick Russell is doing good work! I have no idea how far he'll go in this league, but he works and pursues the puck and makes things happen. Damn shame they took that goal away from him Sunday night.
CONDORS FORWARDS 2019-20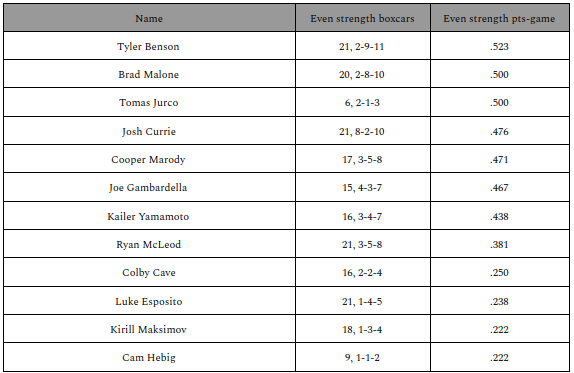 I have Tyler Benson as my No. 4 prospect this winter, Kailer Yamamoto has more pure talent but he needs to prove he can stay in the lineup in pro hockey. Ryan McLeod has been scoring more than I anticipated in his rookie season, that's an encouraging number.
For Josh Currie, Joe Gambardella and Cooper Marody, their time is now and being stuck in the AHL (while Russell sleeps on NHL pillows) means time is a wasting. Currie's eight even-strength goals stand out in a big way on this roster.
Lavoie is an absolute machine this season in the shots column, you'd like him to cash more goals and perhaps that comes as we roll along (he's at 180 shots and 17 goals currently). Last year he scored 32 goals on 206 shots in 62 games. This year those 180 shots have come in 28 games. Lavoie could post 400 shots this season.
A Chat
I welcome you to this site and hope you enjoy the experience. I have no expectations that you will linger one moment longer than you want. When you leave, I thank you for coming and invite you back at any time.
We have rules. Everyone who has ever posted here has followed them, although there are loud noises from time to time (and we accept those because we also have our moments).
It has been an angry few days, the passion spills over and we lose our minds a little. Ironically, this happens most often when the team is doing well, don't know why.
Anyway, a few points. Be kind to each other. Ignore the posts that irritate you and engage in the comments that spark your interest. Better yet, start a conversation that is at the heart of your interest and see who chimes back.
Lowetide is like a cafe or bar, everyone is welcome to a seat. You don't have to sit with someone you don't like, but they will be in the bar at the same time as you from time to time.
If you choose to leave because the barkeeper won't throw out patrons you don't like, the barkeeper will wish you well and hope you come back soon.
I remain humbled by the community this blog fell into years ago and has maintained for almost 15 years now. If it goes away tomorrow, I'm a rich man for the memories. All are welcome. Your time is your time. Spend it well.
LOWDOWN WITH LOWETIDE
A busy and fun morning starts at 10, TSN1260. Jonathan Willis from The Athletic will contemplate the Oilers and just how good the are, and we'll probably talk a little about Taylor Hall. Andrew Peard and Corey Graham will pop in for a live hit and discuss the Edmonton Oil Kings and their fascinating season. 10-1260 text, @Lowetide on twitter. See you on the radio!