Let's say you attend tonight's game and shortly after entering the arena, you are whisked away to a large boardroom the size of a football field. Boardroom has an enormous table, 300 chairs, all but one of them filled. Seated are the entire Edmonton Oilers management group since Larry Gordon, plus guys like Bob Falkenberg and Norm Ullman. People are smoking! There's an ashtray, and an old 'eat at Joe's' neon sign from the 60's on the wall. Stubby beer bottles. Three guys clearly have injuries from the war. One of the war guys, you can't see his eyes but he keeps yelling "Jayco!" and you don't know if he's doing roll call or trying to order a recreational vehicle. Seriously, it's like a David Lynch dream sequence.
A man who looks vaguely like Petr Hemsky invites you to sit down, and then a man who looks just like Dave Semenko at 21 towers over you and says: "Name the six best wingers available to the Oilers right now, excluding the names Connor McDavid, Leon Draisaitl and Ryan Nugent-Hopkins" and then smiles, says "no pressure" and sits down. Val Fonteyne smiles, takes out a package of Adams Wild Strawberry gum and pops two sticks in his mouth. You wish you could get the hell out of here but for some reason the exit door no longer exists. Plus the lights are flickering. Barton Fink slams his hand on the table, and, sweating profusely, says "let's go!" while looking straight at you. So. What do you say?
THE ATHLETIC!
The Athletic Edmonton features a fabulous cluster of stories (some linked below, some on the site). Great perspective from a ridiculous group of writers and analysts. Proud to be part of The Athletic, less than two coffees a month offer here. There is also a Christmas gift offer here.
OILERS AFTER 30 GAMES
Oilers in 2015: 13-15-2, 28 points; goal differential -8
Oilers in 2016: 14-11-5, 33 points; goal differential +5
Oilers in 2017: 12-16-2, 26 points; goal differential -11
Oilers in 2018: 16-12-2, 34 points; goal differential 0
Oilers in 2019: 17-9-3, 37 points; goal differential +8
The 2016 team is two wins behind the current group and last year's team is closer than the 2016 group. Klefbom and Russell 2018 are about to get hurt and the Oilers will deploy Jason Garrison and Caleb Jones for a time and then trade for Brandon Manning and Alexander Petrovic. After that, it will be 2016 versus 2019 for the rest of the season.
OILERS IN DECEMBER
Oilers in December 2015: 2-0-0, four points; goal differential +1
Oilers in December 2016: 2-0-0, four points; goal differential +4
Oilers in December 2017: 1-1-0, two points; goal differential 0
Oilers in December 2018: 1-1-0, two points; goal differential -1
Oilers in December 2019: 1-0-0, two points; goal differential +1
The 2016 team posted a strong December (7-2-4) and the Oilers this season have a schedule that should allow a fast start. All these injuries are going to have an impact, though.
WHAT TO EXPECT IN DECEMBER
On the road to: VAN (Expected 1-0-0) (Actual 1-0-0)
At home to: OTT, LAK, BUF, CAR (Expected 2-1-1)
On the road to: MIN (Expected 1-0-0)
At home to: TOR (Expected 0-1-0)
On the road to: DAL, STL (Expected 0-2-0)
At home to: PIT, MTL (Expected 1-1-0)
On the road to: VAN (Expected 0-0-1)
At home to: CAL, NYR (Expected 1-1-0)
Overall expected result: 6-6-2, 14 points in 14 games
Current results: 1-0-0, 2 points in 1 game
My prediction has the team going 4-1-1 to start the month before a 2-5-1 finish balances the month. I know that won't happen but a fast train start is more than plausible.
WHAT DO YOU SAY?
What would your answer be? All those old farts staring at you, what do you say? Here's my list.
James Neal. Easily the most talented of the pure wingers, I would run him LW with McDavid and heavily on the power play. His five-on-five scoring rates have not recovered this season, time with the captain should fix that issue.
Zack Kassian. He has been a terrific winger on the top line and there's zero reason to move him. The back injury is a concern but right now he appears headed for a 20-goal season.
Jujhar Khaira. I would run him with Leon Draisaitl, partly because he is averaging .57 goals per 60 at five-on-five over the last three seasons. He needs to be more consistent but that's a good number. Kassian is .76, Neal is .73, Nuge is .72 per 60 over the last three seasons at the discipline. Since 2017-18, Khaira has scored 5-4-9 with Leon in 227 minutes (2.37 per 60) five-on-five. I'll try the big man here.
Joakim Nygard. He hasn't scored much yet but he's burner and his five-on-five shots per 60 is 9.29, which leads all forwards. I'd put him with Leon on RW and see how they shine.
Tyler Benson. I think it's time and if you ran him with RNH on a No. 3 line then easing Benson into the NHL is a workable task. I like the idea.
Josh Archibald. I chose him because he brings good footspeed and his five on five goals per 60 over the last three seasons is .68 per 60. That's a good rate. Archibald is also fearless, and could be a nice style match for Benson and Nuge.
I considered Kailer Yamamoto for the McDavid line but I think he needs to hammer the AHL and stay healthy for a few months. I also considered Markus Granlund, Gaetan Haas, Sam Gagner, Patrick Russell and Alex Chiasson but wanted speed and thought Haas might be best deployed with Granlund and Russell.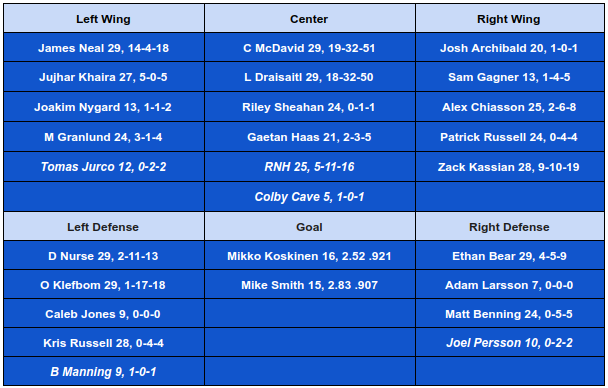 I think the defensive pairings will go Nurse-Bear, Klefbom-Persson and Russell-Larsson, but there's every chance Larsson and Persson flip and we see the two veteran Swedes together. Oscar hasn't been able to find a suitable dance partner since opening night (all numbers five on five and NST).
Klefbom-Russell: 145 minutes, 40 percent Corsi; 42 percent shot share; 3-3 goals.
Klefbom-Persson: 137 minutes, 46 percent Corsi; 42 percent shot share; 7-7 goals.
Klefbom-Jones: 94 minutes, 49 percent Corsi; 47 percent shot share; 4-7 goals.
Klefbom-Bear: 54 minutes, 54 percent Corsi; 58 percent shot share; 3-2 goals.
Klefbom-Benning: 40 minutes, 48 percent Corsi; 47 percent shot share; 2-3 goals.
Klefbom-Larsson: 38 minutes, 45 percent Corsi; 50 percent shot share; 1-2 goals.
LOWDOWN WITH LOWETIDE
At 10 this morning, TSN1260. Bruce McCurdy from the Cult of Hockey at the Edmonton Journal will preview the game against the Senators, talk Taylor Hall and we'll discuss Matt Benning's future. Joe Osborne from OddsShark will join us at 11 to talk NFL weekend and about the coaching carousel. 10-1260 text, @Lowetide on twitter.