I don't have a rant for you this morning, Oilers played a dizzying first period but Craig Anderson kept the Sens in the game. The visitors cashed in their youth and inexperience after the first period for wheels and a motor that wouldn't quit, with the Oilers getting beat back to the Edmonton net time and again.
Mikko Koskinen, who has been excellent, let in two goals that were poor and another he had no chance on and the Oilers chased the game unsuccessfully. I believe a playoff team wins that game but the Oilers are leading the Pacific Division, so marrying these two things is difficult. This team is an enigma but they've shown too much iron this season for me to hammer them this morning. "Good team falls flat, film at 11" was your headline. There's not enough for a rant there.
THE ATHLETIC!
The Athletic Edmonton features a fabulous cluster of stories (some linked below, some on the site). Great perspective from a ridiculous group of writers and analysts. Proud to be part of The Athletic, less than two coffees a month offer here. There is also a Christmas gift offer here.
OILERS AFTER 30 GAMES
Oilers in 2015: 13-15-2, 28 points; goal differential -8
Oilers in 2016: 14-11-5, 33 points; goal differential +5
Oilers in 2017: 12-16-2, 26 points; goal differential -11
Oilers in 2018: 16-12-2, 34 points; goal differential 0
Oilers in 2019: 17-10-3, 37 points; goal differential +5
Last night's game goes into the loss column and reminds us that this team isn't as good as the current record. The 2016 club had a +5 goal differential and four fewer points after 30 games, suspect that's a more accurate representation of the current club. Injuries hurt the forward depth last night but as Dave Tippett said last night injuries are no excuse. I remain impressed with this coach.
OILERS IN DECEMBER
Oilers in December 2015: 2-0-0, four points; goal differential +1
Oilers in December 2016: 2-0-0, four points; goal differential +4
Oilers in December 2017: 1-1-0, two points; goal differential 0
Oilers in December 2018: 1-1-0, two points; goal differential -1
Oilers in December 2019: 1-1-0, two points; goal differential -2
Edmonton has 37 points in 30 games and that's good, so good in fact the team could go a point-per-game over the last 52 games and finish with 89 points. I picked them for 88, so that would represent covering the bet. The Oilers are currently on a pace that would see them post a 101-point season. I expect them to be strong in their next game, it is the team's modus operandi.
WHAT TO EXPECT FROM DECEMBER
On the road to: VAN (Expected 1-0-0) (Actual 1-0-0)
At home to: OTT, LAK, BUF, CAR (Expected 2-1-1) (Actual 0-1-0)
On the road to: MIN (Expected 1-0-0)
At home to: TOR (Expected 0-1-0)
On the road to: DAL, STL (Expected 0-2-0)
At home to: PIT, MTL (Expected 1-1-0)
On the road to: VAN (Expected 0-0-1)
At home to: CAL, NYR (Expected 1-1-0)
Overall expected result: 6-6-2, 14 points in 14 games
Current results: 1-1-0, 2 points in 2 games
I have this team at a point-per-game during December and so far they're covering the bet. I also had them roaring out to a fast start, but that Ottawa game was counted as a victory.
So maybe this is a modern playoff team, who leave points spread all over North America against weaker teams while offering fabulous opposition to better clubs. I think it's mostly about missing the Nuge and Kassian plus Koskinen having a rare poor night. Either way, opportunity missed but without the pure rage a game like this would have inspired in previous winters.
OILERS 2019-20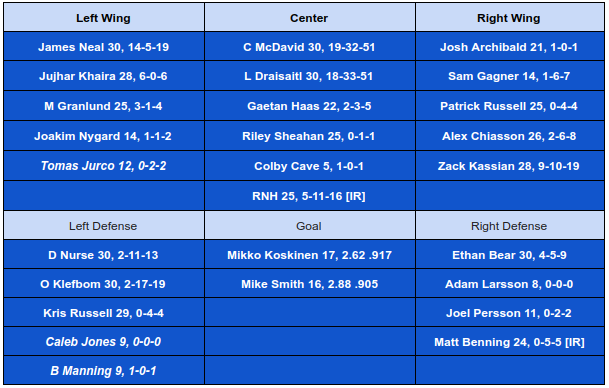 It was a weird game and the Oilers never seem to play well against Ottawa (or Buffalo) but this lineup isn't fast enough and that's a fact. All numbers five on five unless indicated and all via NST.
Granlund-Haas-Russell: 9:14; 10-4 Corsi; 5-2 shots; 2-1 HDSC
Khaira-Draisaitl-Gagner: 6:49; 9-4 Corsi; 4-1 shots; 1-0 goals, 3-0 HDSC.
Neal-McDavid-Archibald: 6:34; 7-4 Corsi; 3-2 shots; 2-0 HDSC.
Nygard-Sheahan-Chiasson: 5:57; 7-3 Corsi; 3-1 shots; 2-0 HDSC.
Neal-McDavid-Draisaitl: 5:46; 4-12 Corsi; 3-9 shots; 0-1 goals; 1-3 HDSC.
Khaira scored a beautiful goal from Gagner and Draisaitl.
Klefbom scored from Gagner and Neal on the power play.
Klefbom-Larsson: 15:06; 15-17 Corsi; 6-8 shots; 0-4 goals; 4-5 HDSC
Nurse-Bear: 13:12; 12-13 Corsi; 3-8 shots; 1-0 goals; 3-2 HDSC.
Russell-Persson: 12:04; 9-4 Corsi; 4-1 shots; 2-1 HDSC.
TYLER BENSON
It's time for the Edmonton Oilers to recall Tyler Benson. The wins are welcome, the playoff race is exciting and a postseason in Edmonton would be like manna from heaven.
That said, the future matters and finding out about these kid forwards has to be timed out in a fashion similar to the current landing of Oil rookie defensemen into the NHL: One at a time.
This team has a talent problem and a speed problem. Benson has skill and the organization needs to find out about his speed. Last night would have been a good time for his first NHL game, might have even given the group a lift.
There's a lot about Benson the organization doesn't yet know and at some point the discovery process has to include some NHL games. Ryan Nugent-Hopkins and Zack Kassian missed last night's game and the team was so low on skill the Ottawa Senators hammered them 5-2. Benson led the Bakersfield Condors in scoring last year and he's leading them again this season. Time to recall a skill winger from the minors. Kailer Yamamoto needs to prove he can stay healthy. I think Benson is the right player to be recalled.
CENTERS AT FIVE ON FIVE
I like to have a look at this once every couple of weeks because it offers insight into deployment by Tippett and individual performance. Men like Markus Granlund and Sam Gagner have played some center, I've done my best to estimate their performance while playing the position. The results are fascinating (via NST).
Connor McDavid 34-25 (+9)
Ryan Nugent-Hopkins 12-10 (+2)
Sam Gagner 4-2 (+2)
Colby Cave 1-2 (-1)
Markus Granlund 1-2 (-1)
Gaetan Haas 5-7 (-2)
Riley Sheahan 4-14 (-10)
This is like pondering the Expos of Gary Carter, Andre Dawson and Tim Raines, who also employed Doug Flynn, Chris Speier and Bryan Little. Put another way, as much as McDavid and Nuge accomplish, as much as Carter and Dawson and Raines delivered, Flynn, Speir and Little gave it all back plus a little bit.
Balance. Depth. Edmonton needs a No. 3 center and I believe Ken Holland is at least contemplating a move. The timing of the Colby Cave recall, coming in the hours after Nick Shore was claimed by the Winnipeg Jets, allows us to play along with the general manager.
I find two things fascinating about this situation. First, what does this organization think of Cooper Marody? If they believed in him as a center, he would be here now, right?
Put another way, in employment and deployment the Oilers are saying they would rather run Riley Sheahan with poor results than risk Marody getting those minutes. I find that fascinating.
The other fascinating thing: Just how patient Holland is during this time. He is clearly looking toward the deadline as opposed to making a trade now, or maybe he was holding back on a small tweak because there is/was a bigger trade out there. Either way, the longer Nuge is out the more obvious the problem. Colby Cave doesn't move the needle on this issue.
LOWDOWN WITH LOWETIDE
A fun and busy morning gets started at 10, TSN1260. We'll talk NFL at 10:20, Frank Seravalli will talk Oilers and NHL at 11 and Jonah Birenbaum from The Score will discuss the Jays early offseason at 11:25. 10-1260 text, @Lowetide on twitter. Talk soon!