The Edmonton Oilers continue a home stand this evening with the Los Angeles Kings in town. The teams have played twice previously this season, a 6-5 win for Edmonton in early October and a 5-1 hammering by Los Angeles November 21 in what was one of the more disappointing games by the Oilers so far this season.
I didn't like the Klefbom-Larsson pairing in the game against Ottawa, it will be interesting to see if coach Dave Tippett flips the second and third pairings or backs off the workload for the Swedish pairing while keeping them together. Edmonton needs two reliable pairs. One of this year's story lines so far surrounds Oscar Klefbom and a partner he can rhyme with every night. Klefbom is a helluva player, important to get that pairing set.
THE ATHLETIC!
The Athletic Edmonton features a fabulous cluster of stories (some linked below, some on the site). Great perspective from a ridiculous group of writers and analysts. Proud to be part of The Athletic, less than two coffees a month offer here. There is also a Christmas gift offer here.
OILERS AFTER 31
Oilers in 2015: 14-15-2, 30 points; goal differential -7
Oilers in 2016: 15-11-5, 35 points; goal differential +6
Oilers in 2017: 13-16-2, 28 points; goal differential -6
Oilers in 2018: 17-12-2, 36 points; goal differential +2
Oilers in 2019: 17-10-3, 37 points; goal differential +5
This year's Oilers began the season 7-2-1, and are 10-8-2 since then. The team's record is a little better than the goal differential suggests and that could be the current correction we're seeing. A lot of people, including me, think this current home stand should see some wins.
OILERS IN DECEMBER
Oilers in December 2015: 3-0-0, six points; goal differential +3
Oilers in December 2016: 2-0-1, five points; goal differential +3
Oilers in December 2017: 2-1-0, four points; goal differential +4
Oilers in December 2018: 2-1-0, four points; goal differential -1
Oilers in December 2019: 1-1-0, two points; goal differential -2
Oilers five on five goal differential (59-65) is 47.58, ranks them No. 23 overall. Overall the team is 91-88 (50.84), good for No. 14 according to NST after last night's games. The win by the Arizona Coyotes puts Edmonton in second place in the Pacific Division, credit to the team for holding off the oncoming posse for several weeks.
WHAT TO EXPECT IN DECEMBER
On the road to: VAN (Expected 1-0-0) (Actual 1-0-0)
At home to: OTT, LAK, BUF, CAR (Expected 2-1-1) (Actual 0-1-0)
On the road to: MIN (Expected 1-0-0)
At home to: TOR (Expected 0-1-0)
On the road to: DAL, STL (Expected 0-2-0)
At home to: PIT, MTL (Expected 1-1-0)
On the road to: VAN (Expected 0-0-1)
At home to: CAL, NYR (Expected 1-1-0)
Overall expected result: 6-6-2, 14 points in 14 games
Current results: 1-1-0, 2 points in 2 games
Oilers had an optional skate yesterday, so we won't know about any changes in lines and pairings until this morning at practice. I think they'll run Klefbom-Larsson again, the road game in Vancouver was a good one.
2019-20 OILERS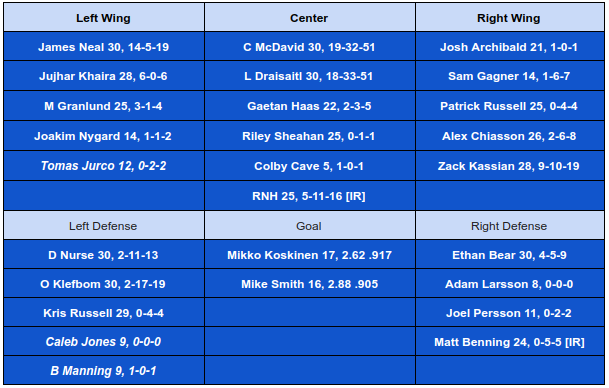 Today I want to look at pairings, via NST's line tool. We have been talking about Oscar Klefbom this week, as he still doesn't have a partner who rhymes. Here are the most used pairings this season and the five on five numbers:
Nurse-Bear: 466 minutes, 50.98 Corsi; 50.30 Shots; 26-30 goals
Klefbom-Russell: 145 minutes, 40.00 Corsi; 41.73 Shots; 3-3 goals
Klefbom-Persson: 137 minutes, 46.64 Corsi; 42.55 Shots; 7-7 goals
Klefbom-Jones: 93 minutes, 49.43 Corsi; 47.37 Shots; 4-7 goals.
Klefbom-Larsson: 52 minutes, 45.71 Corsi; 48.00 Shots; 1-6 goals.
Russell-Larsson: 47 minutes, 49.38 Corsi; 44.74 shots; 0-0 goals.
Jones has more speed than the other options for Klefbom's partner, but he's a lefty. I think they'll go with Larsson in hopes the two men can find the chemistry we've seen in the past. The Nurse-Bear duo has been stellar, perhaps Tippett will need to rely on that pairing even more.
LOWDOWN WITH LOWETIDE
At 10 this morning we have a busy docket on TSN1260. Steve Lansky is batting leadoff and we'll chat about the Oilers, Leafs and television production on location (and difficulties/hilarious moments). Matthew Iwanyk returns from his unnecessary time off to talk about the Oil and Jason Maas accepting a job in enemy territory. Daniel Nugent-Bowman from The Athletic will pop in at 11:25 to talk about the Oilers this week and the Ken Holland avail a couple of days ago. 10-1260 text, @Lowetide on twitter. Talk soon!