The Edmonton Oilers are winning a large number of games by doing the hockey version of dancing on the head of a pin: Grab a couple of power-play goals, play kitty bar the door at five on five, and hope the goalie is Bernie Parent. It's a riff off the 2016-17 team, but with the added degree of five on five difficulty.
THE ATHLETIC!
The Athletic Edmonton features a fabulous cluster of stories (some linked below, some on the site). Great perspective from a ridiculous group of writers and analysts. Proud to be part of The Athletic, less than two coffees a month offer here. There is also a Christmas gift offer here.
OILERS AFTER 31 GAMES
Oilers in 2015: 14-15-2, 30 points; goal differential -7
Oilers in 2016: 15-11-5, 35 points; goal differential +6
Oilers in 2017: 13-16-2, 28 points; goal differential -6
Oilers in 2018: 17-12-2, 36 points; goal differential +2
Oilers in 2019: 18-10-3, 39 points; goal differential +6
This year's team owns the same goal differential as the 2016 club, but has been able to add three more wins and four more points from the margin. Either the Oilers are going to stretch that goal differential or there's a market correction on the way. Either way, those 39 points are banked well before midseason. Good sign.
OILERS IN DECEMBER
Oilers in December 2015: 3-0-0, six points; goal differential +3
Oilers in December 2016: 2-0-1, five points; goal differential +3
Oilers in December 2017: 2-1-0, four points; goal differential +4
Oilers in December 2018: 2-1-0, four points; goal differential -1
Oilers in December 2019: 2-1-0, four points; goal differential -1
The goal differential is a concern, we have to assume that will improve when Kassian and Nuge return. This team hasn't endured a poor start in five Decembers of the McDavid era.
WHAT TO EXPECT FROM DECEMBER
On the road to: VAN (Expected 1-0-0) (Actual 1-0-0)
At home to: OTT, LAK, BUF, CAR (Expected 2-1-1) (Actual 1-1-0)
On the road to: MIN (Expected 1-0-0)
At home to: TOR (Expected 0-1-0)
On the road to: DAL, STL (Expected 0-2-0)
At home to: PIT, MTL (Expected 1-1-0)
On the road to: VAN (Expected 0-0-1)
At home to: CAL, NYR (Expected 1-1-0)
Overall expected result: 6-6-2, 14 points in 14 games
Current results: 2-1-0, 4 points in 3 games
Oilers are now ahead of my overall projection but I had them 3-0-0 at this point in the month. It's already been a strange month, like wandering through the moors of Devon early on a foggy morning.
OILERS 2019-20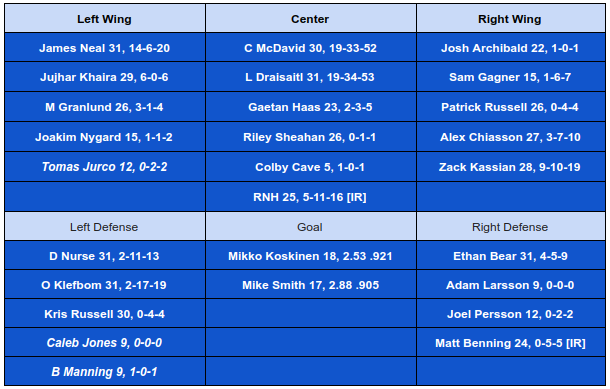 All numbers via NST, five on five unless I'm talking about points.
LINE 1 James Neal-Connor McDavid-Josh Archibald played 11:28, going 7-10 Corsi, 3-8 shots, no goals, 2-1 HDSC.
James Neal had two shots, both HDSC, didn't cash but was dangerous. I would like to see him spend 20 games with McDavid-Draisaitl. Tippett didn't play him for the final seven minutes of the game. That's a tell. Connor McDavid had one HDSC, several brilliant passes for chances, won seven of 14 in the dot. He was incredible on the power play, absolute fire. He needs 29 alongside at five on five to cash those passes. Josh Archibald was solid without the puck but wasn't able to take advantage of a cherry assignment with the captain. Had a nice look but no sale. Lots of PK time for Archibald.
LINE 2 Jujhar Khaira-Leon Draisaitl-Sam Gagner played 10:25, going 7-11 Corsi, 4-7 shots, 0-1 goals and 1-4 HDSC.
Jujhar Khaira had one great chance and a couple of giveaways, won a lot of battles along the wall. He and Draisaitl could play keepaway along the offensive boards until the cows come home. Leon Draisaitl was outstanding on the power play, it's like he and McDavid, who are split apart five on five currently, are in the movie "Same Time Next Year" and making the most of each precious moment in time spent together. Maybe there's a better movie reference here but I'm tired and it is late. Won four of nine in the dot. Sam Gagner lost his man on the disallowed goal, made some quality passes and then didn't see the ice for the final 6:28. That's a tell, ladies.
LINE 3 Joakim Nygard-Riley Sheahan-Patrick Russell played 11:04, going 5-11 Corsi, 0-5 shots, no goals and 1-2 HDSC.
Joakim Nygard's speed was on display during the game, he drew a penalty and was part of a two promising sorties. Riley Sheahan will never score a goal as an Oiler, he gets a chance a game I swear. Poor in the faceoff circle, two giveaways, didn't play much on the PK. I wonder if Tippett was backing him off (as he did with Klefbom) on the PK so he could run this line against Anze Kopitar (7:40). Patrick Russell had an open net chance, lots of great puck pursuit and looked solid in 2:04 with McDavid. I swear to God Tippett sees something in him.
LINE 4 Markus Granlund-Gaetan Haas-Alex Chiasson played 6:34, going 1-5 Corsi, 0-2 shots and 0-1 HDSC.
Markus Granlund took a penalty and didn't move the needle offensively, but he was effective in impeding progress and spent one minute on the PK. Gaetan Haas had a strong game, blocked shots, derailed progress tipping passes and even earned 1:03 on the PP. He played 3:04 against Anze Kopitar. Alex Chiasson scored on the power play, picked up an assist and was productive on the evening.
I am finding myself noticing both Haas and Patrick Russell doing more good things and seeing more success in recent games. Both are grabbing a stronger hold on their jobs with each passing shift. Both are forechecking demons.
PAIRING ONE Kris Russell-Adam Larsson went 11-16 Corsi in 18:09, 3-6 shots, 0-1 goals, 2-3 HDSC and 1-10 offensive-defensive zone faceoffs.
Kris Russell had a strong game, drawing a penalty, forcing the play to the outside and blocking a couple of shots. Adam Larsson had three giveaways but in all honesty I thought he was outstanding. Had one great scoring chance, moved well, was physical along the wall (he was a clamp on several occasions), and blocked out his man (Doughty) beautifully on the goal against. I'm not going to say he's back but that was a truly encouraging game. This pair faced the Kopitar line (8:49) the most, bent but did not break.
PAIRING TWO Darnell Nurse-Ethan Bear went 12-13 Corsi in 15:55, 7-9 shots, no goals, 3-1 HDSC and 5-9 offensive-defensive faceoffs.
Darnell Nurse had three shots, one huge chance and a giveaway. A very physical evening, he was a hammer several times. Had a nice chance at the end of a PP early third period. A solid crosscheck on Dustin Brown while on the PK had an impact. Misfired on an empty net at the end of the game pass, causing absolute chaos over the last 90 seconds. Ethan Bear drew a penalty and made several of his patented passes, but also could be found dumping it out and playing things safe. I wonder if that was Tippett asking the skill players to be doubly sure on sorties.
PAIRING THREE Oscar Klefbom and Joel Persson played 11:52, going 6-14 Corsi, 4-8 shots, no goals, 1-4 HDSC and 4-0 offensive-defensive faceoffs.
Oscar Klefbom played under 20 minutes overall and was less noticeable as a result. Tippett clearly reduced his PK time, that should benefit the team in the coming days. I mentioned his recent runaway pinches and those appear to have disappeared, the guy is splendid so expect him to be back playing big minutes as soon as Sunday. Persson is still matriculating, he just needs to play games and find ways to get the puck out under duress. I like him but there will be growing pains. It's a giant leap. Klefbom is a good partner for him.
GOALIE Mikko Koskinen was the star of the show, stopping 35 of 36, .972. He made several enormous saves and the calm look returned. He made a dandy save against Dustin Brown with less than four minutes left. I'd run him again Sunday.
BAKERSFIELD CONDORS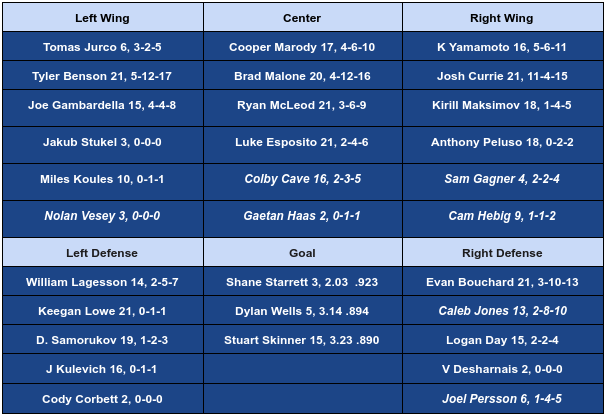 Condors (9-9-2-1) will be in tough on the road against the Stockton Heat (13-5-1-2), but Shane Starrett is back and he's a big part of the Bakersfield team. I believe the Oilers will want to see him in Edmonton for a couple of starts this season, so it's important for him to show well in the coming days.