Half of the active Pacific Division (Calgary, Vancouver) held serve on Saturday, with the other half (Los Angeles and San Jose) losing more ground. Today, Anaheim (v. Jets), San Jose (v. Panthers), Vegas (v. Rangers), Arizona ('Hawks) and Edmonton (v. Sabres) are all in action and by the time the Oilers game ends we could see some major changes in the standings. There are just five points between Edmonton at the top (39) and Calgary at No. 5 overall (34). This won't change between now and April, and that's if things break right. With Nuge and Kassian returning and the schedule somewhat inviting, now would be a good time to start a five-game heater.
THE ATHLETIC!
The Athletic Edmonton features a fabulous cluster of stories (some linked below, some on the site). Great perspective from a ridiculous group of writers and analysts. Proud to be part of The Athletic, less than two coffees a month offer here.
OILERS AFTER 32 GAMES
Oilers in 2015: 14-16-2, 30 points; goal differential -9
Oilers in 2016: 15-12-5, 35 points; goal differential +4
Oilers in 2017: 13-17-2, 28 points; goal differential -10
Oilers in 2018: 17-12-3, 37 points; goal differential +1
Oilers in 2019: 18-10-3, 39 points; goal differential +6
A win tonight gets Edmonton to 41 points after 32 games. The Oilers could win just one point per game moving forward (should they win tonight) and still finish with 91 points on the campaign. Now, it's possible 94+ points will be required to make the postseason unless a couple of teams fall away, but the key takeaway this morning is that the dogs are barking, the chase is on, and the Oilers remain in a good spot.
OILERS IN DECEMBER
Oilers in December 2015: 4-0-0, eight points; goal differential +4
Oilers in December 2016: 2-0-2, six points; goal differential +2
Oilers in December 2017: 2-2-0, four points; goal differential +3
Oilers in December 2018: 3-1-0, six points; goal differential +4
Oilers in December 2019: 2-1-0, four points; goal differential -1
Oilers have been solid to excellent in the first week or so of December and this year's team could set the foundation for a strong month with a win tonight. Sabres played yesterday afternoon so they could tired by the third period. Edmonton's reinforcements include (apparently) Zack Kassian and Ryan Nugent-Hopkins.
WHAT TO EXPECT IN DECEMBER
On the road to: VAN (Expected 1-0-0) (Actual 1-0-0)
At home to: OTT, LAK, BUF, CAR (Expected 2-1-1) (Actual 1-1-0)
On the road to: MIN (Expected 1-0-0)
At home to: TOR (Expected 0-1-0)
On the road to: DAL, STL (Expected 0-2-0)
At home to: PIT, MTL (Expected 1-1-0)
On the road to: VAN (Expected 0-0-1)
At home to: CAL, NYR (Expected 1-1-0)
Overall expected result: 6-6-2, 14 points in 14 games
Current results: 2-1-0, 4 points in 3 games
After tonight's game, the club will play the Hurricanes, Wild, Leafs, Stars and Blues. How many points from that run? I predicted one win and four losses. If Dave Tippett can find a way to grab five points from those games, Edmonton should be able to finish December inside the top three in the Pacific Division. Los Angeles (24 points) and Anaheim (28) are close to losing touch with the leaders, and if San Jose (32) doesn't fix their goaltending then California slides into the ocean for the 2019-20 playoff race.
OILERS 2019-20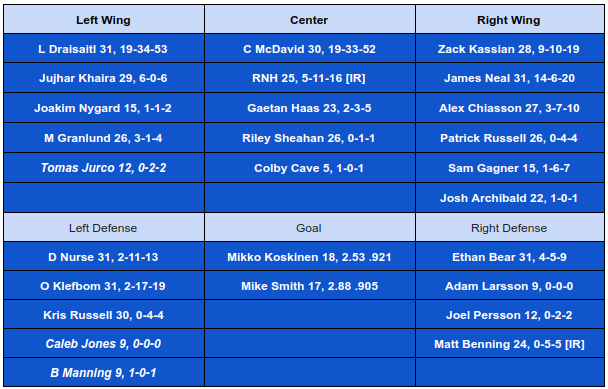 Coach Tippett survived the Nuge absence (3-3-0) and now you'd like to see the team go on a run to ensure December is a success (I have six wins as the line in the sand, a win today gets the team to three victories for the month). Effective Larsson, Nuge and Kassian would be a fantastic lift for the team and a strong Mike Smith performance would be welcome, too.
CONDORS 2019-20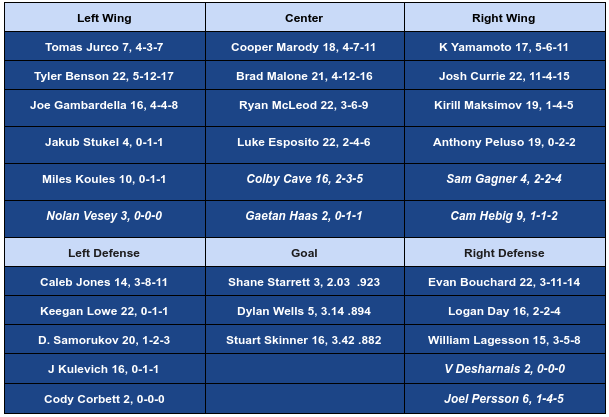 Jay Woodcroft is finding his chemistry up front, the Marody line is starting to roll again. You'd like more offense from everyone but goaltending is the primary issue currently. Defensively, I lined Jones and Bouchard up together, but Lagesson-Bouchard was a tandem a couple of times last night.
TAYLOR HALL
Today's cover photo is of Taylor Hall during the lockout. The Oilers would be foolish to pass on an opportunity to find out asset cost on this player. I expect they'll inquire, perhaps make an offer, and then move on to other options.
I think Hall makes more sense as a free-agent acquisition for Ken Holland. Trading for the player could cost Jesse Puljujarvi plus a quality prospect plus a high pick. Edmonton's current standing has them picking No. 25 and No. 56. Even if the team offers No. 56, JP and (say) William Lagesson, the odds of another team offering a single player with more potential is quite high. Even if you added another item (Kailer Yamamoto?) it's not going to be enough. You're just adding in seven's and nine's while trading for a king. Someone is going to make an offer that includes one clearly better player and then the package becomes less than ideal.
I think Holland considers Evan Bouchard, Philip Broberg and the 2020 first-round pick off limits for trade. I'm not sure if he would move Tyler Benson just because the team badly needs a left winger in the near future. After that, I think you can pile young players to the sky and not reach a package that another team would have trouble exceeding. Someone will offer better.