I saw Ethan Bear make a terrific pass on Saturday night, absolute beauty to Josh Archibald for the Oilers second goal against the Montreal Canadiens. In a world where everything happens at warp speed, the game has slowed for this rookie to the point where he could see the play, execute the play and do it with style. Oh man. Ethan Bear.
THE ATHLETIC!
The Athletic Edmonton features a fabulous cluster of stories (some linked below, some on the site). Great perspective from a ridiculous group of writers and analysts. Proud to be part of The Athletic, less than two coffees a month offer here.
OILERS AFTER 40 GAMES
Oilers in 2015: 16-21-3, 35 points; goal differential -22
Oilers in 2016: 20-13-7, 47 points; goal differential +5
Oilers in 2017: 17-20-3, 37 points; goal differential -17
Oilers in 2018: 19-18-3, 41 points; goal differential -6
Oilers in 2019: 20-15-4, 44 points; goal differential -3
This year's Oilers got to 20 wins before Christmas, that's a helluva feat. Lots of negatives around the team during December, and we can remind ourselves about the five wins at the start of the year. They're massive today.
OILERS IN DECEMBER
Oilers in December 2015: 6-4-2, 14 points; goal differential -7
Oilers in December 2016: 6-2-4, 16 points; goal differential +1
Oilers in December 2017: 7-4-1, 15 points; goal differential +8
Oilers in December 2018: 6-5-1, 13 points; goal differential +2
Oilers in December 2019: 4-6-1, 9 points; goal differential -9
A win tonight and this year's team can see the 2015 and 2018 team, and perhaps set up a miracle run to respectability by the end of the month. That's a big ask.
WHAT TO EXPECT IN DECEMBER
On the road to: VAN (Expected 1-0-0) (Actual 1-0-0)
At home to: OTT, LAK, BUF, CAR (Expected 2-1-1) (Actual 1-2-1)
On the road to: MIN (Expected 1-0-0) (Actual 0-1-0)
At home to: TOR (Expected 0-1-0) (Actual 0-1-0)
On the road to: DAL, STL (Expected 0-2-0) (Actual 1-1-0)
At home to: PIT, MTL (Expected 1-1-0) (Actual 1-1-0)
On the road to: VAN (Expected 0-0-1)
At home to: CAL, NYR (Expected 1-1-0)
Overall expected result: 6-6-2, 14 points in 14 games
Current results: 4-6-1, 9 points in 11 games
If the Oilers can win two of the final three games this month, they'll finish 6-7-1 and that would have to be considered sweet victory after all that's gone down in December. Long way to go and disaster lurks around every corner. As always.
OILERS 2019-20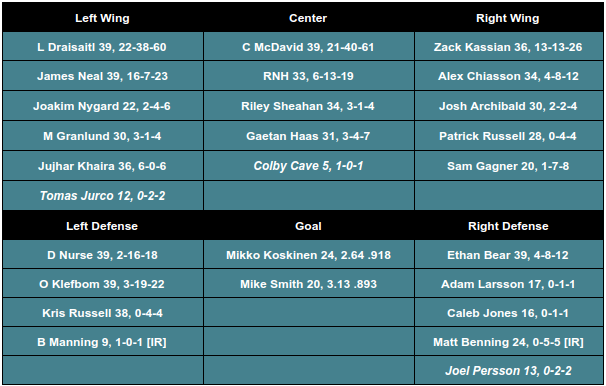 I'm more excited for the Sheahan line than the McDavid trio tonight. Why? You can find players who will have some success alongside 97, but Dave Tippett is at mid-season without another line he can count on. That checking trio is very bad news for Jujhar Khaira because Tippett's other third line is usually a speed group.
CONDORS 2019-20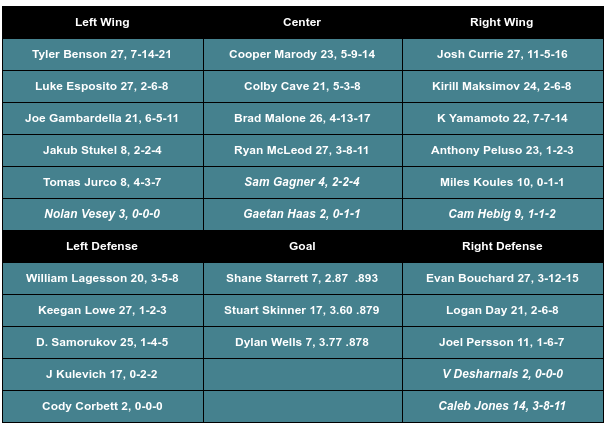 Kirill Maksimov, who I ranked No. 12 on this year's winter top 20, is on another run lately. In November he went 1-3-4 during a four game stretch and in his last three games the young winger is 1-2-3.
When we discuss him, it's based on our observations of him via boxcars, anecdotes, highlights and scouting reports. He has some nice things but is long shot even now to make the NHL. That said, Ethan Bear was in the same spot back in 2017 when he turned pro.
You never know. And the funny thing is that math does help but isn't the absolute authority. Here are the leading rookie points-per-game numbers for Oilers F prospects in the AHL at age 20 since 2004:
Tyler Benson 2018-19: 68, 15-51-66 (.97)
Rob Schremp 2006-07: 69, 17-36-53 (.77)
Magnus Paajarvi 2011-12: 34, 7-18-25 (.74)
Marc Pouliot 2005-06: 65, 15-30-45 (.69)
JF Jacques 2005-06: 65, 24-20-44 (.68)
Kailer Yamamoto 2018-19: 27, 10-8-18 (.67)
Teemu Hartikainen 2010-11: 66, 17-25-42 (.64)
Kyle Brodziak 2004-05: 56, 6-26-32 (.57)
Slava Trukhno 2007-08: 64, 14-21-35 (.55)
The success is Kyle Brodziak in this group, and that may tell us something about the two current prospects listed here. Benson has the wider range of skills (in my opinion) and perhaps will have a better career. One thing is certain: No one had a first year pro like Benson in the years 2004+. His season was the best in the group. I will tell you Brodziak has one thing in common with Ethan Bear. At the 2007 training camp and preseason, he blew past a plethora of first-round picks and won a roster spot with ease. Perhaps one of the keys in winning an NHL job in today's league is blowing away your previous fitness numbers and then flattening preseason competition.
LOWDOWN WITH LOWETIDE
We start the week strong at 10 this morning, TSN1260. Thomas Drance from The Athletic-Vancouver will start the party at 10:20, we'll talk about the Canucks, their brilliant young roster and expectations for the season. Jason Gregor from TSN1260 will pop in at 11 to preview the Oilers story for tonight's game and we'll talk some NFL, too. 10-1260 text, @Lowetide on twitter. See you on the radio!