Connor McDavid and Leon Draisaitl scored, and the Edmonton Oilers might just have a fantastic new bottom-six line that features Riley Sheahan, Josh Archibald and Joakim Nygard. It was a very revealing Tabernac Saturday, with two points under the Christmas tree for the town team. Hallelujah, amen.
THE ATHLETIC!
The Athletic Edmonton features a fabulous cluster of stories (some linked below, some on the site). Great perspective from a ridiculous group of writers and analysts. Proud to be part of The Athletic, less than two coffees a month offer here.
OILERS AFTER 39 GAMES
Oilers in 2015: 15-21-3, 33 points; goal differential -22
Oilers in 2016: 19-13-7, 45 points; goal differential +4
Oilers in 2017: 17-19-3, 37 points; goal differential -12
Oilers in 2018: 18-18-3, 39 points; goal differential -7
Oilers in 2019: 20-15-4, 44 points; goal differential -3
Tabernac Saturday had a strange script, Edmonton never trailed but could never separate either from les Habitants. Win No. 20 in 39 games is the first time it's happened in the McDavid era.
OILERS IN DECEMBER
Oilers in December 2015: 6-3-2, 14 points; goal differential -5
Oilers in December 2016: 6-2-3, 15 points; goal differential +2
Oilers in December 2017: 7-4-0, 14 points; goal differential +9
Oilers in December 2018: 6-4-1, 13 points; goal differential +4
Oilers in December 2019: 4-6-1, 9 points; goal differential -9
That was a big win last night, Oilers in December 2019 are still the odd duck but at least they've closed the gap. Like Jimmy Dean in 'Big Bad John' it's like someone yelled "there's a light up above" and 20 men scrambled from a would-be grave.
WHAT TO EXPECT FROM DECEMBER
On the road to: VAN (Expected 1-0-0) (Actual 1-0-0)
At home to: OTT, LAK, BUF, CAR (Expected 2-1-1) (Actual 1-2-1)
On the road to: MIN (Expected 1-0-0) (Actual 0-1-0)
At home to: TOR (Expected 0-1-0) (Actual 0-1-0)
On the road to: DAL, STL (Expected 0-2-0) (Actual 1-1-0)
At home to: PIT, MTL (Expected 1-1-0) (Actual 1-1-0)
On the road to: VAN (Expected 0-0-1)
At home to: CAL, NYR (Expected 1-1-0)
Overall expected result: 6-6-2, 14 points in 14 games
Current results: 4-6-1, 9 points in 11 games
The more I stare at my predicted won-loss at the beginning of the month, the more clear it is that we should have expected a few miles of bad road this month. Three more games to go.
OILERS 2019-20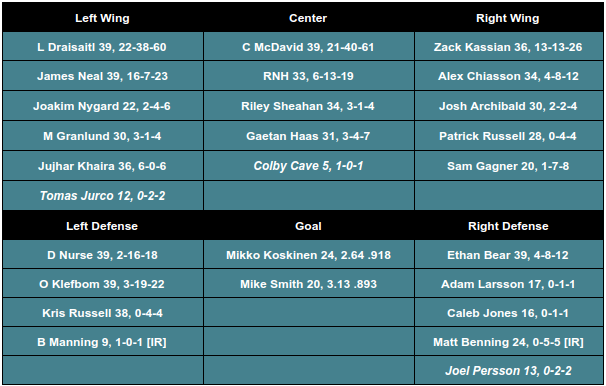 For the first time this season, it looked like a bottom-six trio had real chemistry. Nygard and Archibald can wheel and Sheahan did good work in the middle. Good sign. All numbers five on five, via NST.
LINE 1 Leon Draisaitl-Connor McDavid-Zack Kassian played 12:16, going 6-14 Corsi, 4-6 shots, 1-1 goals and 1-2 HDSC. Faced Philipp Danault line 4:18 and Ben Chariot-Shea Weber 10:18. That's Montreal's tough minutes fivesome.
Leon Draisaitl scored early in the game, but had three giveaways. This line's possession numbers are suffering this year, those giveaways are part of the issue. Also had a PP assist. Connor McDavid scored a stunning goal and set up Leon's marker, had five PP shots and some giveaways (2) at five on five. His goal was so good you have to watch it from every angle. Zack Kassian had an assist, a shot and drew a penalty.
LINE 2 Joakim Nygard-Riley Sheahan-Josh Archibald shone like a diamond, playing 7:54, going 11-3, 4-2 shots, 1-0 goals and 2-1 HDSC. I think it might have been the best game of the season for Sheahan and Archibald.
Joakim Nygard had an assist, drew two penalties and skated miles. Great game. Riley Sheahan scored the winner, two shots (both HDSC) and 70 percent in the dot. Fabulous. Josh Archibald was fierce and effective, 1-1-2 with two shots (one HDSC) and drew a penalty. Music!
LINE 3 James Neal-Nuge-Alex Chiasson played 7:07, going 7-7 Corsi, 2-3 shots, no goals and 2-0 HDSC.
James Neal had one shot and a couple of great looks, Nuge had two shots, a takeaway, was solid in the FO circle, nailed the post on the PP and had a PP assist. Alex Chiasson had a shot and a HDSC (plus two more on the PP) on a night where he probably earned a goal but did not get one.
LINE 4 Markus Granlund-Gaetan Haas-Patrick Russell played 7:25, going 2-11 Corsi, 2-6 shots, no goals and 0-1 HDSC.
Markus Granlund forechecked well and missed an empty net, something the Oilers are genuinely impressive in accomplishing. Gaetan Haas had a shot, interrupted progress well and spent a surprising amount of time (3:03) against the Danault line. Patrick Russell had one takeaway and worked hard along the wall.
PAIRING ONE Darnell Nurse and Ethan Bear played 16:58, going 12-18 Corsi, 6-11 shots, 2-1 goals and 3-4 HDSC.
Darnell Nurse had a poor night, with three giveaways and a ghastly decision against Max Domi that directly resulted in the goal that tied the game 3-3 in the third period. That can't happen, Nurse knows it. Bear also reacted slowly on the Domi play, but had a better story overall to tell. Bear had a brilliant assist on the Archibald goal (he can see things other defenseman cannot in terms of creative playmaking), two shots and received 1:12 in power-play time. He may eat all the lunches in due time.
PAIRING TWO Oscar Klefbom and Adam Larsson played 16:07 and got caved 8-27 in possession, 4-9 shots, no goals and no HDSC. Went 2-15 in 6:51 against Tatar-Danault-Gallagher, bent but did not break.
Oscar Klefbom had one shot, one giveaway and four blocked shots, he still reminds me of Serge Savard but now it's post-injuries Savard who became more of a defensive stalwart. Klefbom is a fine player. Adam Larsson was made for nights like this one, when you need the high danger area swept of land mines on the double. Had a giveaway but was reliable and mean. I like this player very much.
PAIRING THREE Kris Russell and Caleb Jones played 10:52, going 12-5 Corsi, 6-2 shots, 1-0 goals and 3-0 HDSC.
Kris Russell defended as always, had one offensive sojourn that ended without a goal. Caleb Jones had a shot, a penalty and two giveaways but he's learning on the job quickly and I believe he'll be one of Edmonton's top-six blue opening night 2020-21.
GOALIE Mikko Koskinen stopped 23 of 26, .885 overall but was stellar at five on five (21 of 22, .955). I don't fault him on the Danault or Domi goal, wonder about the Petry item but it was an odd-man rush. Stoned many Habs chances (five for five on HDSC at five on five) and now owns a 13-6-2 record this season.
CONDORS 2019-20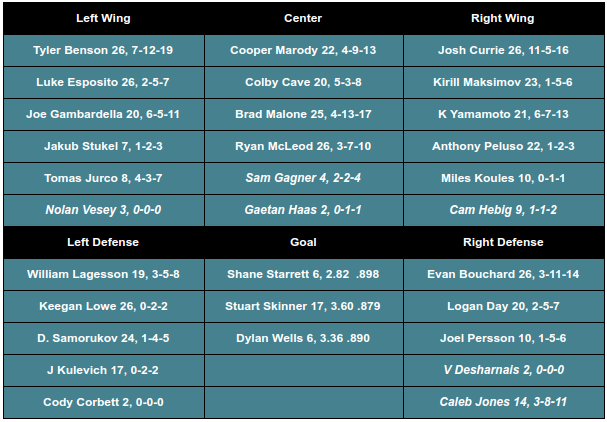 Condors outshot the Colorado Eagles last night, had Shane Starrett in goal and still lost 4-1. I was thinking the team would correct when the veteran goalie returned and that could still happen, but early results are similar to the games Stuart Skinner backstopped early in the year. Condors play in Loveland at 3 this afternoon.