Tonight it's actual Tabernac Saturday and the flood of memories flows freely from 40+ years ago and before. The Montreal Canadiens have ruined more Saturday nights for English Canada than ice and snow, and it isn't close. In a way, this generation's hockey fans are lucky: Despite Montreal's success in my lifetime, the team hasn't won a Stanley in decades. Les Habs won't ice Lafleur nor Cournoyer nor Lapointe nor Dryden tonight, but I swear to you that crest has been enough on many a Saturday night. The polar bears are the lucky ones.
THE ATHLETIC!
The Athletic Edmonton features a fabulous cluster of stories (some linked below, some on the site). Great perspective from a ridiculous group of writers and analysts. Proud to be part of The Athletic, less than two coffees a month offer here.
OILERS AFTER 39 GAMES
Oilers in 2015: 15-21-3, 33 points; goal differential -22
Oilers in 2016: 19-13-7, 45 points; goal differential +4
Oilers in 2017: 17-19-3, 37 points; goal differential -12
Oilers in 2018: 18-18-3, 39 points; goal differential -7
Oilers in 2019: 19-15-4, 42 points; goal differential -4
Turns out the gales of December are devastating too. The Oilers played well enough last night but can't outscore the goaltending and mistakes/coverage breakdowns. It's a tough part of the schedule, and the Oilers don't have enough impact players. The team's impact players have hit a wall (well, Leon has hit a wall, McDavid is McDavid) and we're just going to have to wait until he gets a second wind. One doubts it will be tonight.
OILERS IN DECEMBER
Oilers in December 2015: 6-3-2, 14 points; goal differential -5
Oilers in December 2016: 6-2-3, 15 points; goal differential +2
Oilers in December 2017: 7-4-0, 14 points; goal differential +9
Oilers in December 2018: 6-4-1, 13 points; goal differential +4
Oilers in December 2019: 3-6-1, 7 points; goal differential -10
Mikko Koskinen is 3-4-0 in December, Mike Smith is 0-2-1. Koskinen's save perentage during the month is .919, Smith's .826—and last night's showing improved it from .820. Whatever the flaws of the overall roster, and they exist, very difficult to project this team as a success moving forward while Smith is in this zone.
WHAT TO EXPECT IN DECEMBER
On the road to: VAN (Expected 1-0-0) (Actual 1-0-0)
At home to: OTT, LAK, BUF, CAR (Expected 2-1-1) (Actual 1-2-1)
On the road to: MIN (Expected 1-0-0) (Actual 0-1-0)
At home to: TOR (Expected 0-1-0) (Actual 0-1-0)
On the road to: DAL, STL (Expected 0-2-0) (Actual 1-1-0)
At home to: PIT, MTL (Expected 1-1-0) (Actual 0-1-0)
On the road to: VAN (Expected 0-0-1)
At home to: CAL, NYR (Expected 1-1-0)
Overall expected result: 6-6-2, 14 points in 14 games
Current results: 3-6-1, 7 points in 10 games
You can get angry at Dave Tippett for running his best players so hard, but what the hell else was he going to do? Ken Holland's experiments (numbers below) are intriguing but the only real solution to a substantial problem this season (Ethan Bear) came from the draft.
OILERS 2019-20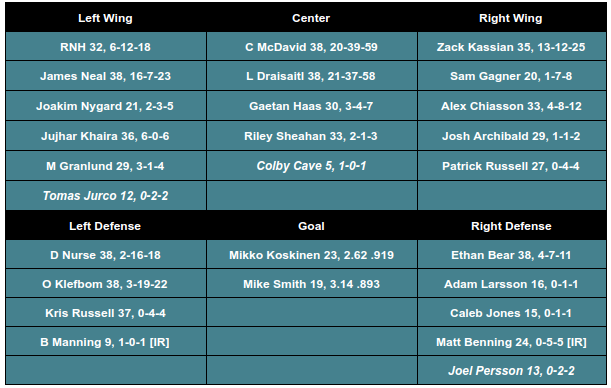 Edmonton won the five on five Corsi battle, and were close for much of the game. All numbers five on five unless noted and via NST.
LINE 1 Nuge-Connor McDavid-Zack Kassian played 16:03, going 16-9 Corsi, 8-5 shots, 1-0 goals and 3-0 HDSC.
Nuge had a giveaway, two takeaways and some looks but nothing dangerous. McDavid had two shots, one dangerous pass and turned over the puck a couple of times. Had a dandy PP chance, too. Zack Kassian scored on a nice tip, at this point I don't think Holland can (or will) avoid an overpay on cap and term. The die is cast. Line got a steady diet of the Malkin line and Johnson-Letang pairing.
LINE 2 James Neal-Leon Draisaitl-Sam Gagner played 11:49, going 11-14 Corsi, 6-10 shots, 0-2 goals and 1-4 HDSC.
James Neal didn't get a lot done. Leon Draisaitl delivered two shots, HDSC, drew a penalty. Sam Gagner, like Nuge, had several beginnings but got overwhelmed by an aggressive Penguin. No time to think for Edmonton and this line gave up two goals at five on five.
LINE 3 Joakim Nygard-Gaetan Haas-Alex Chiasson played 8:42, goin 11-6 Corsi, 9-4 shots, no goals and 3-2 HDSC.
Joakim Nygard had a great chance and took a penalty. Gaetan Haas was flying out there, had a couple of chances and really caused havoc. Alex Chiasson had two shots, a good chance and a couple of giveaways.
LINE 4 Jujhar Khaira-Riley Sheahan-Josh Archibald played 8:01, going 2-1 Corsi (holy low event, Batman!), no shots no goals no high dangers.
Jujhar Khaira was quiet. Riley Sheahan scored a shorthanded goal, Edmonton's first of the season. Drew a penalty. Josh Archibald picked up a SH assist, had eight hits which I don't usually mention but eight is a lot.
PAIRING ONE Darnell Nurse and Ethan Bear played 19:19, going 13-16 Corsi, 8-9 shots, 1-1 goals and 3-4 HDSC. Player 12 minutes with the McDavid unit.
Darnell Nurse had an assist, two shots, blocked three shots and was physical. Ethan Bear had a second assist, and three giveaways. Rookies struggle at times, Bear is working through some things as teams adjust and attempt to grind him down. For me, Nurse's pass was dangerous but I also think Bear needed to be more aggressive in retrieval, your mileage may vary.
PAIRING TWO Oscar Klefbom and Adam Larsson played 15:58 and were 17-15 Corsi, 8-6 shots, 0-1 goals and 2-3 HDSC.
Oscar Klefbom had three shots on goal (one a nice backhand) and a couple of blocked shots, I thought he was slow to react at the end of the PP on the SH breakaway goal by Joseph Blandisi. Adam Larsson has been jumping up in the play more of late although no goals yet. Some were critical of his not blockin the Letang shot for the PP goal, but he couldn't get out there in time, play developed too quickly based on his starting point.
PAIRING THREE Kris Russell and Caleb Jones played 12:06 and went 8-5 Corsi, 5-3 shots, no goals and 2-1 HDSC.
Kris Russell had a shot on goal, but was mostly useful for defending, which he did well. Jones I thought had one of his better games, he's getting more chances with the puck now and you can see his creativity. Three shots, played well.
GOALIE Mike Smith had another poor night. The first goal was not good, the second one was a breakaway and exposed his difficulty in moving laterally, as did the third one. Ken Holland and Dave Tippett are loyal men, but they're also realistic. One imagines Smith will see the net infrequently in the coming weeks.
CONDORS 2019-20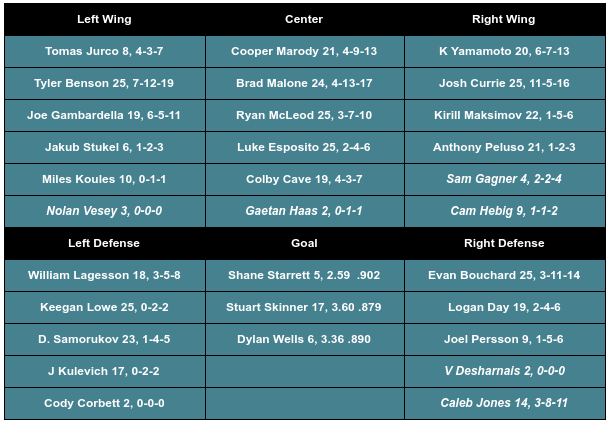 The Condors play tonight in Loveland, Colorado against the Eagles. That's the team that hired Kale Kessy to harm Condors in last spring's playoffs, and he did just that to Cooper Marody. It's a big weekend for some of these kids, surely Holland will be reading the reports and there are several Oilers who could sit a spell.