Cam Connor tells the story of the first time Edmonton played Pittsburgh, a 5-2 bloodbath win for the expansion Oilers January 19, 1980:
Cam Connor: "In the middle of the second period, Gretzky came over the Penguins blue line and walked defenseman Kim Clackson. I knew what Clackson was going to do, because he always slashed the oncoming forward on that play. Clackson whacked Gretzky on the side of the head, and Wayne went down. Dave Semenko, who could beat Clackson, went right after him. Pat Hughes and I ended up pairing off. Semenko told me he and Clackson fought five times during the melee. At the end of the fight, the linesman began splitting them up, and Semenko turned his head for an instant. In that moment, Clackson came over the top of the linesman and landed a punch on Semenko's left eye."
Dear Cam Connor: I don't think 'pairing off' represents your involvement in the evening's festivities.
THE ATHLETIC!
The Athletic Edmonton features a fabulous cluster of stories (some linked below, some on the site). Great perspective from a ridiculous group of writers and analysts. Proud to be part of The Athletic, less than two coffees a month offer here.
OILERS AFTER 38 GAMES
Oilers in 2015: 15-20-3, 33 points; goal differential -21
Oilers in 2016: 19-12-7, 45 points; goal differential +6
Oilers in 2017: 17-18-3, 37 points; goal differential -7
Oilers in 2018: 18-17-3, 39 points; goal differential -6
Oilers in 2019: 19-14-4, 42 points; goal differential -2
Edmonton remains in third place in what is becoming the red hot Pacific Division (not in wins, but hot in terms of teams being close in standings points). The Flames are one point behind the Oilers and have gained eight points on their northern rival in the last 10 games. That can't happen.
OILERS IN DECEMBER
Oilers in December 2015: 6-3-1, 13 points; goal differential -4
Oilers in December 2016: 5-2-3, 13 points; goal differential +1
Oilers in December 2017: 7-3-0, 14 points; goal differential +10
Oilers in December 2018: 6-3-1, 13 points; goal differential +6
Oilers in December 2019: 3-5-1, 7 points; goal differential -8
The Oilers played two solid road games, winning one, and now have a chance to make some good things possible in the days before Christmas. It needs to start this weekend, though, Edmonton is burning daylight in December.
WHAT TO EXPECT IN DECEMBER
On the road to: VAN (Expected 1-0-0) (Actual 1-0-0)
At home to: OTT, LAK, BUF, CAR (Expected 2-1-1) (Actual 1-2-1)
On the road to: MIN (Expected 1-0-0) (Actual 0-1-0)
At home to: TOR (Expected 0-1-0) (Actual 0-1-0)
On the road to: DAL, STL (Expected 0-2-0) (Actual 1-1-0)
At home to: PIT, MTL (Expected 1-1-0)
On the road to: VAN (Expected 0-0-1)
At home to: CAL, NYR (Expected 1-1-0)
Overall expected result: 6-6-2, 14 points in 14 games
Current results: 3-5-1, 7 points in 9 games
I have the Oilers going 2-2-1 from here, ending the month 5-7-2, 12 points in 14 games. The team's record would be 21-16-5, 47 points in 42 games. That represents a 92-point pace, in line with my 88-point prediction at the beginning of the year.
OILERS 2019-20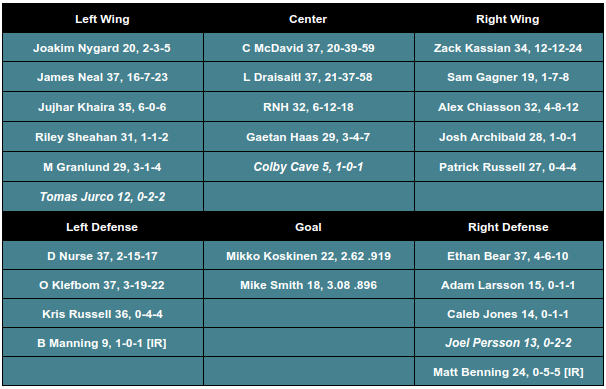 We're almost to mid-season now, career years offensively in reach for McDavid, Draisaitl, Kassian, Klefbom, Koskinen. Seasons that could be described as disappointing include Nuge, Gagner, Khaira, Archibald, Larsson, Smith.
OILERS FIVE ON FIVE GOAL DIFFERENTIAL, '19-20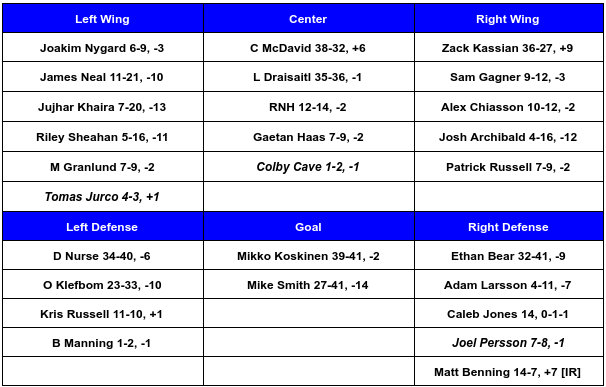 Oilers at five on five have been a hot mess for much of the season, we see it clearly in the goal differential. The biggest item is the gap between Koskinen and Smith (all of these numbers are NST), and the lack of plus numbers (McDavid, Kassian, Russell are the only regulars) is thunderbolt and lightning very very frightening.
LOWDOWN WITH LOWETIDE
At 10 this morning, TSN1260, we kickstart the final weekend before Christmas with plenty of Oilers talk and a few other items. Steve Lansky from Big Mouth Sports will chat Oilers, Hall trade, Star Wars and recount a special television memory. Matt Iwanyk will pop in after 11 with his naughty and nice list and we'll read your texts (you have been on fire lately) at 10-1260. @Lowetide twitter, happy holidays!